On Thursday night, Fox News host and snake woman Laura Ingraham went off on LeBron James after the NBA star dared to criticize Donald Trump on an ESPN podcast.

"Must they run their mouths like that?" Ingraham asked her 3 million viewers, referring to James and Golden State Warrior Kevin Durant.
It goes on:

Look, there might be a cautionary lesson in LeBron for kids: this is what happens when you attempt to leave high school early to join the NBA. And it's always unwise to seek political advice from someone who gets paid $100 million a year to bounce a ball.

Oh, and LeBron and Kevin? You're great players, but no one voted for you. Millions elected Trump to be their coach. So keep the political commentary to yourself, or as someone once said, "Shut up and dribble."
Ah yes, the time-worn standard: You are only allowed to voice political opinions if someone elected you. And, James is stupid because, uh... he skipped college to... make millions of dollars doing something that college students don't get paid to do. What a dummy!!
Why, I wonder, didn't Ingraham inveigh against outspoken NBA coaches Gregg Popovich or Steve Kerr, who who have said much worse things about Trump than James or Durant? What might James and Durant have in common that Popovich and Kerr do not? Hmm!
G/O Media may get a commission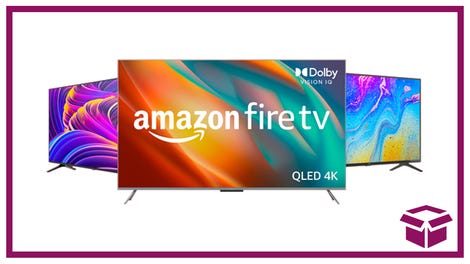 Ooh. stunning.
New Amazon Fire TVs
As Media Matters' Simon Maloy pointed out Friday, in Ingraham's mind, all celebrities are not created equal when it comes to voicing their political opinions.
Compare Ingraham's remarks about James and Durant with what she said about Patriots quarterback Tom Brady earlier this month:
"As we watch the Super Bowl this weekend, we should try to hate Tom Brady a little bit less," said Ingraham. "Tom Brady works hard every day to achieve excellence and to win. Not a bad thing for our kids to aspire to."
Got that? A black athlete with an unmarred record of success is setting a Bad Example for Our Children, while a white athlete who, if he didn't cheat himself, at the very least benefited from cheating, is Good and Pure.
Here are some other celebrities who are allowed to use their platform to talk about politics: Jon Voight, Curt Schilling, Scott Baio, Antonio Sabato Jr., Suzanne Somers, Clint Eastwood, and many other D-list celebrities who happen to have something very important in common.
And, of course, the much-revered cast of Duck Dynasty. After all, they have beards (but not the LeBron James kind of beard). They shoot guns and do duck calls and believe gay marriage is "sinful" and, I dunno, drive Jeep Wranglers? The point is, they are Real Americans.
Not only is the cast of Duck Dynasty real Americans, but, as Ingraham pointed out in this 2013 tweet, they are, in fact, political brain geniuses.

To review: A man best known for having a beard and shooting waterfowl shrieking about creeping Sharia Law and the sins of sodomy? Please weigh in on politics. One of our greatest living athletes, a caring dad, and shrewd businessman lightly criticizing the president? UNACCEPTABLE!