On Wednesday, Milwaukee Sheriff David A. Clarke Jr. announced that he had accepted a job in the Trump administration as an assistant secretary in the Department of Homeland Security.

The Milwaukee Journal Sentinel reported that in the new role, Clarke—who once claimed that there is "no police brutality in America"—will serve as a "a liaison with state, local and tribal law enforcement and governments."
Last November, the Trump supporter was reportedly being considered to head the department, a job that ultimately went to John Kelly.
The announcement disturbed many people, and for good reason: Clarke has a deeply troubling history. Beyond his frequently inflammatory rhetoric, he's been directly linked to a string of abuses and misdeeds in his role as Milwaukee sheriff, which he has been since 2002.
Fusion recapped some of the controversies surrounding Clarke when he was being considered for the secretary job last year. But in case you forgot, here is a list of the many known allegations associated with Clarke.
G/O Media may get a commission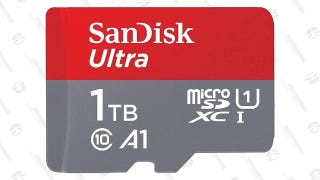 Save $75
SanDisk Ultra 1TB MicroSDXC Card
In 2008, the Milwaukee Deputy Sheriffs' Association sued Clarke for violating "both the constitutional prohibition against religious coercion and the constitutional ban on endorsement of religion" after he invited the Fellowship of Christian Centurions to mandatory work meetings in 2006. The fellowship allegedly proselytized at the meetings, which made a Muslim deputy and a Catholic deputy uncomfortable, according to the Journal Sentinel.

In 2014, a woman sued Clarke and four of his deputies in a federal civil rights lawsuit after a deputy allegedly crashed his car into her car, then accused her of driving drunk and causing the accident, according to an investigation by Fox 6.
In a December 2015 episode of his show "The People's Sheriff," Clarke said that he believes anyone who posts "pro-terrorist" content on social media should be denied habeas corpus and sent to Guantanamo Bay, Mother Jones reported.
In April 2016, Terrill Thomas, a mentally disabled patient at the Milwaukee County jail, which Clarke oversees, died after reportedly being denied water for a week. Thomas's death was eventually ruled a homicide.
In July 2016, a baby died after its mother, an inmate with special needs, gave birth inside the jail. Lawyers claimed that guards laughed when the mother asked for help.
In August 2016, a female inmate was found unresponsive and later pronounced dead in her Milwaukee County jail cell.
Two months later, in October 2016, a male inmate was found dead there too. His death was the fourth in six months at the jail, the Milwaukee Journal Sentinel reported.
Earlier this year, a man named Daniel Black filed a lawsuit against Clarke for allegedly "unlawfully stopping and arresting" him after he asked Clarke to confirm his identity while on a plane. After the plane landed, Black was detained, and deputies questioned him about his "political opinion," according to WISN.
If you know about another incident involving Clarke and the Milwaukee County jail, please get in touch: tips@fusion.net