A man is speaking out after he found himself arrested and thrown in jail over a two-year-old traffic violation just days after helping spread footage of the police shooting of Alton Sterling.
Chris LeDay of Atlanta told WSBTV that he received the video of Sterling's shooting via a friend in Baton Rouge, where LeDay grew up. LeDay said he "wanted to someone to be held accountable" for the death of the husband and father of five, who was shot by police outside a Louisiana convenience store last Tuesday, by sharing it. The video he uploaded was viewed hundreds of thousands of times.
But since doing so, LeDay, who works at an Air Force base, said he has been the victim of retaliation.
"My job is up in the air," he told the station. "Suspiciously, when I tried to go to work the day after the tape release, I was apprehended at the gate and they said I had an assault and battery charge. They told me I was sought after and I fit the description and they were that vague. I was like, 'Fit the description of who?'"
LeDay, who is black, detailed the incident in a series of Facebook posts.
G/O Media may get a commission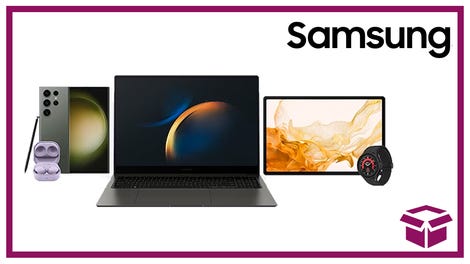 24 hour deals
Discover Samsung - Daily Deal
LeDay also spoke to Mother Jones about the incident, saying he had previously gone "at least 15 times" without issue through the military checkpoint where he was stopped.
He said that, after the stop, he was handcuffed, put in leg shackles, and taken to the county jail, where he was booked on a charge of "failure to appear." LeDay eventually learned he was being arrested over an unpaid traffic infraction from an incident two years ago. He ended up spending a total of 26 hours in jail, and was released after paying $1,231 in fines. Two days after his release, he was still incredulous, writing on Facebook:
The convenience store owner who directly filmed Sterling's death has also detailed rough treatment at the hands of police. Abdullah Maflahi, a Muslim born in Yemen and raised in the Detroit area, said he was humiliated in the hours after the incident.
"They threw me in the back of a cop car for almost four hours," he said, according to PRI. "It was hot, the seat was hot, and when I [told] them that I needed to use the bathroom, a cop escorted me to behind a building — one of the neighboring buildings — and told me to go there while people were walking [by] to go see what was going on in front of the store."
He was eventually taken in for questioning and released, but when he returned to the store, police tape was on the door and Muflahi was not allowed inside.
"He says the police did not show him a search warrant," PRI reported. "And he says they took the surveillance video equipment that would have captured the entire incident, start to finish."
Maflahi is now suing the Baton Rouge Police Department.
Rob covers business, economics and the environment for Fusion. He previously worked at Business Insider. He grew up in Chicago.