Jacqueline Pata, the executive director of the National Congress of American Indians, was placed on leave on Saturday over her handling of sexual harassment claims lodged against longtime NCAI general counsel John Dossett.
The move was announced in a press release sent to reporters by NCAI. According to the statement:

The National Congress of American Indians (NCAI) Executive Committee announced this evening that NCAI Executive Director Jacqueline Pata has been placed on administrative leave pending the completion of a review by an ad hoc committee composed of tribal leaders who serve on the Executive Committee.

The NCAI Executive Committee established the ad hoc committee to review how allegations of staff misconduct have been addressed previously by the organization. A team of NCAI senior leadership staff – Senior Advisor Virginia Davis, General Counsel Derrick Beetso, and Policy Research Center Director Yvette Roubideaux – have been appointed by the Administrative Officers to lead NCAI while the ad hoc committee review is in process
The move to put the 17-year executive director on leave is a major shake-up to one of the most influential Native groups in the nation's capital. According to multiple reports, the decision came as a response to Pata's leadership in the aftermath of NCAI's own #MeToo scandal. According to High Country News, at least 40 tribes have issued a vote of no confidence in Pata's leadership (A disclosure: I consulted for NCAI on one occasion in January 2018, when NCAI was looking for advice on how to operate their new digital media outlet, Indian Country Today.)
Dossett, a non-Native lawyer who first joined NCAI in 1995 and has been involved in many of their major legislative efforts, was accused of making inappropriate comments and touching a woman on the NCAI staff without her consent in June 2016, per High Country News. Dossett's actions allegedly took place at a conference in Spokane, WA. Pata was reportedly informed of the incident within two weeks, but two months later, she claimed the victim had a substance abuse issue and sought to fix the issue through mediation, per HCN. Only after Dossett's behavior started to leak to the media did she hire a lawyer from the firm Vedder Price to quietly investigate the claims.
G/O Media may get a commission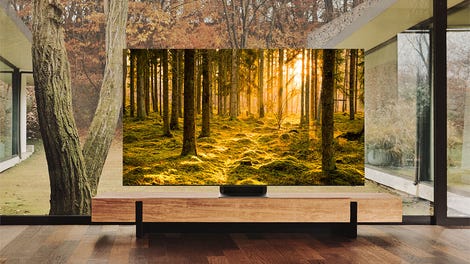 Up to 40% off
Samsung Smart TVs
Throughout this time period, and all the way until February 2018, Dossett repeatedly emailed the woman, writing, "I want to assure you that I have never harassed you, or come on to you, or had any bad intentions," and adding later that "I can see how you perceived events differently that night in Spokane. I am writing so that you know that nothing bad happened," according to email exchanges reviewed by HCN.
Indianz.com first reported Doessett's demotion in August, writing that Sam Owl, the former NCAI chief financial officer, had written a memo to tribal leaders informing them of "a culture that continues to exist at NCAI" regarding how misconduct is inadequately addressed by leadership. Nicole Hallingstad, NCAI's director of operations, resigned in August; in her resignation letter, she claimed NCAI supported an "oppressive culture" that stemmed from Pata, who Hallingstad said once told the staff that "loyalty to NCAI means loyalty to ME." Hallingstad also cited the staff's "roughly 80 percent" turnover rate from 2015-2018. An Indianz.com review of NCAI's employment records found that 58 percent of the employees who left between 2017 and 2018 were women.
Dossett denied all the allegations against him in an eight-page letter sent to tribal leaders, saying Hallingstad found "an axe to grind." Throughout the letter, he cited and quoted bits of the completed investigative report, a report that his accusers were not granted access to after bringing their complaints forward, per Indianz.com. On Oct. 11, NCAI President Jefferson Keel confirmed Dossett was no longer with NCAI and announced an ad hoc committee would investigate the leadership team's response to the complaints. Indian Country Today, the news outlet owned by NCAI and run by editor in chief Mark Trahant, has blogged about the news, although only under the byline of "ICT editorial team."
The Pokagon Band of Potawatomi Indians withdrew their membership from NCAI in light of the events, though they were among the few to take such actions—Pata was put on leave a day after the Cherokee Nation of Oklahoma, the largest federal tribe in the nation, renewed their NCAI membership.
The timing of this latest frenzy is not optimal for tribal members across the continent, especially those facing down their own issues with sexual and domestic violence on tribal lands. NCAI has been among the leading voices pushing to strengthen the Violence Against Women Act, which was recently given an extension through Dec. 7 by the Republican-controlled Congress, who presumably want to hold any repeal or allowed expiration of of the law until after the midterms.
As laid out by Rebecca Nagle writing at the Women's Media Center, the VAWA of 2013 was crucial for tribal nations, as it provided them the long-denied ability to prosecute non-Native members for crimes of domestic and sexual violence. With NCAI's leadership scrambling ahead of the December deadline, it leaves one of the core groups in the pro-VAWA camp in a weaker position to push for other necessary steps required to appropriately address harassment and abuse on tribal lands, such as the fact that all but one of Alaska's indigenous tribes are excluded from the 2013 change.
Instead, NCAI will be focusing on whether they are able to adequately lead and govern themselves, leaving the underrepresented people they are meant to protect holding the bag.