One of Mexico's most famous architects is taking a conceptual approach to border development, imagining a future much different than Donald Trump's dystopian walled-off border ghetto.
Supported by Sprint.
Fernando Romero, who has led some of his country's most ambitious urban mega-projects in recent years, including Mexico City's new international airport, is now setting his sights on the border region where he's drawn plans to build the world's first binational metropolis.
His latest project, simply titled "Border City," is a proof-of-concept for a more than 3-billion square foot city that would literally straddle the U.S.-Mexico border in a way that would revolutionize and integrate community dynamics between both nations.
The Mexican architect insists the project is feasible and will become reality someday.
G/O Media may get a commission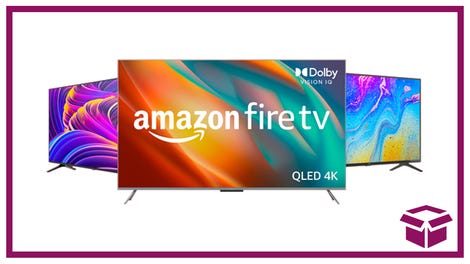 Ooh. stunning.
New Amazon Fire TVs
"We've considered several locations to physically shape the Border City concept," Romero told Fusion in an email. "We've decided a location that lies between three border states: Chihuahua, New Mexico and Texas."
Romero says his vision is for the city to be a special economic zone.
"We envision a city that develops in unitary form on both sides of the border, and that establishes the creation of a binational zone in its center, where citizens coming from both sides can live together and where institutions and commerce areas are concentrated."
The city would ultimately be designed in the shape of several hexagons that function as residential districts or industrial hubs.
The concept is described by Romero's global architecture and design firm as "rooted in the long history of places where frontiers meet" and "cities where cultures both clash and blend." The plan endeavors to be an "urban prototype" that "might offer a new model for cities as populations grow, migration increases and economies continue to globalize."
The utopian border city project was first unveiled last month at the 2016 London Design Biennale, an expo of curated installations from global museums and design organizations.
Romero told Fusion that a team of 10 architects and designers worked on the concept.
"We've conducted a profound investigation on the context and the elaboration of the architectural proposal," he said. "We also have a multidisciplinary team including two collaborators from Burohappold, a world-class engineering firm with an extensive curriculum on urban development, a team of two graphic designers that developed the graphic identity for the exhibition and an animation graphics, 3-D and audiovisuals team of eight people."
In short, he says this isn't just a conceptual art project; it's serious architectural plans drawn up by a serious development team with a track record of delivering results.
The Mexican architect wouldn't give too many specifics, and there are still many questions that remained unanswered: What currency would be adopted? How would immigration policy work? What would it mean for border security and trade?
But it's a project that's not meant to be a form of political pushback to Trump (in fact, the Mexican architect wouldn't comment on the Republican candidate).
This isn't Romero's first time re-imagining the U.S.-Mexico border.
In 2000 his team designed a so-called "Bridge Museum," a proof-of-concept structure connecting the land on both sides of the Rio Grande. The project included an auditorium, a library, a commercial area and an immigration-research center equipped with "modern technology and designed to assist immigrants searching for employment opportunities."
"The Bridge Museum acts as both a funnel and a window between the borders. The bridge is envisioned as a place for amplifying the bond between the superpower and its neighbor, as well as providing a variety of services for exchange between the two countries," reads the concept description.
It was never built, but the plans still exist.
Whether or not Romero's architectural vision for the border city will ever get a chance to move beyond the drawing board is unclear given the current political climate in both the U.S. and Mexico. But it's a bold call for connectivity and proof that real architects have plans for a future border with structures far more imaginative and beautiful than walls.
On October 15, Univision and Fusion Media Group will host RiseUp AS ONE, where artists and influencers will gather at the San Diego border for a concert celebrating inclusiveness, diversity, and global unity. This content is part of a series in connection with RiseUP AS One, supported by funding from Sprint, and produced independently by Fusion's editorial staff.
ALL FUSION CONTENT IS EDITORIALLY INDEPENDENT EXCEPT FOR PIECES LABELED "PRESENTED BY" - FIND OUT MORE HERE.