LAS VEGAS— A sea of brown arms hold up cellphones to record the words of the candidate who could be the first Latino to represent the state of Nevada in the U.S. House of Representatives.
The cheering crowd gathered in the Cardenas Market parking lot in East Las Vegas but for Ruben Kihuen, a Mexican-born son of a hotel housekeeper, it wasn't a moment to celebrate. It was his final effort to muster enough votes for a hard-fought victory.
Although Latinx voters have been turning out in record numbers for early voting in many key battleground states, Kihuen knows if they don't finish hard today in tightly contested districts it might have all been for not.
G/O Media may get a commission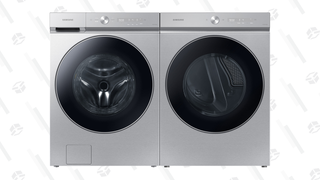 Get $500 back in credit
Last Chance: Samsung Bespoke AI Washer and Dryer Preorder
That's why Kihuen chose the Cardenas Market, a popular early voting spot for Latinx, to make his final pitch. It culminated another full day that started with get-out-the-vote door-knocking with a volunteer team of 500 organizers from the Culinary Union Local 226, his mother's union.
"Today that boy who arrived to this country at the age of eight is one step away from being the first Latino to represent Nevada in the U.S. Congress. That's the American dream," Kihuen told the crowd gathered at the Mexican-owned grocery store.
The 36-year-old told the crowd he made history in 2006 when he became the first immigrant to be elected to the Nevada State Assembly. But now he wants to make history again on a bigger stage by getting a ticket to Washington, DC.
The rally in the Cardenas Market parking lot in Las Vegas was a snapshot of something that appears to be happening across the country. A viable Latinx candidate speaking perfect Spanglish to a Latinx crowd in a congressional district that's majority white.
Many in the crowd were young, U.S.-born Latinx who aren't old enough to vote this year, but are on the cusp of transforming the voter demographics in the state in the years ahead. It's the start to a changing of the guard that may not fully play out this election, but offers a preview of what's to come.
US-born Latinx who turn 18 are the primary source of new eligible voters across the country. In Nevada, the number of Latinx eligible voters has increased from 228,000 in 2008 to a projected 388,000 in 2016, according to the Pew Research Center.
Kihuen is a Democrat running for Congress in Nevada's 4th District, where just under 17% of the 477,000 eligible voters are Latinx. He's polling two points ahead of his Republican opponent and is going to need to appeal to wider group of voters to win the district, but last night was about shoring up his base and testing the strength of Latinx resolve.
"My story is the story of many of you here," Kihuen told the people in the crowd. "I can't win this election without you."