CANCUN, Mexico — Cancun is well known among young Americans as a spring break fantasy land to get wasted, get laid, and eat too much "Mexican" food before returning to real life in the United States with a bad sunburn, indigestion, and perhaps a touch of mild regret.
Prophetically, Cancun means "snake pit" in the indigenous Maya tongue. The Maya might have been wrong about predicting the end of the world in 2012, but when it came to forecasting how things were going to turn out in this Caribbean coastal town, they were right on.
As a Mexican, I usually try to avoid this giant tourist trap by the sea. But since Tulum and other trendier beach towns have since become hot new spring break destinations for millennials seeking more of an eco-chic green-juice-detox yoga-retreat-villa vacation, I wanted to see how the original Mexican Las Vegas was holding up to the changing times.
G/O Media may get a commission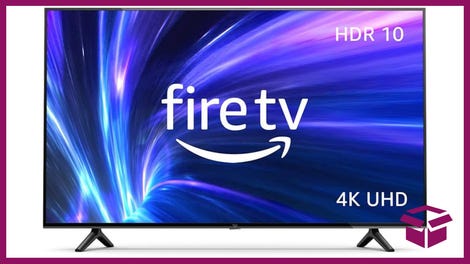 42% Off
Amazon Fire TV 50" 4K Smart TV
Was it still the gloriously tacky, party-hardy resort town I remembered from my youth— way back six years ago? Or had the snake pit finally been tamed?
Arriving at the Cancun airport last Saturday, it certainly didn't feel like I was returning to my native country. I was instantly met with a massive line of U.S. spring breakers loudly complaining about the inefficiency of Mexican immigration officials. The line for Mexican citizens was completely empty, and I breezed right through.
As I drove to my hotel, I couldn't help but notice the new developments sprouting up everywhere, from hotels and condos to huge malls with just about every luxury brand and American fast food chain you can imagine.
Mexican activists recently protested the destruction of a local mangrove standing in the way of plans to build a massive real-estate project. The activists accused authorities of carrying out "ecocide." They've got a point. It's becoming increasingly hard to see the rich vegetation and diverse animal life through the flashy neon lights.
But Cancun is also a success story by some measures. It attracts all sorts of tourists year-round. When spring break is not in-season, Cancun has become a destination for weddings, conventions and other tourists who aren't necessarily drunk by 10 a.m.
https://www.instagram.com/p/BCUapBSOiOH/?tagged=springbreakcancun2016
And unlike Acapulco, another famous Mexican resort town, Cancun has avoided becoming a hotbed for drug war violence (though drugs are readily available for anyone who wants them). Many here attribute the semblance of peace to a so-called pax narca, a ceasefire between local authorities and cartels to avoid scaring off tourists. Locals tell me, under the condition of anonymity, that narcos have invested in clubs, bars and stripclubs. There's no need for violence as long as other businesses (they normally don't mess with big hotel chains) pay an extortion tax known as derecho de piso.
As night falls, I start feeling nostalgic for the Cancun of my yesteryear, and decide to pregame at Grand Oasis, an all-inclusive hotel with more than 1,000 rooms and 14 bars that I visited six years ago for my high school post-graduation party.
Not much has changed there. As I approach the lobby I see security guards escorting drunk teenagers off the premises. Nearby there's a dude waiting for a cab while trying to convince two girls to kiss him at the same time. A Señor Frog's promoter sells wristbands for a so-called "glow party."
These all-inclusive hotels at times seem like the campus of an Animal House college; they've got their own dining halls and bars populated with a massively disproportionate guy-to-girl ratio, which inevitably leaves some sad frat bros dancing with each other.
The sale of booze to students under 21 continues to be the main reason spring breakers come here. Mexico's drinking age is 18, but no one ever gets asked for their ID. If you can see over the bar and have cash in hand, you'll get a drink with no questions asked.
I approach a poolside bar, repelled but intrigued by the smell of spilled beer and limitless chicken nuggets. A bunch of gringos grind to live merengue.
As I have a few drinks and watch the scene unfold around me, I can't help but think Cancun has gone from tacky to something far worse. It's become a dumping ground for people from all over the world, especially young Americans who come here to lose their inhibitions and do what they can't do—and probably would never consider trying— back home.
But it's not quite as bad as I make it sound. In past years Cancun's tourism has declined due to the global economic recession, tropical storms and disease outbreaks such as the H1N1 virus. In response, authorities have partnered with the private sector to launch massive music festivals and other promotions to bring back the spring breakers who are so crucial to the Cancun economy. The weakened Mexican peso is also luring in more U.S. tourists who can now get more bang for their buck.
And while loud and obnoxious, these crazy spring breakers—truth be told— translate into more jobs and extra income for local Mexicans. It's not exactly drinking for a good cause, but even a messy party is better than a dead party if you're in the tourism business.
This year Mexican authorities expect more than 70,000 tourists to spend some $75 million on hotels, drinks, food and banana-boat rides in Cancun.
All that creates a strange love-hate dependence on spring breakers, which requires a certain level of patience.
"We have to have a degree of flexibility and tolerance," Bibian Castillo, the head of the local tourist police, tells me. She explains that tourists are generally allowed to get as drunk and loud as they want so long as they don't endanger public safety. It's a necessary evil that keeps the local economy fueled and running.
Castillo says she often has to act as a mediator between spring breakers and locals. She recently helped a tourist who trashed his hotel room and was getting wildly overcharged for a broken TV by management.
Homicides are rare, but there are occasional deaths related to binge drinking and drug overdose. I still remember that on my original spring break vacation six years ago a drunk tourist at my hotel jumped off a room balcony and died.
Party dreams can quickly turn into nightmares.
But it's not just Americans who find trouble. Noemi, a 35-year-old waitress at the Fiesta Americana hotel, tells me rich chilangos, as Mexico City residents are known, are notorious for having a superiority complex that they flaunt in Cancun.
Before becoming a waitress, Noemi says she worked as a hotel maid and had to clean "the unimaginable." She also claims some of her co-workers have been sexually harassed by tourists. She tells me a young Maya maid she knew was forced to strip naked by hotel management after a guest complained his wallet was stolen from the room.
Still, Noemi doesn't think Cancun deserves its bad rap. She insists there are two cities, one of debauchery and the other outside the touristy areas where residents lead a normal life and go to local establishments where the menu is priced in pesos, not dollars.
At night, I head to Coco Bongo, a legendary club known for it's tacky theatrics and tributes to American pop culture.
The club's PR director invites me to watch the show, a series of seemingly unrelated dance numbers by Madonna, Michael Jackson, Freddy Mercury, Bruno Mars and Pitbull impersonators. Performers also recreate movie scenes for a drunken audience that cheers a choreographed mid-air fight by guys suspended by wires and wearing Spiderman and Green Goblin costumes.
The show is rounded out by stripping midgets and waiters who try to slide down a banister without dropping a tray filled with drinks.
Nothing makes sense. And when you surrender to the absurdity, it becomes extremely fun to watch.
Coco Bongo, which boasts that it "Puts Vegas Nightlife To Shame"  (I've been to Vegas and agree), also seems to relish in Cancun's overall non-PC culture — a "carefree atmosphere," as the club's PR director calls it. Throughout the night, a giant kiss cam focuses on a group of Asians as the DJ plays Gangnam Style and a waitress that sells Fireball shots keeps blowing a whistle in my ear as she slaps my butt and pinches my nipples to get me to drink.
"In India stripclubs are illegal," an Indian college student tells me as we share a cab back from the club. He tells me he's been getting lap dances all week.
"Back home, in Gujarat, alcohol is also prohibited," his friend adds.
Overall, Cancun still has a firm grip on its role as a wildly tacky playground for people who are slightly out of control. And it's a place that attracts people from all over the world because it offers a taste of what's forbidden back home.
It's a carnival, an ode to party life. And, like tequila, it's something that's easy to overdo.