It used to be easier to get a lake named after you. All you had to do was send a bunch of soldiers out into the frontier to build a fort, and they would slap your name on any body of water.
That was the case with Minnesota's Lake Calhoun and 19th century politician John Calhoun, but that might be changing soon.
The Star Tribune reports a group of activists changed all the signs at the Minneapolis lake on Tuesday to reflect the lake's original American Indian name of Mde Maka Ska.
The signs were taken down by park officials shortly after they were spotted, but the Minneapolis Park and Recreation Board seems to think they had the right idea. The board voted Wednesday to change the existing signs at the lake to say both Lake Calhoun, and the lake's original Dakota name, with the preferred spelling of "Bde Maka Ska."
G/O Media may get a commission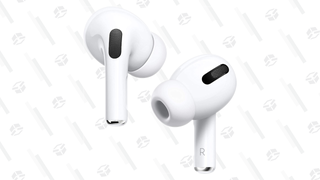 28% Off
Apple AirPods Pro Wireless Earbuds
The lake is currently named after John Calhoun, whom you can see below.
Hi John. Love the hair.
He was a big deal during the early 1800s, serving as a member of the House and Senate, as secretary of war and as vice president. He was a proponent of slavery, and fought to protect white southerners' right to keep slaves every chance he got. He died eleven years before the Civil War began, but his endorsement of nullification helped lay the groundwork for secession and the war that followed.
So why is the largest lake in Minneapolis named after this slavery-loving South Carolinian? As Secretary of War, Calhoun commissioned a group of soldiers to build a fort in the area, and, demonstrating the creativity soldiers are known for, they named the lake after him.
There have been other efforts by community members to get the name changed over the years, but none successful. The June shooting of congregants at an historically black Church in Charleston, S.C., has renewed calls for a name change, but no one seems to know who would have the authority.
The dual name is a step in the right direction, at least. And Calhoun, a man who used to say stuff like "the white or European race, has not degenerated," would probably be pretty cheesed off hearing his lake is getting back its original name.