A Mississippi man faces charges that could result in a life sentence after allegedly setting off an explosive device at a Walmart early Sunday morning, just days after posting threats on Facebook, according to the Tupelo Daily Journal.
61-year-old Marshall W. Leonard will go before a judge on Tuesday facing a count of placing an explosive charge, which carries a life sentence if convicted under the Mississippi criminal code.
Tupelo Police Chief Bart Aguirre said that a vehicle pulled up to the entrance of the Walmart around 1:30 a.m. Then: "A white male got out, lit the package and threw it in the vestibule," Aguirre said. "There was an employee on break, and the suspect told him, 'You better run.'
Aguirre said that the employee was able to escape the explosion, which did not cause much damage to the store.
The same car was then spotted nearby by a police officer who noticed a large Mississippi flag sticking out of the sunroof as the car ran a red light. The officer pulled the car over and issued a citation for a traffic violation but kept Leonard in custody after calls starting coming in about the Walmart explosion. Aguirre said there were still several interviews to conduct and his staff was still waiting for Leonard's criminal history in Illinois and Wisconsin to be forwarded their way.
G/O Media may get a commission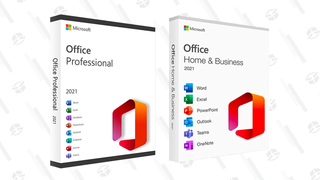 89% off
Microsoft Office Professional 2021 Lifetime License
According to the Clarion-Ledger, Leonard was a strong supporter of the Mississippi state flag, which has been the subject of controversy as of late. Students at the University of Mississippi recently voted to remove the flag from campus for containing elements of the Confederate flag. While the vote and subsequent removal won the support of the University of Mississippi's interim chancellor and (more importantly) head football coach. Mississippi Governor Phil Bryant reacted less favorably, telling a group of reporters that Mississippi students lacked "legal authority" to remove the state flag. In a statement, Bryant added:

I believe publicly funded institutions should respect the law as it is written today. It clearly states 'The state flag shall receive all the respect and ceremonious etiquette given the American flag.'
Leonard, meanwhile, had previously spoken out against Walmart for removing Confederate-branded items from its shelves. Then, last Wednesday, he posted threats to the Daily Journal's Facebook page, saying:

Journal corporate, you are on final warning. You are part of the problem. As a result of this, y'all are going down, along with Walmart, WTVA, Reeds department store, and all the rest of the anti-American crooks. I'm not kidding. No messing around anymore!
Chief Aguirre said the remnants of the explosive device had been sent to a lab for analysis.
David Matthews operates the Wayback Machine on Fusion.net—hop on. Got a tip? Email him: david.matthews@fusion.net