PITTSBURGH—When Tek Mishra visits the homes of the community's older Bhutanese refugees, he gets a firsthand look at mental health issues usually hidden behind closed doors.
Sometimes it's pain that runs through their body like a current. Or they're paralyzed with fear of a new culture they don't understand. Other times they just sit silently in their still apartments, staring out the window.
"They're gloomy, depressed, thinking about something else," said Mishra, a soft-spoken 37-year-old with an easy smile. "They are lost."
His job is to bring them back. Mishra spent 18 years in a refugee camp in Nepal, starting when he was just 10 years old. Now he's a peer counselor for a local clinic in Pittsburgh, on the front lines of a fight to help his community deal with trauma and depression.
G/O Media may get a commission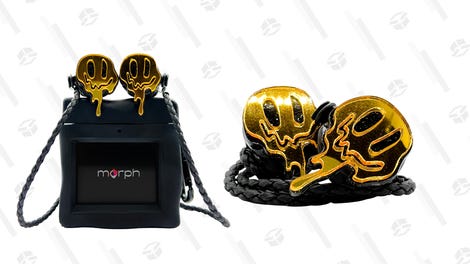 morph audio
Morph Earphones
Many refugees from around the world, fleeing war or persecution, carry mental health issues with them to the U.S. But historically, our resettlement system has done little to address mental health, instead expecting refugees to quickly adjust to a new culture. Multiple studies have shown that Bhutanese refugees across the country have elevated rates of depression, anxiety, PTSD, and suicidal ideation.
Experts say many older refugees also show signs of a form of depression that doesn't fit clearly into any defined mental health disorder. "It progresses from them having aches and pains all over their bodies, to burning, to having difficulty cooking or cleaning or those kind of things, to interacting with people and, in extreme situations, not doing anything, just sitting there for long periods of time," said Ken Thompson, a psychiatrist working with Bhutanese refugees here. "We've seen 100 or more people with this condition, most in their 50s or 60s."
Thompson calls the disorder "Nepali-Bhutanese syndrome," while locals say it's like people "left their soul in Bhutan." Typical treatments like anti-depressants don't have much of an effect.
In Pittsburgh, a growing network of local groups and health centers is organizing to address the problem and start discussions about mental health, and their work could be a model for other refugee communities around the country.
About 5,000 Bhutanese refugees live in Pittsburgh, the largest community of refugees in the area. In the '80s and '90s, the tiny Himalayan monarchy enacted policies oppressing people of Nepali ethnicity, forcing them to give up their language, education, and clothing in favor of the majority's culture. Eventually, Nepali Bhutanese people were branded illegal immigrants and deported in mass waves, even though many had lived in the country for generations. Some people were even tortured by the Bhutanese government.
Thousands of refugees fled Bhutan for camps in Nepal, where they were housed for years as the two countries' governments tried to come to a solution. Finally, in 2008, the United Nations started resettling refugees in other countries—most in the U.S., as well as Australia, Canada, and several Western European countries.
Mishra arrived in California in August 2008, after almost two decades in a Nepali camp, where he taught school. He soon moved to Pittsburgh with his parents and wife, and his four-year-old daughter was born here. He works as a peer counselor for the Squirrel Hill Health Center, a small clinic that provides medical, dental, and mental health care for low-income people.
When she helped launch the Squirrel Hill center 10 years ago, Dr. Andrea Fox expected to serve uninsured Pittsburghers. But as she saw refugees needed more help, she teamed up with resettlement organizations to provide holistic care to the communities. Now, the center is a key destination for refugees and immigrants: More than half of its 5,000 patients speak a primary language other than English, and in total, they serve patients who speak 55 different languages.
"We had one patient from the Congo who spoke a language that only 75,000 people in the world speak," Fox said. They spend a lot of money on phone interpretation services.
The exam rooms have signs in Russian, Spanish, Hebrew, Arabic, and Nepali. Some days, Bhutanese people stretch out on colorful mats for yoga classes, while down the hall Iraqi men meet to drink tea and talk about their lives. The doctors here treat some of the worst cases: from post-traumatic stress disorder in refugees fleeing Syria, to Congolese refugees who saw family members killed in front of them.
But what's affecting many elderly Bhutanese refugees is different. It could be a type of depression, but there doesn't seem to have been much research on the condition, said Thompson, the psychiatrist studying the problem, who works at Squirrel Hill (and is also Dr. Fox's husband). Bhutanese refugee communities in other U.S. cities have also reported dealing with similar symptoms.
The underlying causes of the condition are manifold. Part is the trauma suffered in Bhutan, from being forced to leave their homes to torture by the government. Then there's the considerable stress of having to adapt to a new country. Some elderly people, who never went to school growing up in Bhutan, don't even read or write their own Nepali language—let alone English. They worry about how to interact with their neighbors or become part of society. Meanwhile, Bhutanese kids and teens tend to adapt much more quickly, creating a gap between parents and children.
After some elderly people were hit by cars, many Bhutanese families—who tend to live together—tell their older parents not to go outside. That means some older people end up sitting inside for hours every day, alone, while their relatives are off at work or school.
In many ways, Pittsburgh's Bhutanese community is doing well. Young people have gotten jobs and college degrees. They've become part of the fabric of the area, especially in Brentwood, a small southern suburb tucked into the hills, where Bhutanese restaurants and sari shops line strip malls. "I like it here because with the hills, it's similar to my country," said a waiter at one restaurant as he dished up a plate of steaming veggie dumplings called momos.
But like with Americans, there's a stigma attached to discussing  mental health issues in the Bhutanese community. When Mishra goes to meet patients in his job as a peer counselor, it usually takes him several visits before people open up. "I talk to the people about how they are doing—as a friend," he said. "After a couple visits, people start sharing what is going on in his life."
Sometimes, keeping it all in can be deadly. According to a 2012 CDC study, the suicide rate among Bhutanese refugees in the U.S. was 20.3 per 100,000 people, compared to 12.4 per 100,000 people among the general U.S. population. Ashok Gurung, a Bhutanese refugee who recently graduated from the University of Pittsburgh and studies mental health in the community, said he thought the rate probably increased in the years after that study.
"There was so much trauma that took place in our country… and now they have to adjust to a new country," he said.
According to Gurung, five Bhutanese refugees have died of suicide in Pittsburgh since they began resettling here in 2008—four from hanging and one from cutting.
So what is being done to address mental health issues? At first, Thompson said, he prescribed a wide-range of antidepressants to his patients, raising doses and changing prescriptions to see what worked. Nothing seemed to have much of an effect.
"It's been a really confusing thing to figure out how to help them," he said. "The thing that gets them to light up sometimes is when you ask them about how many cows they had in Bhutan."
The idea of reconnecting with their homeland seems to help, and another way many do that is through gardening. In Bhutan, many people were either farmers or at least grew some of their own food. But that isn't as practical in Pittsburgh. Up a hill from the main road through Brentwood is the Mt. Oliver Community Garden, a small fenced in area of a public park. For a few dollars, elderly Bhutanese can rent a small plot of soil for themselves, to grow vegetables or flowers, and have some connection to the land.
Upendra Dahal, one of the leaders of the Bhutanese Community Association of Pittsburgh, a neighborhood group, helped organize the gardening program. His organization holds communal gardening events, but anyone can come whenever they want to tend their own plants. "They like to do some work with the soil, they get some kind of psychological happiness when they see their plants growing," Dahal said. "It brings them out of their homes and gives them something to do."
Gurung, the University of Pittsburgh graduate, is taking another track. He helped organize a series of mental health "first aid" trainings for Bhutanese people around the state, explaining the basics of mental health and how to intervene when a family member is having a problem. That knowledge, he said, has also helped people start to get over the stigma of depression or other mental health issues.
As the U.S. moves to admit more refugees from around the world, the Bhutanese case provides lessons about the importance of providing mental health treatment alongside typical medical care. But what's critical, many refugees here said, is letting the refugee community direct and influence the programs. It's not enough for city or government leaders to provide mental health services—people in the refugee community need to be involved in developing programs and helping their neighbors.
"I can understand what they're saying because I have gone through the same thing in my life," Mishra said.
Correction: An earlier version of this story described Dr. Thompson as a psychologist, not a psychiatrist.
Casey Tolan is a National News Reporter for Fusion based in New York City.