Break ups suck for a number of reasons, many of them having to do with feelings of pain and loss and betrayal, and some of them having to do with figuring how to cope with those feelings when your ex is still popping up on your Facebook feed. At least, that's the conclusion reached by Facebook: the company announced Thursday that it's testing ways to mend your broken heart with a slight tweak of its algorithm.
"Starting today," wrote Facebook product manager Kelly Winters in a blog post published on the company's site, "we are testing tools to help people manage how they interact with their former partners on Facebook after a relationship has ended. When people change their relationship status to indicate they are no longer in a relationship, they will be prompted to try these tools."
G/O Media may get a commission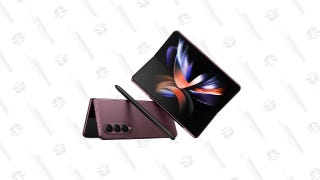 Save Up to $300
Galaxy Z Fold4
Basically, the feature allows newly-single users to see fewer posts from, and share fewer posts with, their exes without un-friending them altogether. They'll also be able to untag themselves in photos with their ex and make them harder to find, and won't be prompted to tag their ex in new photos.
The service could proof useful for people who don't want to block or unfriend their exes, but maybe don't want to see their updates as often while scrolling through their timeline. It also seems like another way for Facebook to develop a humanlike rapport with its users: If you're on Facebook a lot, you're likely seeing slightly creepy "Thanks for being here!" notifications when you sign in. And as The Washington Post pointed out Thursday, the company is making it harder to ignore friends' birthdays to make Facebook seem more "present inside of the product, to build positive emotional experiences and show people that we care."
uh @NirajC did you pay for this content pic.twitter.com/I7mCEtr9Hb
— Abby Ohlheiser (@abbyohlheiser) November 12, 2015
At least we'll be able to let Facebook down easy if we ever need to break up.
Danielle Wiener-Bronner is a news reporter.