In early December 2016, the Belle Fourche oil pipeline spewed tens of thousands of gallons of crude oil into the Ash Coulee Creek near the North Dakota town of Belfield—about 150 miles away from the Standing Rock camp, where activists were busy protesting against the Dakota Access oil pipeline.
At the time, it was reported that around 176,000 gallons of oil had been spilled in a matter of hours before True Cos., the company which maintains the pipeline, managed to get things under control. A representative of North Dakota's Health Department now admits that the spill was much worse than initially believed, and may even be one of the worst in state history.
According to environmental scientist Bill Seuss, nearly three times more oil than initially estimated is now thought to have spilled from the Belle Fourche pipeline—not 176,000 gallons, but a whopping 530,000. Speaking with the Associated Press, Seuss said the pipeline likely ruptured due to a "slumping hillside."
In a press release from the DoH, Suess said that "Belle Fourche Pipeline has increased its initial estimate of 4,200 barrels of oil to 12,615 barrels. Of that amount, 4,030 barrels of oil have been recovered through skimming operations." In other words, experts have removed nearly as much oil as was initially thought to have been spilled in total.
The release goes on to say that an "undetermined volume" of oil has been burned off.
G/O Media may get a commission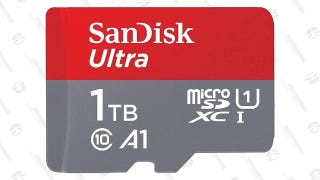 Save $75
SanDisk Ultra 1TB MicroSDXC Card
Suess told the AP that while no oil made it into nearby rivers or drinking water reservoirs, the state is focused on cleaning Ash Coulee creek before livestock grazing season begins.
True Cos., meanwhile, claims it is around 80% done with the cleanup process. "There's no timeline for completion," company spokesperson Wendy Owen told the AP. "We will be there until it is [done]."
At the time of the Belle Fourche spill, protesters in Standing Rock pointed to the contaminated creek as justification for their actions blocking the Dakota Access pipeline, which they claimed jeopardized the water supply and sacred lands of the Standing Rock Sioux tribe.
Nevertheless, under President Trump, construction on both the Dakota Access and Keystone XL pipelines—both of which had been halted by the Obama Administration—were given green lights to proceed.