Faced with lingering questions about President Donald Trump's disastrous appearance with Russian President Vladimir Putin in Helsinki, his subsequent semi-walking-back of his remarks there, and then a third round of waffling about Russian intervention in American politics, Sarah Huckabee Sanders had her work cut out for her at Wednesday's briefing. Defending the president under these circumstances is a losing proposition for even the smoothest of liars—which Sanders has never been mistaken for—so what came next was predictably bonkers.
At first, Sanders attempted to clean up Trump's remarks earlier today—in which he responded "no" after a reporter asked if Russia was still targeting the U.S.—by insisting that the president's response was simply a "no to answering questions" before the press corps was shooed away.
Then, when pressed for her take on whether the White House does, in fact, believe Russia is still targeting the U.S., Sanders deadpanned that "Since there's currently not an election today, not specifically." Ha ha ha!
G/O Media may get a commission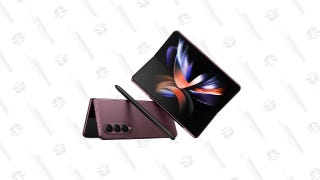 Save Up to $300
Galaxy Z Fold4
But it was questions from MSNBC's Hallie Jackson that really kicked things into overdrive.
"Why should this president have any credibility to Americans in what he says if the White House comes out and says 'just kidding'?" Jackson asked, noting that to most reporters in the White House Cabinet room earlier today, it seemed obvious that Trump was directly responding to a reporter's shouted question.
Sanders, who was clearly miffed by that line of questioning, replied that she "interprets" what the president says when she is forced to come out time and time again to wash up the products of his mush-brain.
She then awkwardly tried to shut Jackson down by calling on The Hill's Jordan Fabian who, to his credit, referred Sanders back to Jackson, who was then able to continue.
But it wasn't just Russia-related questions that made Wednesday's briefing so wonderfully nuts, either. Enter April Ryan, with whom this White House has long had a contentious relationship.
After Ryan asked Sanders whether the White House has a plan to combat voter suppression efforts—which have been championed by this very White House—Sanders simply ignored her.
This was Sanders' first full White House press briefing in more than two weeks. Welcome back, Sarah!