It's become frustratingly easy to find cases in which law enforcement officers kill or injure someone, only to escape any significant legal or professional repercussions for their actions. But in West Virginia, a former police officer says he was let go from his job for doing the exact opposite: not shooting a suspect.
While responding to a domestic disturbance call this past May, Weirton, WV officer Stephen Mader found himself embroiled in a tense stand-off with Ronald D. "R.J." Williams Jr, 23, whom 911 dispatchers were told had threatened both himself and his girlfriend. When Mader arrived on the scene, Williams was holding a handgun, pointed at the ground, and demanding that the officer kill him on the spot.
"I told him, 'Put down the gun,' and he's like, 'Just shoot me.'" Mader told the Pittsburgh Post-Gazette earlier this week. "And I told him, 'I'm not going to shoot you brother.' Then he starts flicking his wrist to get me to react to it."
Noting that Williams hadn't actually raised the firearm, Mader attempted to calm the situation. "I thought I was going to be able to talk to him and deescalate it," he explained.
Unfortunately, those efforts were scuttled when additional police arrived at the scene. According to the Gazette, Williams began to approach two other officers while waving his pistol, prompting one to fire, killing Williams with a shot to the head.
G/O Media may get a commission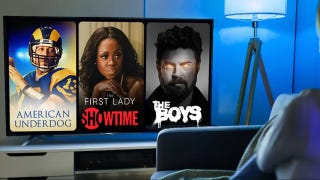 UNDER $1
99¢ Prime Video Channels
Williams' gun was later found to be unloaded.
A subsequent investigation ruled the police shooting was justified. In June, as the Associated Press reported, Weirton Police Chief Rob Alexander said that all three officers involved would be placed on paid leave and ordered to attend counseling.
"None of these officers signed on to shoot anybody or have guns pointed at them that night," Hancock County Prosecutor Jim Davis told the AP.
But when Mader returned to work, he told the Post-Gazette, he was informed that his leave had been extended, and his service as an officer was under investigation. "You put two other officers in danger," he recalled Chief Alexander telling him.
A month later, he was fired. In addition to two other incidents noted in his termination letter—one in he which failed to report an elderly woman's death of apparent stroke as "suspicious," the other in which he was allegedly using during an arrest—Mader's firing was, he said, attributed to his having "failed to eliminate a threat."
In other words, by not killing Williams during their standoff, Mader had seemingly committed a fireable offense—a bizarre inversion of what's become a tragically common trope in America.
A statement provided to Fusion by the City of Weirton, however, calls into question Mader's account of the shooting and his subsequent dismissal. Citing "conduct unbecoming of an officer" in regards to the shooting and two other incidents, the city alleges that Mader's behavior during his confrontation with Williams was "not de-escalating the situation, but rather escalating it through his use of profanity before any weapon was drawn." Furthermore, the city alleges, Mader froze on scene, and failed to effectively communicate with his fellow officers upon their arrival.
"We will not allow the community to be put at risk by any employee who shows careless disregard to their duties with the community," the statement said.
Mader's dismissal comes after a summer punctuated by incidents of violence on the part of law enforcement against members of the communities they ostensibly serve—incidents in which officers involved are subsequently not charged, or acquitted of charges. This past spring, cases brought against the Baltimore police officers charged in the death of Freddie Gray either resulted in mistrials, acquittals, or were dropped altogether. Charges against  Ferguson police officer Darren Wilson were similarly declined after Wilson shot and killed Michael Brown, setting off nationwide protests in 2014. And in 2015, an Alabama police chief defended one of his officers, despite the existence of a recording in which the officer threatened to kill a black man and stage a cover-up, claiming self-defense.
In that environment, it would seem likely that an officer whose first instinct was not to kill would be lauded. Instead, Mader was dismissed—and he's not the only one.
Strange as it seems, this is not the first time an officer has been rebuked for not using force. In 2014, a campus police officer in Monterey Bay, CA was fired for refusing to use his stun gun on an emotionally troubled student whose parents were worried was contemplating suicide.
There are times when officers are rewarded for restraint. In April, 2015, for instance, a rookie Ohio officer was lauded for resisting the use of force on a double-homicide suspect believed, like Williams, to have been attempting suicide-by-cop.
When Mader was hired by the Weirton police department after serving four years in the Marines, he told local Fox affiliate WTOV that he was "just ready to learn local laws and try to do the best that I can." According to the Gazette, he is currently studying to be a commercial truck driver.