President Obama likely won't be able to push an immigration bill through Congress this year, but his administration is moving forward with a review of how deportation policy can be handled more humanely.
For months, Homeland Security Secretary Jeh Johnson has met with a range of groups concerned with immigration policy, including labor unions and civil rights organizations. He's continuing that today, meeting with several groups, including one led by young immigrants and others that oppose legalizing unauthorized immigrants, to hear their proposals about deportation policies.
The goal: map out the range of executive action the president can take on immigration.
Johnson spoke about the review during on Wednesday at the U.S. Department of State headquarters in Washington, D.C.
"It's basically assessing, do we have it right?" he told the audience attending an event hosted by the Americas Society/Council of the Americas. "Could we be implementing the rule of policy in a more effective way to get at the stated priorities of those who are threats to national security, border security and public safety?"
G/O Media may get a commission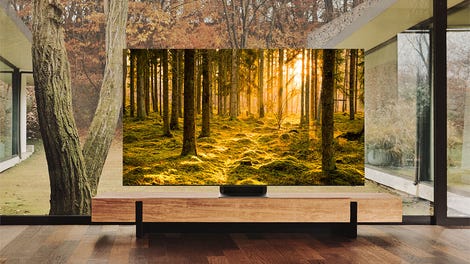 Up to 40% off
Samsung Smart TVs
Later in the day, Johnson was scheduled to meet with leaders from United We Dream (UWD), the youth-led group. Carlos Rojas, who serves on UWD's national coordinating committee, told Fusion that the organization requested a meeting with Johnson last month.
Members of UWD plan to share personal stories about deportations and present Johnson with a list of five desired fixes the group released late last month.
The list includes an expansion of a program called Deferred Action for Childhood Arrivals (DACA), which grants deportation relief and work visas to qualifying undocumented youth. Under the activist proposal, parents of DACA recipients would also be eligible for relief.
The group also wants the administration to curtail the use of detention for immigrants who have pending deportation cases and to create a parole program for previously deported immigrants who have strong family ties to the U.S.
Rojas called the administration's review a positive "first step," but said his group won't be satisfied unless it results in a policy change.
"We are going to let them know, now, that is not enough," Rojas said. "The president, the administration, and Secretary Johnson have got to take much bolder steps to alleviate the pain and the suffering that they have created in the first place."
Johnson isn't just consulting activists in favor of reducing deportations. On Wednesday, he also met with representatives from NumbersUSA, the Federation for American Immigration Reform and Center for Immigration Studies — all groups that back stricter immigration enforcement.
Mark Krikorian, the executive director for the Center for Immigration Studies, expressed skepticism that the meeting with immigration hardliners would change Johnson's view on policy, saying that it was just "to check off a box." However, Krikorian said he used the opportunity to ask the Homeland Security chief to continue enforcing immigration laws, even against people who have not been convicted of a crime.
"If immigration enforcement is only against convicted criminals, than the majority of immigration law offenders who aren't dope dealers or whatever have no incentive to comply with the law," he said.
Republicans have said that any unilateral action by Obama will kill the already-bleak chances of Congress passing an expansive bill. And some Democrats have quietly feared that undocumented immigrants could be left in long-term legal limbo if Obama acts on his own.
But many Democratic lawmakers have joined advocates in calling for the administration to take executive action on deportations, and Johnson is pushing ahead with his review.
Johnson compared his approach to the review to a similar survey he oversaw for the Department of Defense, where he served as general counsel during President Obama's first term.
In February 2010, he was tapped to co-chair a study of how the military's policy on gay enlistees was impacting operations. The policy, "don't ask, don't tell," barred openly gay, lesbian and bisexual individuals from serving in the military.
Johnson's study eventually found that the repeal of "don't ask, don't tell" would have a low risk of disrupting military operations, and the policy was removed in 2011.
"Part of my charge was to engage many different groups across the spectrum, have a conversation with hundreds, thousands of servicemembers," he said. "So, I believe in getting a lot of input from a lot of different viewpoints."
Update, 5 p.m.: This piece was updated with more information about the meetings between Jeh Johnson and immigration hardliners on Wednesday.
Jordan Fabian is Fusion's politics editor, writing about campaigns, Congress, immigration, and more. When he's not working, you can find him at the ice rink or at home with his wife, Melissa.
Ted Hesson was formerly the immigration editor at Fusion, covering the issue from Washington, D.C. He also writes about drug laws and (occasionally) baseball. On the side: guitars, urban biking, and fiction.