Following a contentious (and confusing) week of back and forth with the Rockettes, the world-renowned dance company based out of New York's Radio City Music Hall, and their union about their scheduled performance at President-elect Donald Trump's inauguration, a dancer has (pseudonymously) opened up about the whole ordeal to Marie Claire.
"If I had to lose my job over this, I would. It's too important. And I think the rest of the performing arts community would happily stand behind me," "Mary" told the magazine.
The dancer said she found out the Rockettes were performing at the inauguration of a man who has publicly and repeatedly denigrated women the same way everyone else did: in news headlines. She and other members of the Rockettes found out they would be performing from text messages from friends with screenshots taken from CNN, Mary told the magazine.
At the heart of the issue are conflicting accounts of the dancers' expectations from the American Guild of Variety Artists, the union that represents the Rockettes, and Madison Square Garden Entertainment, the company that manages the group. Both released statements about the inauguration performance last week—AGVA said the women were obligated to perform; MSGE said they've always had the option to opt-out.
In reality, Mary told Marie Claire, it's both: The company's 13 full-time dancers are expected to be in every scheduled performance while its 80 seasonally contracted dancers (including Mary) are not. She said the full-time dancers have since been given the option to not take part in the inauguration.
G/O Media may get a commission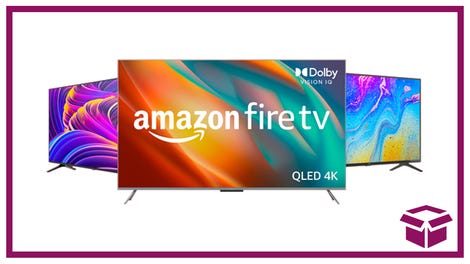 Ooh. stunning.
New Amazon Fire TVs
Mary revealed that currently three full-time dancers have decided not to participate, while others are fearful of losing their jobs. A majority of the girls said no right away, while others said yes for their own reasons, creating a "divide in the company," she said.
She also pointed out there is already a lack of diversity among the Rockettes and that no women of color she knows of has signed on to perform at Trump's inauguration. "It's almost worse to have 18 pretty white girls behind this man who supports so many hate groups," she said.
Further complicating matters, she said, is the ideological divide between the dancers and Radio City Music Hall staff (who skew liberal and include transgender men and women and people of color) and the stage crew (the "majority" of whom are Trump supporters).
"This is not a Republican or Democrat issue—this is a women's rights issue," Mary told Marie Claire. "This is an issue of racism and sexism, something that's much bigger than politics."
She went on: "These are our friends and our family, who we've worked with for years. It's a basic human-rights issue. We have immigrants in the show. I feel like dancing for Trump would be disrespecting the men and women who work with us, the people we care about."
Tahirah Hairston is a style writer from Detroit who likes Susan Miller, Rihanna's friend's Instagram accounts, ramen and ugly-but cute shoes.