Today is April 1st, and, despite the best efforts of our nation's leading scientists, American institutions and political leaders are persisting in celebrating this date as April Fools' Day.
Unsurprisingly, the early favorite target for institutional pranking is one Donald J. Trump. Which Trump-related hoaxes and gags should you not believe and (probably) outright ignore today? Let's dive into the muck!
No, Rand Paul is not endorsing Donald Trump today
On Twitter yesterday, Kentucky Senator Rand Paul teased a "major endorsement announcement" coming on April 1st. The announcement, Paul added, would be "YUGE."
Sigh. On Friday morning, Paul copped to the prank.
G/O Media may get a commission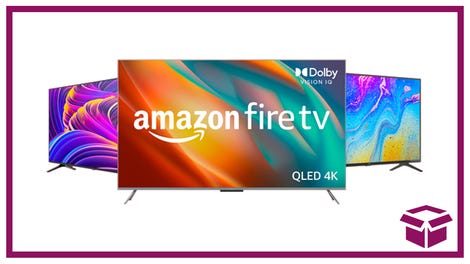 Ooh. stunning.
New Amazon Fire TVs
Alas, Paul was just celebrating April Fools Endorsing Entropy. 😔
Paul, meanwhile, has previously vowed to support the eventual GOP nominee, whether or not the candidate is Donald Trump. So, a "yuge" endorsement announcement may actually lie in Paul's future, which kind of takes the bite out of this joke. April Fools!
No, Donald Trump did not agree to a one-on-one debate with Ted Cruz
On Friday morning, Ted Cruz tweeted news that Donald Trump had "accepted my challenge to debate one-on-one," a contest for which Cruz has been agitating for months.
The link leads to a YouTube video that ends in "Never Gonna Give You Up" by Rick Astley. That's right: It's a Rickroll! In 2016!
No, Donald Trump did not reveal that his parents are Mexican
A viral Facebook post by former Secretary of Labor Robert Reich(!) claims a bombshell: Donald Trump was born in Tijuana to Mexican citizens! LOL! A legitimately incredible number of Facebook commenters believed Reich's post. Why! Who are these people!!
No, Donald Trump's campaign is not an elaborate April Fools' Day joke
BuzzFeed found about a thousand people making the same joke on Twitter: "Donald Trump announces campaign has been April Fools' Day joke!"
Jimmy Kimmel cracked the same joke in a cleverly cut video on his show last night.
https://www.youtube.com/watch?time_continue=99&v=VO-1ePYypdU
At least two newspaper columnists openly connected the Trump campaign to April Fools' Day in print.
Donald Trump's campaign is not an April Fools' Day prank, and when we wake up tomorrow, in the prank-free zone, it will persist. No foolin'!
We will update this list as more public figures and corporations attempt Donald Trump-related April Fools' Day goofs.