Georgia governor Nathan Deal's is considering signing House Bill 757, a "religious liberty" law conservatives in the state call a necessary protection of "religious viewpoints and prevent discrimination against faith-based groups." The legislation would allow faith-based organizations and business owners to deny services to people who don't mesh with their "sincerely held religious belief" (think: the Colorado bakery that wouldn't make a wedding cake for a gay couple). It would also allow them to fire any employee they think doesn't adhere to their religious beliefs.
Opponents cite the obvious, that the law smacks of discrimination, that it's bad for Georgia businesses, and then there's the people who say the bill would't go far enough. In an attempt to get Governor Deal to veto HB757, several major, multi-million-dollar businesses and organizations have come out against the bill and even threatened to boycott the state and take their money or events elsewhere. Here's a running list of those companies and organizations.

The NFL
America's most popular sport came out strong against the bill last week, with spokesman Brian McCarthy saying that Atlanta, set to open up a new stadium for the Falcons in 2017, is would not win any bids to host the Super Bowl if the bill is signed into law. The Onion put it all into perspective very succinctly:
Disney/Marvel
Walt Disney Co. and its subsidiary Marvel Studios announced they would take their business elsewhere "should any legislation allowing discriminatory practices be signed into state law." Marvel shot Captain America: Civil War outside Atlanta and currently has Guardians of the Galaxy: Vol. 2 in production there as well.
G/O Media may get a commission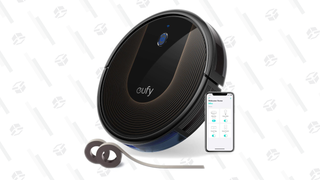 48% Off
Eufy BoostIQ RoboVac
[Disclosure: Fusion is partly owned by ABC, which is owned by Walt Disney, which owns Marvel.]

AMC Networks
Owners of the AMC network, which airs The Walking Dead, the most popular show on cable, urged Gov. Deal to reject the bill. The Walking Dead is shot in Georgia.

Human Rights Campaign
The LGBT group has called on all studios and production companies to boycott Georgia if the bill is passed. A number of Hollywood industry leaders including Seth MacFarlane, Ryan Murphy, Rob Reiner, and Aaron Sorkin signed their names to a letter sent by the HRC to Gov. Deal.

Intel
CEO Brian Krzanich took to Twitter last week to voice his displeasure with the bill.
Dow Chemical
Salesforce
CEO Marc Benioff said that his company would divest from Georgia if the bill is signed into law, saying in a statement:

If HB 757 is not vetoed and instead becomes law, Salesforce will have to reduce investments in Georgia, including moving the Salesforce Connections conference to a state that provides a more welcoming environment for the LGBTQ community.
Live Nation
CEO Michael Rapino voiced support by quoting a tweet Benioff made about the situation.
Time Warner
The entertainment conglomerate is calling on Deal to veto the bill. The company, which owns HBO, Turner Broadcasting, Warner Bros, and more, said:

"At Time Warner, diversity in all its forms is core to our value system and to the success of our business," the company said in a statement released Thursday morning. "We strongly oppose the discriminatory language and intent of Georgia's pending religious liberty bill, which clearly violates the values and principles of inclusion and the ability of all people to live and work free from discrimination."
Viacom
The parent company of Paramount, Nickelodeon, MTV, and more, called on Deal to veto the legislation on Wednesday:

"Viacom is proud to champion diversity and acceptance, which are core values of our company," a company spokesperson stated. "We have enjoyed doing business in Georgia for many years and we urge Governor Deal to continue to resist and reject the patently discriminatory laws being proposed."
Starz
The premium channel's original series Survivor's Remorse is shooting its new season in Georgia, saying:

"Starz is an inclusionary company and strongly opposes discrimination in any form, against anyone," the company said in a statement. "As a proud production partner in Georgia for several years, we urge Governor Deal to show the same leadership he has in the past and reject this divisive legislation."
21st Century Fox
"On behalf of 21st Century Fox's many creative partners and colleagues who choose to film their projects in the beautiful state of Georgia, we join the growing coalition of businesses in asking Governor Deal to veto this bill," a company spokesperson said.
Lionsgate
"Lionsgate has deep roots in the State of Georgia in our film, television and location-based entertainment businesses," read a statement. "As a Company committed to diversity, inclusiveness and tolerance, we urge the Governor of Georgia to veto the deplorable and regressive legislation (House Bill 757) that has been sent to him. We take pride in our relationship with the people of Georgia and want to ensure that we can continue to offer our employees and talent there a working environment consistent with our policies and values."
Sony
"Georgia Bill HB 757 is anathema to our studio and to all those who value diversity and inclusion, said Sony's Chief Communications Officer Robert Lawson on Thursday. "We strongly urge Governor Deal to exercise his veto."
The Weinstein Company
The independent film studio is threatening to relocate a planned shoot of a Richard Pryor biopic directed by Lee Daniels (Precious) if the bill is not vetoed. In a statement, the company said, "we hope Governor Deal will veto bill HB 757 and not allow sanctioned bigotry to become law in Georgia."

Comedy Dynamics
The biggest independent comedy album and special company (Aziz Ansari, Jim Gaffigan, and others)  issued a letter to Gov. Deal under the name of president Brian Volk-Weiss that stops short of boycotting the state, but urges its clients to not film any standup specials in Georgia if the bill passes.
Gov. Deal has until May 3 to veto or sign HB 757 into law.
We'll update as more companies voice their opposition to the bill.
David Matthews operates the Wayback Machine on Fusion.net—hop on. Got a tip? Email him: david.matthews@fusion.net