The Democratic National Convention opened this morning with a lot of shouting and jeering as Florida delegates booed ousted DNC chair Debbie Wasserman Schultz and holding up signs that read, rather simply, "Emails," an apparent reference to a trove of DNC correspondence uploaded to Wikileaks last Friday.
Schulz announced over the weekend that she'll resign her post following the convention, after leaked emails appeared to show her and the committee working to undermine Bernie Sanders' campaign in favor of Clinton's, whipping Sanders supporters into a furor.
Over the next few days, it's going to be a challenge for the Democrats to appear unified within their ranks. And in the world outside Philadelphia's Wells Fargo Center, they'll be drawing protests from groups ranging from staunch Bernie supporters, like Occupy Philadelphia, to a group organizing a "fart-in" and, of course, an appearance from the Westboro Baptist Church. The city has approved 28 protests, though there are likely to be more held outside city limits.
Here's a roundup of what to expect from those demonstrations this week:
Black Men For Bernie
July 27, 11 a.m., 1401 JFK Boulevard
Do they support Hillary Clinton? No.
G/O Media may get a commission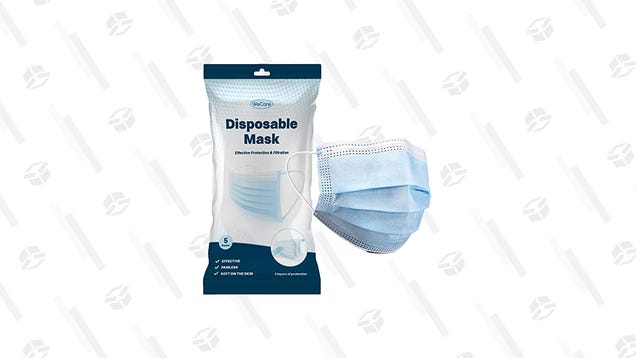 WeCare Disposable Masks With Elastic Earloops- 5 Pack
Black Men For Bernie is protesting a Clinton nomination because they say Bernie Sanders is the candidate whose position on criminal justice reform, health care, and a range of other issues are in line with what they believe is best for black families. This is their main event but they're planning to take part in others throughout the week.
---
Occupy the DNC
July 25, 11 a.m.–8 p.m., rally at Marconi Plaza on Broad Street, march from Camden N.J. to Philadelphia Town Hall, more protests throughout the week.
Do they support Hillary Clinton? No. Occupy is still, it seems, quite firmly in the Bernie camp.
The Occupy movement is calling members from around the country to converge on the Wells Fargo Center and surrounding streets this week to protest Clinton's nomination as the democratic candidate for president. The movement sees Clinton as a pro-Wall Street, establishment candidate.
---
Black DNC Resistance March against Police Terrorism & State Repression
July 26, 1.30 p.m.-3.15 p.m, 1300 Diamond Street
Do they support Hillary Clinton? They do not, but more broadly, they're not satisfied with the Democratic Party.
This march is run by a group called the Philly Coalition for REAL (Racial, Economic and Legal) Justice, who say that the Democratic Party has let down its black constituency, particularly by not addressing criminal justice reform. On their website, the group says they're affiliated with #BlackLivesMatter and just last week they organized a sit-in at a Philadelphia police station to protest police brutality against black people.
---
Equality Coalition's March on the DNC 2016!
July 25, 12 p.m., Philadelphia City Hall
Do they support Hillary Clinton? Nah.
The Equality Coalition's primary point of contention, it seems, is with the electoral structure of the primaries. "The superdelegate system must be abolished completely, as well, in order to ensure true democracy," they write in the Facebook description. Unsurprisingly, our friends at the Equality Coalition stan pretty hard for Bernie Sanders.
---
March For Our Lives and "fart-in"
July 25, 3 p.m., Philadelphia City Hall
Do they support Hillary Clinton? Unlikely.
The organization Poor People's Economic Human Rights Campaign is hosting the March For Our Lives protest, an effort to highlight the dissonance between a party ostensibly focused on equality for all and the lavish spending of the Democratic National Convention. Jill Stein, the Green Party candidate, is scheduled to speak. On the final day of the convention the group will serve beans in a "fart-in," apparently to make a point about how the system stinks.
---
Ride DNC
July 27, 6:30 p.m., Elkins Park
Do they support Hillary Clinton? Maybe! Or maybe not!
By far the chillest of all of the protests at the DNC, the Ride DNC consists of a bunch of bikers just bikin' around, and then finishing the night with a party. They don't really have one big issue to unite around—they simply ask their protesters to "let our voices, our issues, and our opinions be heard." Nice.
---
Westboro Baptist Church
July 26, 4:00 p.m., City Hall
Do they support Hillary Clinton? Nope.
America's laziest assholes are at it again! This time, they're mad about… (spins their bigot wheel)… "sodomy, same sex marriage, transgender, adultery, fornication, idolatry" and "murder." Whatever!
---
Trump for PA
July 26–July 28, 8 a.m., Marconi Plaza East
Do they support Hillary Clinton? Definitely not.
This one's pretty self-explanatory, and it's likely to lead to some interesting scenes around Marconi Plaza, where several other protest groups are also converging. Trump himself will also be in Pennsylvania this week: he's planning a visit to Scranton on Wednesday. It's not clear what specific group is behind the rally, but the permit from the city of Philadelphia anticipates 50–100 demonstrators.
---
Uber Protest
July 25, 11 p.m.
Do they support Hillary Clinton? Hard to say.
People plan to converge outside an "exclusive DNC" party on Monday night, protesting "unfair wages paid by Uber, the company's lack of concern for disabled riders and the plight of 17 Philadelphia Uber Black limousine drivers they say were recently banned for working for the ride-sharing service under murky circumstances."
Michael Rosen is a reporter for Fusion based out of Oakland.
Nidhi Prakash is a journalist in NYC via Sydney, London, Santiago, Auckland, Mumbai. She reports on international news, healthcare, labor news, and more for Fusion.