Perhaps the only more depressingly predictable, uniquely American thing than mass shootings are the spate of crowdfunding campaigns that (mostly) benevolent souls create to help cover the medical expenses of the survivors in the wake of such atrocities.

The generosity on display is always amazing. Nearly 50,000 total strangers, for instance, have given more than $3 million to benefit the victims of the Las Vegas massacre and their families in just one day since a local politician set up the GoFundMe page.
Giving to these pages, particularly as the stories of the heroic survivors come to light, is a tangible, worthwhile thing you can do to help, from anywhere.
One of those heroes is Jonathan Smith, who helped his family and an untold number of other concertgoers escape the venue with their lives.
According to The Washington Post, whose reporting helped Smith's story go viral late Monday, he is 30 years old and works as a copy machine repairman. His sister-in-law, Tiffany Jones, is raising money on GoFundMe to cover Smith's medical expenses, "much of which will need to come out of pocket," she wrote.
G/O Media may get a commission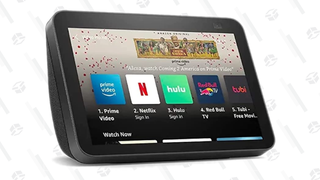 It's worth reflecting on the dark political choices that have led us to this reality. American heroes can't afford the care necessary to save their lives and instead need to turn to the internet for help. It's a well-documented phenomena among people from all walks of life facing an unexpected medical crisis who are uninsured or underinsured.
As Zaid Jilani pointed out at The Intercept, we wouldn't be in this hellscape if the United States had universal healthcare, an argument made clear by how our allies across the pond have responded to acts of terrorism at home.
After multiple coordinated attacks in London earlier this summer, personnel with the National Health Service were on the scene in minutes, providing life-saving care. Because most medical care in the United Kingdom is provided free of charge, the survivors of that attack, as well as those of the bombing at a May Ariana Grande concert in Manchester, only had to worry about their own recovery and forging a road forward. One American was killed in Manchester. His widow returned home and turned to crowdfunding to pay for her own continuing need for care, with a campaign that has since reached its goal.
Today, consider giving whatever you can to any of the campaigns listed below, which have been verified by GoFundMe. Tomorrow, start fighting for the world you want to live in, where quality, affordable medical care is freely available to all.
A small sampling of verified campaigns is here (there's also a running list of all verified Las Vegas-related campaigns on this GoFundMe landing page):