Thursday night is the sixth Republican presidential debate, and you know what that means: FIGHTS.
Who's fighting, you ask?
EVERYONE v. DONALD TRUMP
Trump's stated platform—building a "big, beautiful" wall along the U.S.-Mexico border, banning all Muslims from entering the country until he can "figure out what's going on," and "bomb[ing] the shit" out of ISIS—is basically identical to what a majority of the candidates sharing the stage tonight are also advocating—Rubio wants to "absolutely" build a border wall, Bush wants to ban Muslim refugees from entering the country, and Cruz wants to "carpet bomb" ISIS "into oblivion,"—so naturally everyone wants to fight him and say he doesn't represent their party.
Possible lines of attack:
Could go something like, "You do not represent the Republican party even though you are leading among likely Republican voters and campaign on proposals that are very similar to other Republicans' campaign proposals. But, you know, you are, like, tarnishing the brand."
G/O Media may get a commission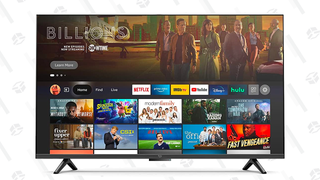 22% off
Amazon Fire TV - 50" Omni Series 4K - Early Access Deal
DONALD TRUMP v. TED CRUZ
To quote 21st century political theorist Taylor Swift, it used to be mad love between Trump and Cruz, but baby now they've got bad blood. The bear hug has loosened, it seems, now that Cruz is polling second behind Trump in national surveys and is pretty much deadlocked with him in Iowa. The tightening race is causing Trump to lash out because hurt people hurt people, I guess.
Possible lines of attack:
Trump will likely call Cruz Canadian and concern-troll him about possible lawsuits in the event that he gets the party's nomination.
MARCO RUBIO v. TED CRUZ
For those who think that Trump couldn't possibly win the nomination (even though, you know, his whole racist-super-villain-embracing-the-dark-side-of-the-Force thing seems to be a real hit so far), the two candidates to watch slug it out will be Cruz and Rubio.
Possible lines of attack:
JEB BUSH v. JEB BUSH
Bush is that kid who spilled mustard on his shirt on the first day of high school and was consequently called "Mustard Boy" until graduation.
Possible lines of attack:
His Apple watch may catch him off guard.
JOHN KASICH v. THE MODERATORS
I do not have a crystal ball, but I am going to venture a guess that Kasich is not going to get a lot of attention tonight and, if what is past is prologue, he will probably complain about it.
Possible lines of attack:
"What am I, chopped liver with a cool-guy haircut?"
CHRIS CHRISTIE v. THE PEOPLE HE THINKS ARE NOT GROWNUPS
Christie is trying really hard to market himself as the adult in the room, even though he has a history of telling his constituents to "shut up" and calling people idiots.
Possible lines of attack:
"I don't shut up, I grow up. And when I look at you, I throw up."
Keep it clean, candidates.