As controversy continues to swirl around Southern states' decisions to take down—or leave up—monuments to the Confederacy, a new historical marker going up in North Carolina will pay tribute to a slave named Will, who killed his white overseer in 1834.

According to the Raleigh News and Observer, Will was shot in the back by his overseer, Richard Baxter, after he refused to share a hoe he had made. He then "fatally slashed his attacker on the hip and the arm, earning himself a trip to the gallows."
But it's what happened next that's of special historical importance to North Carolina, and the history of slavery in this country.
From the Observer:
But before the death sentence could be carried out, the plantation owner hired a lawyer to defend Will, paying the unheard-of fee of $1,000. That lawyer, Bartholomew Moore, would one day become the state's attorney general. But at age 33, he persuaded the court to overturn an earlier ruling governing slavery and reduce Will's sentence to manslaughter – arguing that slaves were entitled to self defense.
"The prisoner is a human being," wrote William Gaston, then a justice of the N.C. Supreme Court, "degraded by slavery, but yet having 'organs, senses, dimensions, passions,' like our own."
G/O Media may get a commission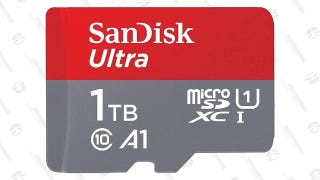 Save $75
SanDisk Ultra 1TB MicroSDXC Card
While tributes to Confederate figures are myriad in North Carolina, the number of markers dedicated to slaves or former slaves are much more limited. Will's marker is set to be dedicated this Saturday in Battleboro NC, near the spot where he killed Baxter.

You can read the rest of Will's incredible story at the Observer.