Thanksgiving tends to make people think about hunger. Food pantries report a spike in volunteering around the holidays, donations generally go up, and rich people are photographed wearing hairnets and dishing out mashed potatoes.
But when interest dries up, people stay hungry. This past September, nearly a third of the food pantries and soup kitchens in New York City reported that they had turned people away. They cited two reasons: either they weren't able to prepare nutritious enough meals, or they simply ran out of food altogether.
According to the latest report from the Food Bank of New York City, 42% of pantries across the city also said they had to reduce the number of meals they packed into bags for people to take home with them, for the same reason: there just wasn't enough food to go around.
Demand remains high on emergency food providers in New York. A full 79% reported increases compared to this time three years ago. Many are straining, and sometimes failing, to meet people's basic needs. And you can see the same pattern of demand in reports from food pantries across the country.
The math behind this crisis is pretty simple—and brutal. In 2013, a set of automatic reductions to a federal food assistance program called the Supplemental Nutrition Assistance Program (SNAP) left people with less money to spend on food. An additional round of cuts to the program in 2014 was one of the only things Democrats and Republicans actually agreed on that year.
G/O Media may get a commission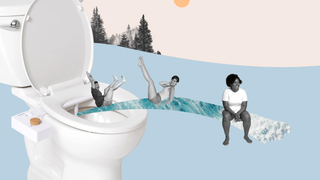 17% off
Tushy 3.0 Warm Water Spa Bidet Attachment
The average SNAP benefit now amounts to about $1.40 per person per meal. With less money for food, people's reliance on emergency providers—soup kitchens and food pantries—has gone up. And now those organizations, often without increased funding or staffing, struggle to meet the demand.
This is what the cycle of hunger looks like in the United States, and with president-elect Donald Trump heading to the White House in January and House Speaker Paul Ryan pulling the strings on the federal budget, further reductions to food assistance are on the agenda.

🍴 🍴 🍴
It's the same story across the country: People need more, but food pantries, often considered the final line of defense against hunger, have less to give.
"We are struggling to keep pace with the demand," Tamara Sandberg, executive director of the Kentucky Association of Food Banks, told me just a few days before Thanksgiving. "Even before there's any talk about additional reductions in federal nutrition programs, more than a third of the food banks in our network already didn't have enough food to meet client demand as it is."
SNAP, which is another name for food stamps, is the country's signature food assistance program. And it actually works, even under current funding strains, when it comes to helping people out of poverty and sustaining people with the basics they need to get by.
"The issue is not that there are too many people on food stamps, it is that there are too few," Tamara Draut, vice president of policy and research at Demos, said over email. "While we saw 25% increase in SNAP participation in 2015… our goal should be 100% participation among all eligible families."
According to 2014 Census data compiled in a White House report on the program, 4.7 million people—including 2.1 million children—were helped out of poverty because of their SNAP benefits. The program reduced the overall child poverty rate by 2.8 percentage points in that year alone. (Kids account for 44% of total SNAP participants. So when Congress cuts benefits, this is mostly who they're targeting.)
Sandberg of the Kentucky Association of Food Banks sees this trend reflected every day in the people lining up at pantries in her state. "Elderly people, disabled people, single mothers with their children, stand outside in extreme weather—cold in the winter, heat in the summer—for hours at a time," she said. People know that resources are scarce, so they line up early. "It is heartbreaking to turn away those families when the pantries run out of the food."
And, according to Roll Call,  Ryan and the House Republicans are debating whether to cut food stamps by an additional $23 billion, which could make those lines even longer.
Ryan's office would not confirm the proposal to Roll Call, but it would be in line with his methods in previous years. In 2014, his proposed budget derived 69% of its spending reductions from programs that serve low- and moderate-income households. His previous proposals have also included plans to block grant SNAP, which means sending states a fixed amount of money that remains unchanged even if demand goes up.
Trump has said very little about his plans to fight poverty—except that the minimum wage is both too low and too high—but Ryan, in statements and interviews since the election, seems confident that the president-elect will play ball when it comes to pushing through a budget with major cuts to the safety net.

🍴 🍴 🍴
And so struggling people, and struggling assistance organizations, may be faced with the challenge of doing more with even less.
"The SNAP program, while it's great, it's already not meeting people's needs as it is. That's why we are very concerned about any possibility of cuts or a weakening of that program," Sandberg told me. "And we don't have a contingency plan in place because we are already working hard to keep enough food on our shelves as it is."
Donations and volunteer numbers at food banks tend to surge around Thanksgiving—it seems like the one time each year that people who don't struggle to feed themselves think about hunger in America in a way that gets them to do something—but that spike in interest doesn't sustain these organizations throughout the rest of the year.
The calendar sees a series of ebbs and flows in demand. Some pantries have a spike in need over the summer when kids no longer receive lunch at school. Others see increased demand in the later winter months, after the reserves from the holidays have run out.
But keeping their shelves stocked to help keep people fed is a year-long concern for Sandberg, and that's a message she says she'd like to take to Congress: "We believe our nation's budget is a moral document."
Whether or not depriving hungry kids of food is moral is a question that Paul Ryan, and ultimately Donald Trump, will have to answer for themselves.