A high school administrator in Fort Bend County, Texas, is under fire after telling female students the way they dress distracts boys from their education.
During a school assembly last week, Clements High School assistant principal Phil Morgante told female students not to wear crop tops or tight clothing–because they prove a distraction
"Ladies, I know you've been working on your abs since the Olympics, right? But your shirts can't be up here. It's gotta cover the whole gut…Ladies, I blame you all for boys' low grades because of tight clothing," said Morgante, according to local news site Click2Houston. One student appears to have recorded his comments–the recording was uploaded to SoundCloud by Odyssey, the website which originally broke the story on Wednesday:
And students immediately expressed their outrage at the underlying sentiment, even if Morgante's comment was an attempt at a joke:
G/O Media may get a commission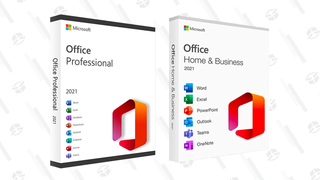 89% off
Microsoft Office Professional 2021 Lifetime License
https://twitter.com/alirshirazi/status/768603179340566528
https://twitter.com/KayleighManz/status/768466452605087745
@sahiloverthere I don't recall getting distracted by some chicks shoulders when I'm taking a damn test. If I fail It's b/c of me. Not them

— sahil (@sahiloverthere) September 2, 2016
"It's just kind of gross because he teaches teenage girls," one student, Piper Cotton, told ABC 13. "Like they can blame us for them being distracted during school hours. He insisted rape culture on us," Cotton said.
Morgante's comments are problematic not just because they fall back to an old victim-blaming trope of men being lead astray by women, but also because in the same breath he implies that girls in the school are getting in the way of the more valuable education of the boys.
Fort Bend Independent School District released the following statement to ABC 13 following the incident:

During assemblies last week, when speaking about the dress code, a Clements High School administrator made comments that were inappropriate and offensive to students. These comments should not have been made, and do not represent the beliefs of Fort Bend ISD or the Clements administrative team or faculty. The comments were a failed attempt at humor and inappropriate.

Following concerns expressed by students, the Clements principal took prompt action to address the comments and apologized to the student body.

We have high expectations for both students and staff at Clements High School and throughout Fort Bend ISD. Our goal is to provide a safe, positive learning environment where all students feel supported and valued.

Please know this situation is being addressed, and appropriate actions will be taken.
Correction: This article has been updated to reflect that the audio recorded by a student was uploaded to SoundCloud by Odyssey, not the student themselves.