UPDATE, JANUARY 24, 2017: President Trump has just signed executive orders to go ahead with the Dakota Access pipeline.
"Water is life."
That's been the refrain during almost a year's worth of protests against building the 1,200-mile-long Dakota Access Pipeline (DAPL) near the Standing Rock Sioux Tribe's reservation in North Dakota. Protesters, who call themselves "Water Protectors," say the pipeline would transform their land—and their way of life—forever.
Protesters have been shot with rubber bullets, tasered, and blasted with water cannons in freezing temperatures. They have been threatened, surveilled, and arrested, all while trying to protect the land they've lived on for centuries.
Yet they've maintained a peaceful presence throughout the struggle to stop the pipeline, which would snake through Native American lands and disturb sacred Sioux Nation burial sites.
G/O Media may get a commission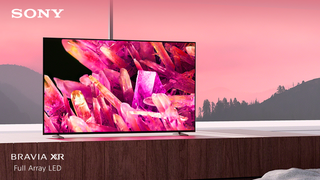 $400 off
Sony 55 Inch 4K Ultra HD TV X90K Series
The following timeline lays out how the struggle came to be and the long road ahead for the Standing Rock Sioux. Read up and do what you can, and remember what campground head chef Nantinki Young told Fusion.

"This pipeline–if it comes in–it's gonna destroy. It's gonna destroy life. It's gonna destroy water. And water is life, water is life. It controls everything."
January 2016
Dakota Access Pipeline gets green light
Dakota Access, LLC, a company owned by the Texas-based company Energy Transfer Partners, announced it had received approval for its permit from the North Dakota Public Service Commission. On its website, the company predicted the pipeline would be fully functional–transporting more than 450,000 barrels of oil a day–by the end of the year. This, Dakota Access wrote on its website, could account for more than half of the Bakken oil field's daily crude oil production.

April 2016
In April, a Fusion reporter spoke with members of the Standing Rock Sioux Tribe on the ground as they launched an online campaign and petition calling for "rezpect," a term blending slang for reservation with "respect," for the tribe's water source.
The petition, which called for the U.S. Army Corps of Engineers, an agency under the Department of Defense that is responsible for evaluating permit requests for all water crossings, to immediately stop construction of the pipeline, received more than 430,000 signatures. Young people also organized a run to bring awareness to the cause.
Still, workers began to clear the way for the pipeline starting in late May.

July 2016
DAPL clears final hurdle
The Army Corps of Engineers gave its blessing to the pipeline plans, saying in its permit approval that its construction would have minimal impact on the environment and would create local jobs.
Standing Rock Sioux Tribe sues
On July 27, the tribe took its first legal action, filing an injunction to halt the pipeline's construction and suing the Army Corps of Engineers in hopes that the court would strike down the Corps' permit. Less than two weeks later, Dakota Access' parent company, Energy Transfer Partners, countersued the chairman of the Standing Rock tribe and several other members for their efforts to block construction.

August 2016
"Can't drink oil! Keep it in the soil!"
Many of the protests and other organized activity against the pipeline began after the tribe sued. Opponents of the pipeline began to camp close to the Standing Rock reservation.
Fusion spoke with three young Native Americans about standing their ground against the pipeline as the conflict intensified.
"Listen to our voice. Listen to our cries because our indigenous people are suffering to protect the land that you are living on," Naelyn Pike of the Chiricahua Apache Tribe told Fusion.
"Can't drink oil," they chanted. "Keep it in the soil!"
By August, the protesters—nearly 3,000 people—moved through the Sacred Stones camp at Standing Rock, ready for the long haul. Head chef Nantinki Young, 27, was tasked with feeding all of them.
"As soon as I heard this was happening, I wanted to make sure that I was here," Young told Fusion. "I felt like my heart was here. It's not our tribe, I'm not from here, but we're all Native Americans, and we all stand together."
"At first, it was just like a little campsite," she said. "Now it's turned into a community."
"The world is watching"
The United Nations Permanent Forum on Indigenous Issues released a statement in support of the growing group of protesters standing up against the pipeline.
"For indigenous peoples, the environment is a living entity that contains our life sources as well as our sacred sites and heritage. The environment is an important part of our lives and any threats to it impacts our families, ancestors, and future generations," members of the forum wrote in the statement. "It is therefore imperative that the United States respects and recognizes the intrinsic, inter-related rights of Sioux and their spiritual traditions, history, philosophy, and especially their rights to their lands and territories. The world is watching what is happening in North Dakota."
Dale American Horse Jr., a Sicangu Lakota activist, chained himself to a backhoe during a peaceful protest of the pipeline on Aug. 31.
"Today the people took a stand against the construction company that's helping build the pipeline for the energy and oil companies," Cody Hall of Red Warrior Camp told Fusion. Dale American Horse Jr. was arrested after several hours.
September 2016
Standing Rock in the national spotlight
A meeting between security and protesters turns violent. Tribal officials said construction crews destroyed burial sites on the tribe's private lands, and when they went to confront the workers, the situation escalated.
According to the protesters, private security workers used dogs and pepper spray on them. A spokesperson for the company behind the pipeline said the protesters "attacked" the workers. The tribe reported that 30 protesters were pepper sprayed and six people were bitten by dogs, including a child. A representative of the local sheriff's office said four private security personnel and two dogs were injured in the clash.
Green Party presidential candidate Dr. Jill Stein helped bring a wave of national attention to the pipeline when she spray painted a bulldozer in protest, scrawling "I approve this message" in red paint. After video of Stein was posted online September 6, the Morton County Sheriff's Department issued a warrant for her arrest.
Writing about the meaning of water to Native American peoples and to us all, Fusion's Ari Phillips explained, "we will eventually use up all the planet's oil reserves, and will need to find other ways of powering our lifestyle. As for water, we will never be able to survive without it."
Women led the effort to create the Defenders of the Water, a makeshift school that educates young activists.
Federal judge allows construction to continue
After ordering a temporary stoppage in constructing a portion of the pipeline that members of the Standing Rock tribe said crossed a sacred burial ground, U.S. District Court Judge James Boasberg ruled September 9 that "the Tribe has not demonstrated an injunction was warranted here," allowing construction to continue.
That same day, three federal agencies–the Department of Justice, the Army, and the Department of the Interior–responded with a joint statement calling on Energy Transfer Partners to halt construction near Lake Oahe, where the protesters had set up camp, until a review for possible damage to tribal historical sites could be completed.
Black Lives Matter joins the #NoDAPL fight
This month, Black Lives Matter also took action against the pipeline, delivering supplies and joining the water protectors in their stand as police forces.

October 2016
The militarized police response
As more than 20 cities around the country celebrated Indigenous People's Day on October 10, the actor Shailene Woodley live-streamed her arrest at Standing Rock on Facebook Live.
"Treaties are broken. Land is stolen. Dams are built. Reservations are flooded. People are displaced. Yet we fail to notice. We fail to acknowledge. We fail to act," Shailene wrote in a statement published by TIME. "So much so that it took me, a white non-native woman being arrested on Oct 10th in North Dakota, on Indigenous Peoples' Day, to bring this cause to many people's attention."
She would later plead not guilty to riot and criminal trespass charges.
Meanwhile, tensions between activists and authorities reached a boiling point on October 27 as dozens were arrested by police for a setting up an "illegal road block" and building an encampment on private property. There were later reports that some of the 141 activists arrested were temporarily housed in kennel-like enclosures and had identification numbers written on their arms.
Slacktivism meets activism
After reports began surfacing in late October that police were using social media to monitor the protesters' movements, users from around the world used Facebook to "check-in" at Standing Rock in an effort to muddle any surveillance efforts. It seemed like the only two people not talking about the Dakota Access Pipeline were then-presidential candidates Hillary Clinton and Donald Trump.

November 2016
Politics and the pipeline
A glimmer of hope came in the form of a NowThis interview with President Obama, where he hinted that the federal government could intervene to reroute the pipeline to avoid threatening the Standing Rock Sioux Tribe's water supply and cutting through sacred tribal lands.
Virginia Sen. Tim Kaine, then Clinton's presidential running mate, told Fusion's Alicia Menendez that changing the pipeline's route was "the right thing to do."
But all those well-meaning words weren't enough to stop the escalating situation near Standing Rock. As activists gathered to pray at the edge of Cantapeta Creek, they were met with pepper spray and rubber bullets from police.
"The reason why we wanted to go up there and pray was because the past week and a half there have been police units along with military units up there constantly walking over the grave sites," one activist told Fusion. "So we decided to make a bridge to try to cross that to go up there and pray for those people who are laying up there, and they will not allow us to go up there."
Not long after, a journalist was shot with a rubber bullet–and captured the whole thing on video. Police later denied to Fusion that the incident ever happened.
#NoDAPL Day of Action
In an act of solidarity on November 15, activists in 300 cities around the world participated in a #NoDAPL Day of Action.
Celebrities were among those standing up against the pipeline, with stars like Willow Smith, Rosario Dawson, Shailene Woodley, and Mark Ruffalo speaking out.
No thanks, no giving
Tensions between peaceful protesters and law enforcement again boiled over in the lead-up to Thanksgiving, with police deploying water cannons and tear gas on protesters in below-freezing weather. According to an Indigenous Environmental Network spokesperson, 167 protesters were injured in just one night.
Protesters spoke out against police's non-lethal means still causing serious injuries to peaceful activists.
"You shot women tonight," one protester said into a megaphone. "You shot our medics tonight. You split a guy's head open. You busted a dude's fingers up. Please stop shooting rubber bullets."
Among those injured was Sophia Wilansky, a 21-year-old, New York-based activist who was in danger of having her arm amputated after being hit with a concussion grenade, according to her father and fellow activists on the scene.
It didn't stop there. As Thanksgiving–a holiday marked with mourning in many Native American communities–came and went, the Army Corps of Engineers issued an ultimatum to the demonstrators: Move out by December 5 or risk arrest.
North Dakota Gov. Dalrymple issues mandatory evacuation order
On November 29, North Dakota Gov. Jack Dalrymple issued a mandatory evacuation order for the campsites where protesters have been based for more than six months, citing the winter weather conditions and the U.S. Army Corps of Engineer's previous orders to vacate the area.
Although initial reports indicated Dalrymple was empowering law enforcement to block all supplies coming to the protesters, including food, a governor's office spokesperson later said there are no blockades planned.
Looking forward
In a letter from the Army Corps of Engineers to the Standing Rock Sioux Tribe, the Corp instructed protesters to relocate to an out-of-the-way "free speech zone" to allow construction to continue.
"This decision is necessary to protect the general public from the violent confrontation between protesters and law enforcement officials that have occurred in this area, and to prevent death, illness, or serious injury to inhabitants of encampments due to the harsh North Dakota winter conditions," Col. John Henderson wrote in the letter.
Activists and their allies have asserted that the Army Corps' depiction of the protesters is unfair. Ryan Vizzions, a photographer documenting the events near the reservation, told Fusion that even the police are trying to paint the Water Protectors as violent thugs.
"Everybody is peaceful and prayerful, and what they're faced with on the other side is extreme militarization of police and civil rights and human rights violations on all angles," he said.
In fact, a state judge recently dismissed the felony charges against the pipeline protesters who were arrested in late October, saying the county failed to prove that the protesters conspired to harm people or property.
President-elect Donald Trump has yet to show his hand on DAPL, but it seems extremely unlikely that he would come out against its construction given his previous support for the Keystone XL Pipeline and the fact that he literally owned stock in the company trying to build the pipeline.
There's a long road ahead, but anti-pipeline protesters aren't prepared to give up.
"What we have got to tell Mr. Trump and everybody else: We are not going silently into the night," Bernie Sanders said to a crowd gathered in solidarity in Washington, D.C. on the #NoDAPL day of action. "The stakes are too high for the future of this planet."
Despite the evacuation order, the Standing Rock Sioux Tribe, other Native Americans, and their allies have expressed no interest in leaving until they stop construction of the pipeline.

"I am protecting that for my future generations, all those that can't speak for themselves, not just the babies, but everything that flies in the sky, all those that swim in the waters, the four leggeds," Kandi Mossett told Fusion. "Somebody has to speak on their behalf because they don't have a voice."
December 2016
Victory for the Water Protectors
There was finally some news to celebrate–albeit cautiously. The U.S. Army Corps of Engineers announced it would not grant Energy Transfer Partners the easement they needed to continue work on the pipeline.
But that doesn't mean the end of the pipeline: the Corps also said other routes for the project will be explored in an environmental impact report. The news was met with measured enthusiasm from protesters who had spent months at Standing Rock.
"I know this is a victory for this one DAPL battle, but we have not yet won the DAPL war," Standing Rock Sioux's Tribal Chairman Dave Archambault II wrote in a statement. "There will be more battles ahead and we will continue to strategize and win. The camp has brought us this far—now it is time we pivot to the next phase of this struggle. That will be lead on different fronts like in court, with the new Administration, with Congress, and with the investors."

Fireworks celebration at #StandingRock last night after the pipeline was halted. #NoDAPL 📷 by @thisisjorge

A photo posted by Fusion (@thisisfusion) on Dec 5, 2016 at 8:32am PST
Of course, Energy Transfer Partners, the company behind the pipeline, didn't take the news well.
"The White House's directive today to the Corps for further delay is just the latest in a series of overt and transparent political actions by an administration which has abandoned the rule of law in favor of currying favor with a narrow and extreme political constituency," the company wrote in a statement."
The victory could be short-lived. President-elect Donald Trump came out in favor of of the pipeline. His transition team was quick to point out that, despite previously owning shares in the company behind the project, Trump's support "has nothing to do with his personal investments and everything to do with promoting policies that benefit all Americans."
The Standing Rock Sioux tribe invited Trump to meet with them to discuss the situation.
"It is imperative that we push through as much as we can under the current administration," Archambault wrote in a statement. "We cannot afford to lose momentum and continue to be on edge due to the Dakota Access presence at the drill pad."