After two days of punishing competition following years of training and preparation, Mack Beggs, a 17-year-old transgender boy, was crowned the top female wrestler in the 110-lb weight class for the state of Texas.
Beggs was at times booed by parents and members of the crowd during the weekend's matches as he faced up against the best female wrestlers from around the state. But as the Washington Post reports, Beggs, who was born Mackenzie, didn't want it to be that way.
Beggs petitioned the University Interscholastic League, the governing body that runs sports programs in the state's public schools, back in January to allow him to compete with the boys but was denied because UIL defines gender based on an athlete's birth certificate.
Beggs, a junior at Euless Trinity, started transitioning more than a year ago and now receives testosterone injections. He documented his transition in videos posted on Facebook.
"The message I'm trying to send, the overall universal message I would say to y'all is don't give up and don't give up on yourself, because you don't know when you'll find yourself," he said in one video.
G/O Media may get a commission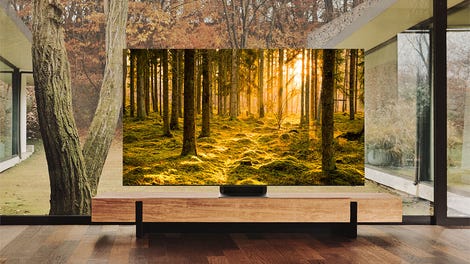 Up to 40% off
Samsung Smart TVs
His victory comes the same week that President Trump rolled back federal guidelines offering protections to transgender students in our schools, drawing the discussion about trans rights into the sports arenga.
And the Post encountered more than a few unhappy spectators watching Beggs compete.

"She's standing there holding her head high like she's the winner," Patti Overstreet, a mother of a wrestler in the boys' division, told the paper. "She's not winning. She's cheating."
Jim Baudhuin, an attorney and parent of a female wrestler in another weight class, is suing the UIL over its decision to make Beggs wrestle with the women.
When Beggs advanced from the state regional tournament, where two opponents chose to forfeit rather than face him, Baudhuin said wrestlers' were concerned about "imminent threat of bodily harm."
After that competition, Beggs posted on Facebook: "We just want to WRESTLE."
"The thing is, we want to wrestle each other. I feel so sick and disgusted by the discrimination not by the kids, the PARENTS AND COACHES," he wrote.
When Beggs won the championship, a longtime wrestling coach told the Post: "I just witnessed my sport change."
Ahead of the state tournament, Baudhuin called it a "no-win situation."
And that will continue to be the case until Texas–and states with similar transphobic rules on the books–change their policies to be more inclusive.