West Virginia attorney general assistant communications director Carrie Bowe should probably not have said, "Everybody says the final solution to this race problem is for every white country, and only white countries, to assimilate, i.e., intermarry with all those non-whites" in a video recorded and posted for the entire world to see.
But alas, she did, and now she is the former spokeswoman for the West Virginia attorney general, the Charleston Gazette-Mail reported Thursday.
Patrick Morrisey, the West Virginia AG, fired Bowe after the video—titled "THE 'Stop White Genocide' Video" and first uploaded to YouTube in December 2012—came to the attention of his office Thursday, according to a statement from Morrisey's office.
In a statement to Fusion, Morrisey's press secretary Curtis Johnson wrote, "The employee's conduct and statements, which occurred years before being employed by the attorney general's office, were not previously disclosed until today, which is contrary to the transparency requirements for being a member of this office, do not reflect the opinion or the perspective of the attorney general or this office."
In front of an all-white background while infomercial music plays, Bowe and four other women take turns spouting white supremacist nonsense. (The other women in the video have not been identified.)
G/O Media may get a commission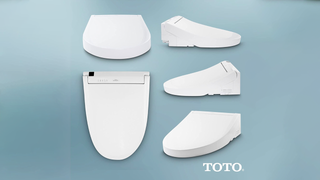 44% off
Toto Washlet Electronic Bidet Toilet Seat
At one point, one woman says, "How long would it take anyone to realize, I'm not talking (about) a race problem, I'm talking about the final solution to the black problem?"
Some choice quotes from Bowe from the video:

"If I tell you the ongoing truth about genocide against my race, the white race, liberals and 'respectable conservatives' agree that I'm a Nazi that wants to kill 6 million Jews."

"Throughout elementary school, junior high, high school and college, I was told that my race, the white race, was the cause of all the world's problems. "Now, many of you have jobs where minorities say things that would get you as a white person instantly fired."
Bowe explained her actions to West Virginia Public Broadcasting, saying, "The person who shot this asked me to be in the video, because of my looks, quite frankly." She went on: "Growing up, you could not question why some races could talk or behave a certain way and it was seen as OK, whereby if the behavior was repeated by a white person, it was automatically racist."
But Bowe, at the end of the long statement, took some time to apologize, saying, "I understand and accept responsibility for my ignorance."
She also posted an apology to her Facebook page:
West Virginia's attorney general's office declined to comment beyond the statement. Bowe did not respond to an immediate request for comment.
Michael Rosen is a reporter for Fusion based out of Oakland.