Rebecca Bradley, a recently appointed Wisconsin Supreme Court Justice, once wrote hateful comments about gay people, calling them "queers" and "degenerates," and saying that gay sex was a form of suicide by AIDS.
Bradley's writings were revealed on Monday by the group One Wisconsin Now, which pointed to opinion pieces written in the early 1990s and published in the Marquette Tribune a student newspaper at Marquette University. Her comments are vitriolic.
She wrote things like, "either you condone drug use, homosexuality, AIDS-producing sex, adultery and murder and are therefore a bad person, or you didn't know that [President Bill Clinton] supports abortion on demand and socialism, which means you are dumb," and "how sad that the lives of degenerate drug addicts and queers are valued more than the innocent victims of more prevalent ailments." She also wrote (emphasis ours):

According to the Centers for Disease Control, 59 percent of [AIDS] cases result from male homosexual relations… 22 percent from drug addicts sharing needles, 13 percent from heterosexuals engaging in sexual relations with homosexuals and drug users. The remaining 6 percent of cases are classified as "other." The other 94 percent, could have avoided AIDS by refraining from engaging in immoral and unhealthy behavior. Perhaps AIDS Awareness should seek to educate us with these facts, rather than with their misdirected compassion for the degenerates who basically commit suicide through their behavior.
G/O Media may get a commission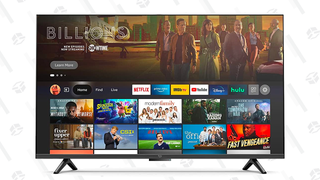 22% off
Amazon Fire TV - 50" Omni Series 4K - Early Access Deal
Wisconsin Governor Scott Walker appointed Bradley to the state Supreme Court back in October, following the September death of Justice N. Patrick Crooks. Bradley said at the time that she was "deeply humbled and honored that the governor has expressed his confidence in me," adding, "I am committed to the rule of law, to applying the law fairly and impartially and to upholding the Constitution of the United States and the Constitution of the state of Wisconsin."
The revelation by One Wisconsin Now comes a few weeks ahead of an April 5 vote, during which residents will decide whether to elect Bradley to a ten-year term on the court. Bradley's opponent, Appeals Judge JoAnne Kloppenburg, criticized her for the writings. Kloppenburg said Bradley's words "are as abhorrent and disturbing today as they were in 1992 as people were dying in huge numbers from AIDS," adding, "there is no statute of limitations on hate."
In a statement, One Wisconsin Now Executive Director Scot Ross said Bradley should step down now. "Rebecca Bradley has revealed such a depth of hatred and contempt for people that she cannot be trusted to uphold the most basic tenet of our judicial system, that all are equal before the law," he said.
Bradley, for her part, has apologized for the hateful sentiments. "I was writing as a very young student," she said in a statement, adding, "I am frankly embarrassed at the content and tone of what I wrote those many years ago." She offered an apology to those offended, and assured the public that "those comments are not reflective of my worldview.  These comments have nothing to do with who I am as a person or a jurist, and they have nothing to do with the issues facing the voters of this state." She also called the resurfacing "a blatant mudslinging campaign."
Walker, who has helped Bradley's career, said he didn't know about the articles when he put her on the Supreme Court. He added that she "appropriately made it clear… that a column written in college does not reflect her views as a Supreme Court justice, a court of appeals judge, a circuit court judge or as an attorney."
Danielle Wiener-Bronner is a news reporter.