In an era marked by so many divisions, hateful ideas, and willful ignorance, it is refreshing to see a major television network producing such an honest, probing, and emotional series. It helps that ABC's anthology series American Crime, now in its third season, was created by Academy Award winner and 12 Years a Slave screenwriter John Ridley.
In Season 3's third episode airing tonight, Remezcla reports, series writers Janine Salinas Schoenberg and Moisés Zamora wanted to more accurately portray the migrant workers who come to the United States and harvest much of the food on our supermarket shelves, often in conditions of grave exploitation and abuse. So they wrote an entire scene in the Aztec language of Nahuatl, a language that is often cherished and widely recognized in much of Mexico, but practically unheard of here.
According to Remezcla:

They wanted to give a face and a voice to those of indigenous descent who come to the U.S. with an even greater disadvantage when they don't speak neither English or Spanish. That meant casting actors who could handle the task of carrying a scene in Nahuatl, a language that, while spoken by close to 2 million people in Mexico today, is rarely captured on screen in American media.
Just as interesting is how the actors came to be cast for these roles. Actor Hansel Ramírez, Remezcla notes, landed a callback by learning a Nahuatl lullaby. Nitzia Chama—a Veracruz-born actress and current producer of Univisión's ¡Despierta América! morning show—believes her landing of the role was divine intervention. Not a native speaker, Shama learned the Aztec language with the help of a language coach and professor ahead of the audition.
"We're living in a very sensitive moment right now," she says, according to Remezcla. "The responsibility was even bigger for us with these roles. But at the same time I felt very proud of being Mexican and representing this kind of woman who exists, and is very real. For us it's a powerful platform for us to project the best of Mexico, the best of our people."
G/O Media may get a commission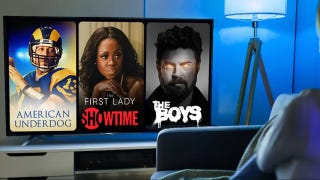 UNDER $1
99¢ Prime Video Channels
But even beyond this notable milestone in network television, Season 3's backstory is compelling and ambitious enough to make it well worth a watch. Set at a tomato farm in North Carolina, it confronts the painful—and often misunderstood—issues of undocumented immigration, human trafficking, slave labor, familial separation, isolation, and many other parallel ideas and narratives that should be watched by anyone who wants to get a grip on today's social cauldron that is the United States.
The show airs tonight on ABC at 10 p.m. EST.