Maria Butina, the 29-year old arrested last weekend and charged with acting as an unregistered Russian agent in the U.S., has been photographed with a considerable number of members of the Republican Party and the National Rifle Association. But a new report by Reuters shows that her efforts to influence U.S. policy on behalf of Russia went even further, including meeting top officials of the U.S. Federal Reserve and Treasury Department in 2015.
The meetings were arranged by a pro-Russian Washington think tank called the Center for the National Interest, which also hosted an April 2016 event with then-candidate Donald Trump at the Mayflower Hotel in Washington that was attended by Russia's former ambassador to the U.S., Sergei Kislyak.

According to Reuters, Butina accompanied Russia's then-Central Bank Deputy Governor Alexander Torshin—who investigators believe was Butina's handler as an agent and is close to Vladimir Putin—to meetings in April 2015 with then-Fed Vice Chairman Stanley Fischer and then-Treasury Undersecretary for International Affairs Nathan Sheets.

Sheets declined to comment to Reuters about the meetings, while Fischer confirmed that he had met with Torshin and his translator, Butina. The purpose of those meetings was to discuss U.S.-Russian economic policies under the administration of President Barack Obama and "the state of the Russian economy," Fischer and others told the news agency. He said he also recalled Torshin mentioning a meeting with the NRA.

The report also notes that the think tank's CEO, Dimitri Simes, traveled to Moscow two months before the Mayflower event with Trump, to meet with Putin and other Russian officials. Among the board members of the Center for the National Interest is former NRA President David Keene.

G/O Media may get a commission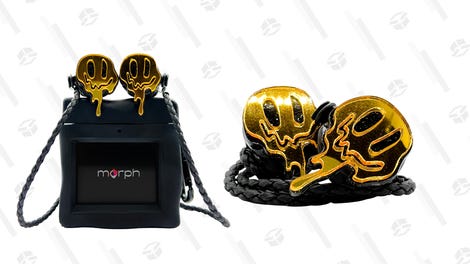 morph audio
Morph Earphones
Butina also published an opinion piece in the think tank's magazine in June 2015, the report said.

Meanwhile, The Washington Post reported on Sunday that Russian billionaire Konstantin Nikolaev, who has energy and tech investments in the U.S., was an important financier of Butina's activities, according to testimony Butina gave to the Senate Intelligence Committee last April.

Nikolaev's son Andrey also was a volunteer in support of Trump's 2016 presidential campaign, the Post reported.

A spokesman for Nikolaev told the newspaper that Nikolaev hasn't been in contact with Butina since 2014.

The Post noted:

Konstantin Nikolaev is a major investor in American Ethane and sits on the company's board.

The company was spotlighted by Trump during a visit to Beijing in November. During the trip, Trump and Chinese President Xi Jinping presided over a ceremony in which U.S. companies publicly signed deals with Chinese partners. One of the 15 deals deal inked at the event was a $26 billion deal for American Ethane to deliver liquid ethane to China.

At the event, Trump and Xi sat on a raised stage and applauded while executives, including American Ethane chief executive John Houghtaling II, came forward to sign trade deals at a table festooned with American and Chinese flags.
Butina clearly is important to the Russian government, either due to her role as a Russian agent or her propaganda potential—or both. Following her arrest, the Russian Foreign Ministry created a social media campaign with the hashtag #FreeMariaButina.

In a phone call on Saturday to U.S. Secretary of State Mike Pompeo, Russian Foreign Minister Sergei Lavrov called for Butina's release, saying she was being held on "fabricated charges."