Over the last few months, the Department of Education's civil rights division has opened a set of unusual investigations into Yale and the University of Southern California over what has been described, in various outlets, as "affirmative action for women" and "a toxic environment against men."

The investigations center on a handful of the universities' women-only groups, like USC's Women in Science and Engineering group and the Yale Women Innovators, as well as scholarships and fellowships that are open only to women. The probes, according to a Wall Street Journal article last week, "tap into a concern among a faction of white men nationwide that they are being left behind by affirmative action and other programs aimed at helping minorities and women." The Journal also quotes Mark Perry, a faculty member at the University of Michigan-Flint who filed a 2016 civil rights complaint over a women-only study lounge. Women are "still treated like they're underrepresented, like they're weak and victims and need all this support," Perry told the paper.

The investigations into both universities were launched after USC doctoral candidate Kursat Christoff Pekgoz, a 30-year-old immigrant from Turkey, wrote letters of complaint to the DOE. Over the last few weeks, Pekgoz has been interviewed over email (his preferred method) by a number of outlets, where he describes himself as a detached and hyper-logical champion of human rights who just happened to stumble upon these grave instances of anti-male bias. In an email to me, he says he filed his complaints so that "women, as the majority in colleges, will be able to compete with men, the minority, on equal footing."
Over the last few years, DOE investigations like this have focused on what is perceived as anti-male bias in sexual harassment and assault cases; Yale has been sued by at least three men since 2011 over Title IX investigations. Secretary of Education Betsy DeVos has criticized what she calls "Washington's push to require schools to establish these quasi-legal structures to address sexual misconduct" and promised to dismantle them.
The visibility of such accusations of bias has added fuel to a growing and increasingly mainstream men's rights movement, the central conceit of which is that feminism's victories have overcorrected, making America a dangerous place for the straight, white, and male. Pekgoz would seem to be a likely avatar for this movement, given his affiliations with men's rights activists, and what he describes to me as an outpouring of support since he's taken this public stance.
So would the fact that he was involved in his own bizarre Title IX investigation at USC, which concluded about a year before he started speaking publicly about "ending affirmative action for women" in schools. It's a detail he would very much prefer to leave out of his current media tour. In emails he has told me there is "no correlation" between the suit and these complaints, and that by writing about it I could be liable for his being "murdered or brutalized" and sued for defamation. But wouldn't it seem relevant that a person accusing colleges of bias was entangled in a drawn-out Title IX investigation, and accused a woman in his department of ruining his reputation and career?
G/O Media may get a commission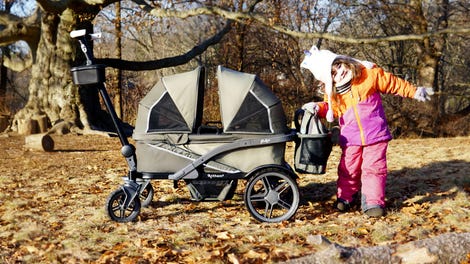 30% off
The Anthem All-Terrain Stroller Wagon Adventure Bundle
Go everywhere with your kids
This must-have bundle nets you either of Gladly's award-winning Anthem2 or Anthem4 All-Terrain Stroller Wagons as well as must-have accessories like a parent cupholder, a removable storage basket, extra-large canopies, a nap system, quilted comfort seats, a cooler bag with a padded shoulder strap, and a travel bag.
In the complaint Pekgoz sent to the DOE in February, obtained by Campus Reform this month, he writes that Yale violates Title IX by funding discriminatory programs, such as women-only scholarships. "Men are a minority at Yale University (48%) and nationwide enrollment rates for men are even lower (42.8%)," he writes. "Therefore, affirmative action for women in colleges is irrational: Indeed it would only stand to reason to implement affirmative action for male students."
Since the investigations first appeared in the press and Pekgoz started getting interviewed about his complaints, he has said he only wants to make such opportunities gender-neutral, and that filing these complaints is a "political hobby" of his. Pekgoz's messaging deviates slightly depending on with whom he's speaking: He told Refinery 29 he filed the complaint against Yale for "no particular reason." To Fox he said it was because "Yale has a much more toxic environment against men." (Both Yale and USC have declined to comment on the details of the ongoing investigations.)
But when I asked him if he was surprised the DOE had taken up his case, he told me he wasn't: "This is an issue which strikes a chord with many people," he wrote in an email.
He's right—suing businesses for anti-male bias isn't a new practice for men's rights activists. The fact that the education department is open to this particular definition of discrimination might be. Pekgoz told the Daily Beast he is an active member of the men's rights group National Coalition of Men (NCFM), members of whom met with education secretary Betsy DeVos last year. Pekgoz also wrote an FAQ-style guide called "Ending Affirmative Action for Women" and gave a talk at an NCFM last year called "A New Class of Victims: Abuse of Title XI at USC." He tells me he has received "a large number of messages" of sympathy and support since he went public with his complaints.

When I first contacted him to ask what inspired his activism, he responded with willful, ultra-rational jargon: He told me he is not a "moral absolutist" and that he tries to "maintain a disinterested human rights perspective" when it comes to civil rights issues—in this case the preferential treatment women receive in academia. In Turkey, he says he worked for a non-profit that aimed to eliminate illiteracy for women. "I supported feminism in Turkey because women face significant hardships there," he says. Of the Title IX investigation at USC in which he was involved, and the defamation suit he brought against another student, he said: "I will only note that I was the plaintiff in a sexual harassment lawsuit."

A few details about said lawsuit: In the spring of 2015, according to sworn testimony and a Title IX summary filed with the Los Angeles Superior Court, Pekgoz and a woman in his department had a brief sexual relationship, which the woman alleged that she ended. According to what she and a number of witnesses told Title IX investigators, and later reiterated in the court, Pekgoz didn't take the news well: One member of the small department at USC described him as appearing "angry" and "hostile" towards the woman who'd ended their relationship, saying he "hated her" and that she was "beneath him." He allegedly followed the woman to a professor's office when she sought guidance on how to file a complaint. The two were emailed a mutual avoidance letter. A professor in the department who met with both students around the time would later write, "it was evident that neither felt harassment had occurred, and were more fearful of potential consequences as the situation escalated."

A few weeks later, the woman opted to file a formal complaint after Pekgoz created a fake Facebook account to contact her ex-boyfriend, as recounted in court documents. When Pekgoz was interviewed about the allegations, he requested that the investigator file a counter-complaint against the woman, alleging his own instance of sexual harassment. He said the she had been "emotionally aggressive," insulted his lack of arousal, and demanded oral sex. The investigation took a number of odd turns over its nearly year-long run.
For instance, according to the Title IX summary, when Pekgoz read a witness statement filed by one of the accuser's friends at Yale—who said she had viewed a photograph he sent of himself with a knife—he concluded the witness had called him using a different name a few months prior. When asked for proof, he filed what's described as a "statistical formula" to prove the Yale student and the person who called him, whose names sounded similar, were indeed the same person. It was intended to prove the woman at USC with whom he'd had a relationship had violated the no contact order; administrators were not so convinced.
In January of 2016 Pekgoz called Yale itself to accuse the student of contacting him. Yale deferred to USC, and his broader claim of harassment was found to have insufficient evidence to pursue. When the first two investigations were closed in November, he filed a third complaint, alleging the initial encounter in March was non-consensual. Based on his prior statements to witnesses and university staff, this allegation was also found to be without merit. He was ordered to seek counseling on "healthy intimate relationships," and tried unsuccessfully to appeal the decision.

Nine days after the investigations were closed, Pekgoz filed a lawsuit alleging defamation and intentional infliction of emotional distress against the woman, claiming that she had falsely accused him of sexual harassment and blackmail, as well as using threats of violence. (A repeated allegation of his in the Title IX proceedings, which he later reiterated to me, was that she had forcefully touched his arm, and that he feared her because of her training as a martial artist.)
The complaint against her says that in addition to not wanting to continue his relationship with the woman and being forced into "sexual acts," his career and academic prospects and "earning potential" had greatly suffered from the Title IX investigation. "In fact, Pekgoz may have to give up pursuit of a PhD in English after two years invested and study instead for a degree in a different academic field, where the good name and reputation of Pekgoz has not been sullied and defamed."
I've chosen not to name the woman—mostly because she, unlike Pekgoz, hasn't decided to put her name in the press in connection with Title IX rules at colleges and do interviews with multiple outlets. She didn't respond to multiple requests for comment. In 2016, she successfully got Pekgoz's case thrown out using California's anti-SLAPP law, which prevents frivolous lawsuits brought to discredit allegations. It was the first time such laws have been used to protect Title IX proceedings in the state. As part of the decision, Pekgoz was ordered to pay $50,000 of the woman's legal fees. He filed bankruptcy based on this debt in 2017. He is still at USC.

Pekgoz is currently represented by Mark Hathaway, a Los Angeles-area attorney who since 2013 has represented a little under a dozen men alleging the mishandling of Title IX proceedings. "I've known Mr. Pekoz for a year or so, just because of his interest in this area," Hathaway tells me on the phone. In the majority of the successful cases Hathaway has litigated, men have been accused of rape and suspended or expelled following a Title IX investigation. Hathaway and Pekgoz are petitioning to have the documents related to Pekgoz's defamation lawsuit sealed, a motion Hathaway tells me they've decided to file within the last 60 days or so.

One wouldn't be crazy to wonder if the fact that Pekgoz had previous contact with both schools he successfully filed complaints against—and that his activism around Title IX and anti-male bias came barely a year after these events—was connected to his belief that these schools unfairly protect women and shun men. But Pekgoz is adamant that there is no such connection. When I asked him if he was sure he had nothing more to say, he sent me a long email reiterating that not only was there no correlation between the suit and his complaints, but that by sharing private details I was putting his life at risk and could be sued for defamation or even be liable for his death.
"I am a private person," he wrote, a few paragraphs after he offered a screenshot of a conversation with the woman he sued, describing it as "erotic" (in the message, she says she had a dream about them making out once, but doesn't remember anything about it) and invoking her relationship at the time in an attempt to dissuade me from mentioning this bit of history.

"All claims against all parties were eventually dismissed," Pekgoz wrote to me. Which is true: The counter-claim he brought was dismissed from the court after he filed 119 pages of unnumbered pieces of evidence, much of it taken from the Title IX investigation, and the court ruled they were "riddled with hearsay" and therefore inadmissible.
The Department of Education's investigation of anti-male bias at Yale and USC's women's-only programming is ongoing. Pekgoz is still at USC, and is an assistant lecturer in his department.