Four activists with the aid group No More Deaths have been convicted of misdemeanors for leaving water and food in the Arizona desert to help migrants who may be crossing over from Mexico, according to the Washington Post. The activists were charged by the state of Arizona for entering Cabeza Prieta, a protected 860,000-acre refuge, without a permit, and for leaving supplies there.

The four women were convicted by U.S. Magistrate Judge Bernardo Velasco, who said that their actions went against "the national decision to maintain the Refuge in its pristine nature." He also said they falsely believed they would incur a fine for breaking the law, not a prosecution.
From the Post:

The criminal charges stem from an incident on Aug. 13, 2017, when a federal wildlife canine officer found the women's pickup truck near Charlie Bell Pass, a historic site at Cabeza Prieta. Inside were water jugs, canned beans and several similar items. The officer spotted the women a few hours later. They admitted leaving food and water at the site, according to court records.

Natalie Hoffman, Oona Holcomb, Madeline Huse and Zaachila Orozco-McCormick were charged in December 2017. They said their work for No More Deaths was motivated by their religious convictions and a belief that everyone should have access to basic survival needs, according to court records.
"If giving water to someone dying of thirst is illegal, what humanity is left in the law of this country?" Catherine Gaffney, a volunteer with No More Deaths, said in a statement.
The convicted volunteers now face up to six months in jail and a fine of $500.
In the court documents, there is a conversation recorded in which a refuge manager told the volunteers that there are rescue beacons in the desert that migrants can use if they need help. No More Deaths pointed out that many migrants still die while traveling across the border—at least 3,000 between 1999 and 2018, though the actual number may be much higher. Donald Trump's proposed border wall would force migrants to find even more difficult routes by which to cross, almost certainly increasing the number of deaths.
G/O Media may get a commission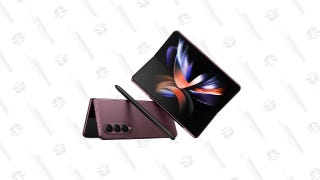 Save Up to $300
Galaxy Z Fold4
Five more volunteers from the organization are being charged with crimes and are scheduled to face trial in February and March.
The group says they are being specifically targeted by the government after sharing a video of Border Patrol agents destroying water and food left on the border. Scott Warren is being charged with alien smuggling. He was arrested shortly after the group released the video.