Immigrant rights activists in Santa Ana, CA, were instrumental in creating the conditions that made immigration officials declare this month that it's no longer viable to keep a local detention facility open.
"Santa Ana is just one city, but we just showed that it is possible to get U.S. Immigration and Customs Enforcement (ICE) out of our communities," Hairo Cortes, an organizer with Orange County Immigrant Youth United, an undocumented immigrant youth-led immigrant rights group, told Fusion.
ICE confirmed they sent Santa Ana officials written notification on Feb. 23 advising them the agency intends to terminate its detention contract in 90 days. The Santa Ana ICE facility announcement comes just weeks after a series of immigration raids across the country left immigrant communities reeling with fear and anxiety. But now that ICE has announced they're leaving the Santa Ana facility, the activists have been reinvigorated and have a new set of demands for the city officials that approved the ICE contract in the first place.
The city of Santa Ana entered into a contract with ICE to make empty beds in the city jail available for detaining immigrants in 2006, according to the OC Register.  In 2011, the agreement expanded and ICE dedicated an entire unit in the existing city jail facility to detain gay, bisexual, and transgender detainees. In May 2016, the facility was detaining 182 ICE detainees, including 26 who identified as gay or bisexual and 31 transgender detainees, according to the OC Register.
G/O Media may get a commission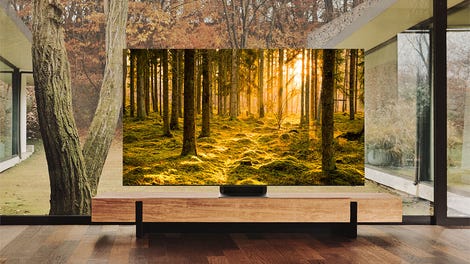 Up to 40% off
Samsung Smart TVs
Currently, about 45% of ICE's average daily population of 40,875 detainees are held in county and city jails through what are referred to as Inter-Governmental Service Agreements (IGSA).
Around the country there are 86 facilities with contracts similar to the one in Santa Ana where ICE shares the jail with local law enforcement authorities—most of these facilities are county jails, an ICE spokesperson told Fusion.
Many local sheriffs and city officials are forthcoming and say being able to lock up ICE detainees allow local governments to generate revenue.
"The city needs to take responsibility for engaging in a business that profited from human suffering," said Cortes. He said, "now they need to do everything within their means to advocate for the release of the people in that facility."
A coalition of immigrant rights groups held countless protests over the last three years to close down the facility, including what became an annual demonstration where activists would chain themselves together and block an intersection near the jail. There was a hunger strike and, at one point, one group filed a civil complaint accusing the jail of having an alleged "policy, practice, or custom" to unlawfully strip search the women. ICE said it would investigate the complaint and that in "instances where misconduct by custodial personnel is substantiated, prompt and appropriate action will be taken."
Most recently, the activists pressured the city council not to renew the ICE contract set to expire in 2020; in the meantime, the city council agreed to limit the number of jail beds made available for immigrant detainees.
"All of this created the conditions for ICE itself to cancel the contract," said Cortes.
Cortes, who is undocumented and grew up walking past the detention center to get to his high school, said most people are shocked when they learn Santa Ana officials detained immigrants in the city jail.
Some locals call Santa Ana the most-Mexican big city in the U.S. According to Census data, about 78% of residents are Latinx in the city located about 40 miles south of downtown Los Angeles. The mayor and city council are also all Latinx.
City officials say they never wanted to be in the jail business, but they ended up signing a contract with ICE to help keep the city budget afloat. The city of Santa Ana in is debt for the estimated $107 million jail that they built when the crime rate was higher in in the 1990s.
Now that the crime rate is much lower, the city entered into an ICE contract to fill the empty beds and help pay the $24 million debt they still owe for the facility.
The Santa Ana Jail receives about $340,000 in revenue from the ICE contract per month, according to the OC Register. A contract from February 2016 showed the city rejected a plan that valued the "bed day rate" at $105.00 per bed.
In an email to Fusion, an ICE official clarified why the agency is leaving Santa Ana.
"ICE values its longstanding relationship with the City of Santa Ana, but recent actions by the city to drastically curtail the number of beds available at the city's jail to house immigration detainees meant the existing detention contract was no longer viable or cost effective," Virginia Kice, a spokesperson for ICE, told Fusion.
Kice went on to say, "when weighing its detention options, ICE's foremost considerations are the welfare of those in our custody and ensuring the agency is being a responsible steward of taxpayers' money."
ICE will also close down a unique detention unit in the Santa Ana City Jail known as the GBT pod, opened in 2011, that exclusively detained gay, bisexual, and transgender detainees.
In May 2016, the agency announced its opening a new 36-bed pod for transgender detainees in Texas at the Prairieland Detention Center.
Kice said detainees who remain at the Santa Ana facility would be transferred to "appropriate housing within ICE's detention system." She did not offer more details when asked if transgender detainees will be moved to the Prairieland Detention Center in Texas.
The ICE detention facility in Santa Ana is located in a relatively central location compared to most detention centers, which means detainees were closer to advocates and attorneys. This kind of proximity can be crucial  for more vulnerable individuals like the people detained in the GBT pod.
But while the activists are claiming victory for closing the Santa Ana ICE facility, they say their organizing isn't over.
"This is not the end, we know there is a lot more work to do and it's going to be difficult work," Jennicet Gutierrez, an immigrant rights activist with Familia Trans Queer Liberation Movement, said at press conference last Friday.
Gutierrez said activists will have a plan of action to support undocumented trans women wherever ICE transfers them.
"As a trans woman, I know and understand that no detention center is safe for us," said Gutierrez.