Mexico City's newest attraction is a neighborhood that tourists have been told to avoid for years.
Tepito, a Mexico City slum nicknamed "Barrio Bravo" (the fierce neighborhood), is one of the capital's oldest and most dangerous hoods, located near the city's center. It's home to a sprawling street market that's famous for moving large amounts of contraband—everything from pirated video games and soon-to-be released movies, to exotic animals, firearms, and drugs. Mexicans say that if something gets stolen, there's a good chance you'll find it for sale in Tepito's market.
The market is just one of the sights on a new urban "safari" tour created by Dutch artist Adelheid Roosen, who says she wants to end the stigma of this part of town.
Another popular site on the tour are the shrines to the Santa Muerte sect, which has a big following in Tepito.
G/O Media may get a commission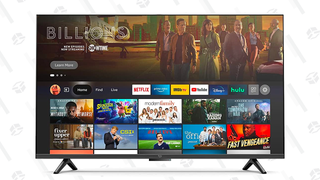 22% off
Amazon Fire TV - 50" Omni Series 4K - Early Access Deal
A few years ago Roosen created a pilot program for her tour in the Muslim neighborhood of Slotermeer in Amsterdam — a project, she says, that helped raise awareness and fight prejudice. Now she has teamed up with renowned Mexican actor Daniel Gimenez Cacho and Mexico City's ministry of culture to bring a similar slum-tourism experiment to Mexico.
Roosen and Cacho had eight Mexican actors live in Tepito for 15 days to immerse themselves fully in neighborhood life. Now those actors, with the help of a local supporting cast of actual residents, offer a $30 tour of Tepito complete with sightseeing, poverty role playing, and reenactments of scenes inspired by the real life world around them. Roosen calls it "participatory theater."
Actors say their tours offer a unique look into neighborhood life.
"Tepito is many things… this tour lets you go in and see things for what the are. You can experience the sensations, the smells, and this is what newspapers will never tell you," Mexican actress and tour guide Alejandra Glennie told Fusion. She says the aim of the tour is to transform people's "voyeurism" into a meaningful "encounter between two worlds."
Tourists, who are mostly Mexicans who live in other parts of the capital, seem to think the tour is a safe way to go into Tepito and take a look around — something many people wouldn't attempt under different circumstances.
"There is a morbid fascination with getting to know the slums in your city," one tourgoer told Fusion. "But I don't think it's rich people trying to play poor. I think they just want to get to know something that seems forbidden and dangerous."
"I wanted a surprise," says a tourist named Esther. "I just had the idea of the contraband market in my mind and never thought about the homes and the locals. My perception changed."
Local residents also seem to get a kick out of the tours.
"I'd never met upper-class people, so yes it's a revelatory experience," said Julieta, a local Tepiteña. "People think there's a lot of delinquency here —drugs, prostitutes—but there are also hard working people. I have worked very hard and I learned that I don't necessarily have to sell my ass to support my family."
Some tourists insist Tepito isn't the exotic land it's made out to be.
"I'd already been in Tepito, and it wasn't that shocking for me," a tour attendee named Patricia said. "Tepiteños have another way of living, but it's not that different from how the rest of us live."
"Tepito has a lot of heart," adds Ricardo Palazuelos, a musician who participated in the project. "I think a tour cannot represent everything that's here, but you do get a glimpse."
"At first I was filled with fear, prejudice, and phobias; it wasn't easy being a woman and entering here," said actress Ursula Pineda, who works on the tour. "It's about confronting yourself and I think the result is marvelous. Safari en Tepito is about showing the different face of this very stigmatized neighborhood; allowing outsiders to come in and making them feel safe."
Freelance Photographer.
Interested in social justice, human rights, women voices, travelling and learning.
Currently working on a project about women migration from Central America and Mexico to the US.
Rafa Fernandez De Castro is a Fusion consultant for Mexico and Latin America. He covers Mexican youth, politics, culture, narcos and funny stuff once in a while.