President Obama will delay any executive action on immigration until after the midterm elections in November, a White House official told Fusion on Saturday.
Obama had promised to act before the end of the summer, but the White House determined that announcing immigration policy changes ahead of the elections would be too politically risky. The president will take action before the end of the year, the official said.
The news was first reported by the Associated Press.
The decision infuriated immigration-reform advocates who are frustrated with the record pace of deportations during Obama's presidency.
"The president's latest broken promise is another slap to the face of the Latino and immigrant community," said Cristina Jimenez, managing director of United We Dream.
Advocates slammed Obama for making a political calculation on immigration instead of acting immediately to extend deportation relief to undocumented immigrants.
G/O Media may get a commission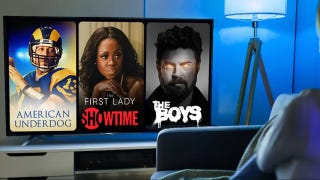 UNDER $1
99¢ Prime Video Channels
"We advocates didn't make the reform promise; we just made the mistake of believing it," said Frank Sharry, executive director of America's Voice. "The president and Senate Democrats have chosen politics over people."
"Where we have demanded leadership and courage from both Democrats and the president, we've received nothing but broken promises and a lack of political backbone," Jimenez said. "To wait nine more weeks means the president has agreed to deport more than 70,000 people, more than 1,100 every day, and continues cementing his legacy as the Deporter-in-Chief."
While it angered activists, Obama's decision to delay will come as welcome news to vulnerable Senate Democrats running for reelection in red states such as Arkansas, Louisiana, and Alaska where the president is unpopular. Losing those seats could cost Democrats control of the Senate.
The White House official said that acting before the election would be "harmful to the policy itself and to the long-term prospects for comprehensive immigration reform to announce administrative action before the elections." Obama "is confident in his authority to act, and he will before the end of the year," according to the official.
Simon Rosenberg, president of the liberal think tank NDN, called the delay "a pragmatic recognition" that the "administration will be more likely to successfully sell whatever action they take to the public after the election than before."
"Advocates should be careful to temper their reaction," he said. "At the end of the day we are talking about a six-week delay on an issue of enormous consequence. It is more important that it get done right than fast."
Luis Miranda, former White House director of Hispanic media, faulted the president for waiting months to act. But advocacy groups are also to blame for the lack of action, he said, because they "consistently put too much emphasis on pressuring the president to act alone and not enough on Congress, where even some Democrats continue to drag their feet."
Acting before the election also would have opened up another political firestorm with congressional Republicans. This summer, GOP lawmakers helped derail Obama's $3.7 billion funding request to address the influx of child migrants from Central America. Top Republicans in Congress pledged to fight tooth and nail against Obama's executive action on immigration. Even if he acts after the election, GOP officials indicated Obama should expect a political fight.
Senate Minority Leader Mitch McConnell (R-Ky.), who opposed a comprehensive immigration reform bill last year, called Obama's decision a "cynical" example of "Washington politics at its worst."
"What's so cynical about today's immigration announcement is that the president isn't saying he'll follow the law," he said in a statement. "He's just saying he'll go around the law once it's too late for Americans to hold his party accountable in the November elections."
Political considerations aside, the delay remains a bitter disappointment for immigration activists. Groups have pressured the White House to "go big" on its policy changes, offering deportation relief to parents of young undocumented immigrants and U.S. citizens. That could have affected millions of immigrants living in the country without authorization.
Not everyone in the Democratic Party agrees with the calculation of postponing executive action until after the midterm elections. Former New Mexico Gov. Bill Richardson said he "doesn't buy the argument" that halting deportations now would affect election results in November.
The former governor, who has publicly called on Obama to take immediate action, told Fusion earlier this week that the president's decision on deportations should be a "humanitarian calculation" and that "politics should not play a part."
Jordan Fabian is Fusion's politics editor, writing about campaigns, Congress, immigration, and more. When he's not working, you can find him at the ice rink or at home with his wife, Melissa.