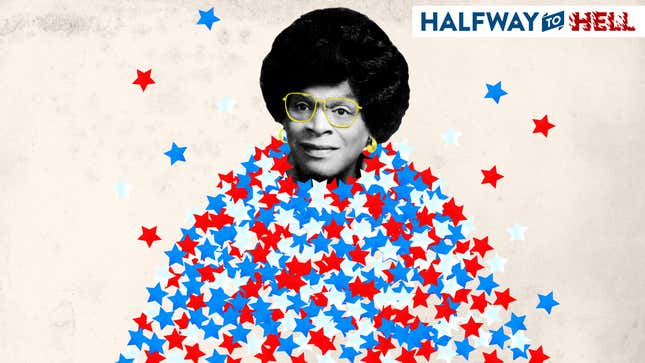 In late September, Althea Garrison, Boston's "most perennial of perennial candidates" and a once-obscure contender for a seat on its City Council, sat in a Boston library in her signature monochrome and told me a story designed to illustrate two subjects close to her heart: how her own resolute character helped her to vanquish her enemies, and how she is recognized nearly everywhere she goes.

Recently, the 78-year-old said, she found herself in an argument with Glen James, one of the city's more famous homeless residents and a man who became an object of local attention when he discovered a backpack full of cash and promptly—for what reason, I really couldn't tell you—turned it over to the cops. The two ran into each other, according to Garrison, at the South Bay Plaza, a shopping center that, like many parts of Boston, is in the process of being transformed from a mall into a development company's idea of a town square.
James accused Garrison of selling out. He'd read about the series of fortuitous events that led to her (almost certain) ascension to the City Council in a few months, as well as the nearly $100,000 a year that would come with it.
"You know, I used to like him, and feel sorry for him, but no more," said Garrison. "Over the years, that's money that I've earned. No one gave it to me."
When Garrison says that she's earned it, she's referring to the effort she's exerted running so many unsuccessful campaigns she can't recall them all. By 1999, she'd run over 20 times, and if it weren't for some unfortunate business with the election commission, she would have been on the ballot in at least one election every season since. With a single staff member (a neighbor) and no donors in recent memory, she's been running during vacations and weekends for 37 years: as a Democrat for Mayor, as an Independent Progressive for the Massachusetts House of Representatives, and as a write-in candidate in a smattering of other races. In the early '90s, she ran as a Republican and won, representing the 5th Suffolk District in the House after filing a legal challenge that knocked a competitor off the ballot. She lost the seat after one term.
Nationally, Garrison is known for a bit of personal business she never wanted to be made public, and has declined, for more than three decades, to speak about. She clearly has little interest in being the "first" of anything, and given that she doesn't "do" technology—she has no campaign website or public email address, and told me that people these days are "controlled by Zuckerberg"—probably doesn't read all the aggregated coverage framed around the concept of her legacy. She described herself to me, at various points, as an "independent progressive" and a "black conservative."
Most recently, Garrison came in fifth for an at-large seat on the Boston City Council, winning a little less than 7% of the vote. (Other fringe contenders included a former youth worker and a literal clown.) According to a longstanding municipal ordinance, when an at-large seat is vacated, the closest runner-up is automatically offered the seat. In early September, when council member Ayanna Pressley upset a 20-year incumbent and won the Democratic congressional primary in one of the most left-leaning districts in the state, that law of succession came to favor Garrison. It's a weird way to win an election. She was absolutely thrilled.
Garrison is unimpressed by the theory that her victory is any less legitimate than others. This is, after all, what the rules "clearly state." She compares her "situation" to that of Dapper O'Neil, who was appointed to the City Council after Mary Louiss Hicks won a Senate seat in 1971. O'Neil, another perennial candidate until his accidental win, vehemently opposed integration and supported the white supremacist group the Council of Conservative Citizens. When his appointment to the City Council was announced, one member unsuccessfully challenged the obscure ordinance that led to his acquisition of the seat. O'Neil was re-elected 14 times.
The day after Pressley's primary win, Garrison posted up in an Adirondack chair in City Hall Plaza, shaking hands with her new colleagues. She's been thinking about this moment since she won those roughly 18,000 votes for City Council in November of 2017. She knows the law. In January, conservative radio personality Howie Carr called Garrison up, telling her she was "pretty damn lucky" and predicting she'd take a City Council seat right about now.
In the weeks leading up to the primary, with this blessing in mind, Garrison campaigned for Pressley, despite the two having wildly divergent politics. (Pressley is a leftist inclined to abolish ICE; Garrison believes immigration is "out of control.") Garrison doesn't want to be given anything unless she earns it, as she told me repeatedly, so she went out and knocked on doors with one of Pressley's people and sent "like a hundred" letters to her supporters, urging them to vote for the Democrat on primary day. "I'm sure they voted for her," she says. "It's obvious we have different policies. But that don't make no difference."
Most eccentric local candidates do something that lies on a spectrum between fringe advocacy and performance art. Their politics involve all of the spectacle of a campaign, without many of the stakes. Althea Garrison does not conform to this model: She is resistant to answering questions about specific policy proposals or her life outside of her relentless door-knocking. "Well, I'm not going to give you all that," she says when I ask how she'd help the middle-class and homeless populations she tells me she'd like to better serve. And, unlike the vast majority of candidates who run tirelessly for every seat they can find, Garrison, in her roundabout way, did win. You could say it's inspiring that, at long last, her various efforts have paid off. You could also say it's troubling that an exploitable quirk in the system is replacing one of the most progressive politicians in Boston with one of the most conservative, all without a vote.

Even as she's preparing to take a City Council seat, where she will help oversee budgets and land use ordinances, Garrison is running a state House campaign. In a flyer she gave me, she advocates for better service on bus routes, lower taxes, rent control, and more jobs. "Where were all these minority candidates that are now running?" the flyer reads. "These candidates need to pay their dues like Althea has done."
She tells me people come up to her all the time on the bus she rides daily through her neighborhood of Dorchester, surprised at what they've read about her stealthy win. "Would you be surprised, if you had run as many times as I have, and spent your own money?" she asks. "No. There's nothing surprising about that."
"I'm self-motivated," she tells me. "Not many people are."
---
On the day Althea Garrison and I meet, she's wearing her second-favorite American flag pin, the larger and heavier one she saves for special occasions. "I'm very, very patriotic," she says as soon as we sit down. To clarify: She's "concerned with what's going on" and thinks we have "no structure" in this country. Trump will get reelected, she says. The people have woken up. They're better informed now: They know better than to listen to the fake news.

Since she began running for office in the '80s, Garrison's two favorite interview subjects have been the vaguest possible outlines of her platform and her own tireless effort to win votes. "Everyone knows me," she says. "I win elections on my own merit. I go out and talk to people." She's resistant to discussing much of anything else.
Over the years, it's been established that Garrison has been in Massachusetts since the age of 19, when she left a small town in Georgia to attend beauty school. But the young Garrison didn't enjoy being on her feet all day day, so she enrolled in Newbury Junior College and, later, earned a bachelor's degree in business administration, as well as a certificate in management from Harvard. In 1976, she legally changed her name and, apparently, her preferred gender (Althea being considered by the court to be more consistent with her "appearance and medical condition"). Asking her questions about the decision today is "off-limits" to me, as it has been for anyone who has asked since the court documents were made public, by a political opponent, a decade later. She started working at the comptroller's office in 1981; after 37 years on the job, mostly overseeing the mailroom, she put in her retirement papers this year.
Garrison's interest in politics began, she says, when she volunteered with Ted Kennedy's presidential campaign in 1980. She knocked on doors and helped get out the word in Massachusetts, but wouldn't go to other states and sleep in "barracks"—"I'm too proud for that," she says. When Kennedy lost, Garrison says, she figured that if she had campaigned for him, "I could do it for my own self." The next year, she decided to run for an at-large City Council seat—the seat she'll take up in January—and asked Kennedy's office for help. "I figured if someone had helped him, he should return the favor and help them with their thing, right?"
Kennedy's office politely declined, telling her they don't get involved in local races. "That taught me a lesson, too," says Garrison. "It opened my eyes."
During her first City Council campaign, and for the many campaigns that would follow it, Garrison traveled around Boston by bus, campaign flyers in her rolling bag. "I like meeting people," she says. By 1991, Garrison had run as a Democrat for a seat in the state House twice and for City Council at least six times.
In 1992, she won an election for a House seat by 400 votes. ("You can look that one up in the history books," she says. "But instead of Garrison v. Merced, it should have been Garrison v. the Election Department.") Running as a Republican, she challenged some of the signatures on Democrat Nelson Merced's nomination papers, and successfully had him thrown off the ballot after bringing the matter to the election department, and subsequently to the courts, on her own dime. She disputes the notion that this was in some way a disingenuous tactic, saying that Nelson's filing was illegal. "But that's probably why they've given me a hard time, over the years," she says.
"I don't care. I outlast my enemies."
Within days of taking office, those enemies included Eric Fehrnstrom, a man now best known as Mitt Romney's top campaign aide but who at the time was relentlessly chasing political scandals at the conservative-leaning Boston Herald. ("I still remember his glee when he found [Garrison's] birth certificate," a colleague from the Herald recalled to GQ some years later.) Two days into her tenure, Garrison was the subject of wild front-page speculation about her gender. In the years following, her aides and detractors gave inelegant and, quite frankly, disgusting opinions about it to the local press. Howie Carr, now an ally of Garrison's, described her as having "a big heart, big feet, and big hands." Comments on articles about her still vigorously debate the subject. That Garrison—though she's said recently she "accepts everyone"—voted against same-sex marriage and abortion while in office is, even now, the subject of baffled commentary.
Whether because she was associated with such a brutal scandal in the Boston of the 1990s or because she simply couldn't garner enough support—or because, as Garrison claims, her lone staffer went to too many meetings and didn't help her with the "political stuff"—she only served one term. She would spend the next 25 years running unsuccessful campaigns and writing letters. In 2006, she described herself in a campaign as "the most concerned citizen living in Boston." She said she called City Hall five times a day, and wrote so many letters to the editor some newspapers wouldn't print them anymore.

To sample some of the letters that did make it to print: Garrison has called for passing laws that "will halt all these foreclosures and repeal NAFTA and CAFTA" and "address the issue of the rising costs of water and sewer rates" in Dorchester; shortly after George W. Bush—whose campaign she volunteered with—was re-elected, she wrote a letter to the Boston Globe: "You people just don't get it that we won and you lost … I don't intend to let the left intimidate me. I have no plans to go away quietly. I am going to stay and fight for traditional America"; several years ago, she wrote another letter to the Globe saying that teaching "Ebonics" in the classroom would "hurt young blacks who need skills in the English language"; and in 2007, she wrote to the website Wicked Local about school bussing with opinions that defy paraphrase. "Anytime someone tries to force experimentation on the races by trying to bring them together," she wrote, "such as by imposing integration upon the races, they rebel, because forced integration doesn't work."
(Garrison, during our time together, made reference to another activist calling her racist because of some of these views. She disputed that we could know these letters had been signed by her, and said, "that's why they call it fake news.")
---
In 2014, Garrison unsuccessfully filed suit against members of the Boston Election Department, alleging that the city had stopped sending her an annual census form because of her "political aspirations" and had deliberately undercounted her votes between 2011 and and 2013 in an act of "intentional" discrimination against her based on her race, age, and gender. The suit was dismissed for failure to state a claim. In 2015, she challenged Charles L. Clemons, Jr., a pirate radio host and obscure candidate for City Council, filing a brief to the Election Department disputing his residency in the district. (She cited a "strong belief" that he did not live in the district.) These days, Garrison doesn't talk about the lawsuits, but she does like to talk about the failures of her opponents. When community organizer Darren Howell ran for the state House, she says, even his photographs with local luminaries like Mel King and Sarah Anne Shaw couldn't get him elected. Liz Miranda, who is running against Garrison in the 5th Suffolk district, isn't recognizable the way Garrison says she is. "I've lived in Boston all these years, and I'd never heard of [Miranda]," she says.

Had a district seat on the City Council been vacated, there would have been an election. Two years ago, councillor Frank Baker proposed legislation that would have extended the same process to the at-large seats, but it was never adopted. So far, the local political establishment has offered neutral support of the laws that govern Garrison's upcoming seat. Boston City Council President Andrea Campbell told the candidate they'd "be in touch once they figured out the process," and the clerk's office has said that it will initiate that process once Pressley officially steps down. (Though she has not yet been elected to represent her district in Congress, Pressley's victory is a foregone conclusion.)
Garrison says that minister Roy Owens, a longtime friend who runs for a different office every year, failed to win his elections because a candidate can't just plaster their face on every billboard and expect to win. Owens has said, in campaign literature, that abortion is a "satanic ritual" and that same-sex marriages bring "death and disease." His tactics have, in recent years, included erroneously slamming the state legislature for endorsing teaching kindergarteners about anal sex, and claiming that 7-Eleven "has moved to control the marijuana and alcohol market in Massachusetts."
Garrison says Owens will be the first person she brings in to the City Council once she takes office in January. "He'll enjoy it," she says, "because he's never won a race."