She served in World War II as soldier Peter Davies, was married for 63 years as a man, and spent a quiet life as a photographer hiding her true self. But at age 90 and now widowed, Patricia Davies says she will spend the rest of her life as a transgender woman.
In interviews with the Mirror and Inside Edition, Davies, who lives in Leicestershire, U.K., said she has known she is a woman since the age of 3, but spent life as a man fearing the backlash of a transphobic society that might torture her with "electroshock treatment" or throw her in prison.
"The atmosphere was not safe. People did not understand what transgender was," Davies told the Mirror. "Really even the medical profession didn't understand it as the treatment was to give you the 'electric shock treatment.'"
She added: "Transgender wasn't really known in those days. I would have been classed as homosexual, which would have caused problems in the army. I would have ended up in prison. But I got through it."
Davies, who served from 1945-1948 in the Far East, India, East Africa and Palestine, said she came out to her doctors last year, changing her medical records to "female." She is now taking hormones for the transition.
G/O Media may get a commission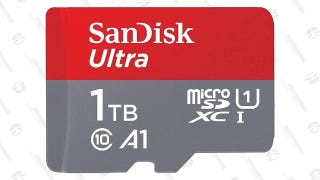 Save $75
SanDisk Ultra 1TB MicroSDXC Card
Davies said she first learned of the term transgender in the 1970s from a TV show, and at age 60, she finally told her late wife, who was compassionate and understanding, but neither of them talked about it in public. Another transgender TV show in 2015 finally convinced Davies to make the change and stop "living a lie."
As for World War II, Davies likes to joke that she played a role in bringing the horrible global conflict to an end, telling the Mirror: "Perhaps Hitler got news I had joined in April 1945 and gave up."
Watch the interview: