Accidents happen. They will always happen. They are unpredictable in every way but their inevitability. If you have a million people sleeping in a million strange homes, some of those people will have bad things happen to them.
Journalist Zak Stone is one of those people. In a powerful piece in Matter, he reveals that his father was killed by a rope swing hanging from a dead tree that collapsed when his family stayed at a Texas Airbnb one Thanksgiving. And Stone discovered that his was not the only Airbnb-based tragedy.
In 2014, Airbnb launched a program to hand out free carbon monoxide detectors to hosts. Not announced at the time was that the program followed the hospitalization of five Airbnb users and death of one, who were staying at an apartment with a faulty heater that filled the apartment with the poisonous gas.
In 2013, a 35-year-old Canadian woman visiting Taiwan for a wedding stayed at an Airbnb with five friends. Stone writes:

The details of her death are sparse, reported in part by local English-language media: A leaking water heater placed on a fully enclosed balcony next to the room [in which] she was staying had filled the apartment with carbon monoxide. Her five friends staying in the adjoining room were hospitalized and survived. The apartment was being run as an illegal hostel by two men who lacked proper permitting, and didn't bother to install a carbon monoxide detector or conform to "structural or fire safety standards."
G/O Media may get a commission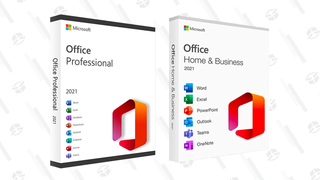 89% off
Microsoft Office Professional 2021 Lifetime License
A San Francisco lawyer William B. Smith, who wrote about the death in a paper entitled "The Taming of the Digital Wild West," said that Airbnb "offered [the woman's] heirs $2,000,000 to resolve the wrongful death case while telling the family that there is no basis for liability."
After the incident, which was not widely covered at the time, Airbnb launched a home safety page on its site. Here's a screenshot of that page from 2014 via the Internet Wayback Machine.
Despite the fact that the incident occurred in Taiwan, Airbnb started offering free carbon monoxide detectors only in the U.S. But Airbnb, which currently has free detectors available for the "first 25,000 eligible hosts," says now that it will give them to non-U.S. hosts too on its safety site, which encourages hosts to "meet government and safety codes for your area."
Stone argues that Airbnb should do more than it currently does to ensure that the listings on its platform are safe. The question he raises about Airbnb's responsibility for keeping users safe is a classic one in the Internet law sphere, one we hear echoed again and again in slightly different ways. It's similar to the questions about how responsible Facebook and Twitter should be for harassment that occurs on their social networks, or how responsible Wikipedia is for untruths that slip into its definitions.
But because Airbnb creates real-world situations, it has to deal with the possibility of physical harm. The reality is that just as Facebook, Twitter, and Wikipedia rely on their users to police their platforms and flag incidents that require intervention, Airbnb relies on its users to give dangerous homes poor reviews or report them as unsafe. That means vacationers are doubling as safety inspectors, even though they've never been trained as to what they should be looking for, such as the fact that a dead tree shouldn't be load-bearing.
"Hotel rooms are standardized for safety, monitored by staff, and often quite expensive," writes Stone. "Airbnb rentals, on the other hand, are unregulated, eclectic, and affordable, and the safety standards are only slowly materializing."
Airbnb is contrite, but isn't offering concrete examples of things it might change in the future to address the concerns raised by Stone. "We were shocked and heartbroken when we learned about these incidents and we continue to keep these guests and their families in our thoughts," said Airbnb in a statement. "Nothing is more important to us than safety. Over 60 million guests have stayed in an Airbnb and we are proud that accidents are incredibly rare. We know that every industry, every community, and every city grapples with safety issues and no one has an absolutely perfect record, but that's what we strive for and we'll keep working as hard as we know how to make our community safer for everyone."
Stone's story is ultimately a reminder that Airbnb's disruption of the hotel industry doesn't just have financial and economic consequences. It's also a regulatory play, and, at this point, regulators seem to have allowed Airbnb to escape liability for safety flaws in its listings.