Upon realizing that Warren Beatty was pulling a Steve Harvey at the Miss Universe competition (who knows what Faye Dunaway was doing, poor thing), La La Land producer Jordan Horowitz took the reins and set the record straight: "This is not a joke. Moonlight won Best Picture." In the midst of all that confusion and chaos, a new reality was sealed: a film depicting gay black love won Best Picture at the 89th Academy Awards.
I'm telling myself to accentuate the positive and eliminate the negative. We won. Exhale, shoop shoop and take pleasure in this. This win is an amazing thing, one many of us saw as implausible. Yet I initially struggled with savoring the moment.
For one thing, the Moonlight cast and crew had their moment stolen. What happened to the La La Land cast and crew was worse, but it was never supposed to be their time. It's a shame that Moonlight didn't get to have a less turbulent meditation last night. Even in the aftermath of the Oscars, their feat has been slightly overshadowed by the mistake that preceded it. Headlines about the apologies have spilled all across the internet as have salutations to the cast and crew of La La Land for their graciousness in an embarrassing situation.
Moonlight is not only the first LGBTQ film to take Best Picture, but one whose cast is virtually all black. Despite evidence to the contrary, white people are typically the face of the community. In Moonlight, there is no white savior to be found in the story of a poor black kid from Miami learning to define his sexuality and his masculinity on his own terms. Some have made quips online that a black film won without featuring slaves and maids.
But even Moonlight focuses on different forms of oppression like crack, poverty, and intolerance, and besides, the stories of those slaves and maids matter, too. The real win will be when we score nods for singing and dancing and jubilee a la La La Land.
G/O Media may get a commission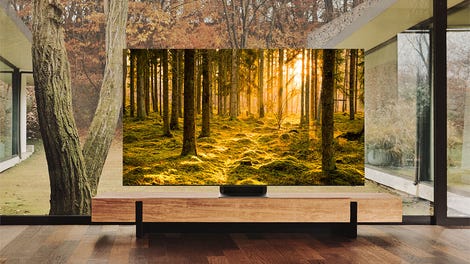 Up to 40% off
Samsung Smart TVs
Some also noted what a triumph this was given the backdrop of Trump's America, but America before Trump wasn't especially kind to the black LGBTQ people—and certainly not to our stories. Moonlight made its mark regardless of whatever Academy voters decided to give it.
Still, there is something momentous about the Oscars—an institution firmly entrenched in the white mainstream—giving a story about gay black love this level of recognition and visibility.
I sold my first book recently, and I found it to be one of the most frustrating experiences of my career thus far. I was told many times in language both coded and overt that who I am—gay, black, southern, working class—gave me extremely limited appeal. My experience was "niche." One editor essentially told me over the phone that black people are too homophobic and white people don't care enough about black people.
I already had every intention to prove them all wrong, but Moonlight's win gives me and those like me further motivation to do so. The win also means something for those who were picked on for not fitting some rigid idea of what a black boy and black man are supposed to be. And there are others who will who find strength in seeing their familiar journeys towards acceptance and love be celebrated on this stage.
I envy the little gay and queer black boys who live in a world in which Moonlight is Best Picture. It's a much better world than the one I grew up in. So while I worry about what comes after Moonlight, I want to sink myself in this moment. We finally got our due and it couldn't have come a moment sooner.
Michael Arceneaux is a Houston-bred, Howard University educated writer who wants a show that'll allow him to recite UGK lyrics with Beyoncé. He's working on his first book, I Can't Date Jesus, for Atria Books.