The tragic death of Brazilian presidential candidate Eduardo Campos last week has thrust his running mate and ballot replacement, Marina Silva, into the political spotlight. And her unexpected candidacy is already changing the race.
A new poll published Monday by the Datafolha agency puts the unorthodox Silva, 56, who garnered an impressive 19 million votes when she ran for president in 2010, in second place in the presidential race, edging ahead of Aecio Neves, a former governor of the southeastern state of Minas Gerais. The poll also shows that in the event of a runoff between Silva and the incumbent president Dilma Rousseff, 47 percent of people surveyed said they will vote for the challenger, compared to 43 percent for Rousseff.
While such numbers may be inflated due to the emotive reaction to the death of Campos, who perished in a plane crash Aug. 13, it is clear that Silva has captured the imagination of Brazilians in a way that her political partner never did. The throng of 160,000 people who attended his funeral in Recife yesterday showed the depth of support for Campos in his hometown, but nationally he was running a distant third in the race, polling at just 8 percent. Silva has revitalized the campaign.
"She has a very positive image," says Sonia Fleury, a political scientist at the Getulio Vargas Foundation in Sao Paulo. "She can persuade people who were going to cast blank votes, young people and those who weren't interested in the election, to vote for her. That could send the election to a runoff." The number of Brazilians who identify as undecided or protest voters who cast a blank ballot has dropped by almost half since Silva enter the race, the Datafolha survey found.
Who is Marina Silva?
Silva could hardly be further removed from the traditional image of Brazil's political elite. A staunch environmentalist and devout evangelical Christian, she was born to a family of impoverished rubber tappers in the remote state of Acre. Her humble story is apparently resonating with voters.
G/O Media may get a commission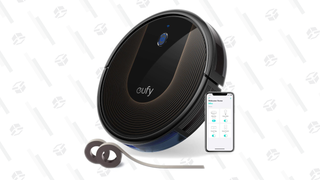 48% Off
Eufy BoostIQ RoboVac
"She can seem a little bit crazy, but she's a strong character and has principles. I'm going to vote for her. I don't believe in the other candidates but I believe in her," says Renata Carvalho, a teacher from Belo Horizonte, Brazil's third biggest city.
Silva is used to being an outsider. Her mother died when she was just 11. Five years later, suffering from Hepatitis A, she was forced to leave her family and move to the city of Rio Branco for treatment. She worked there as a maid and attended adult education classes at night. During Brazil's military dictatorship, she joined the Revolutionary Communist Party while studying history at university.
It was then that she worked with the environmental activist Chico Mendes, who was murdered by ranchers in 1988. Silva went on to become a city councilor, state legislator, and federal senator.
As a politician, she is best known for her passionate stance on environmental issues.
"She'll put the theme of sustainability, which has been completely abandoned, back on the agenda," says Fleury. "When she talks about sustainability, she isn't just referring to the Amazon rainforest. It's about development in a general sense, including social justice and civil rights."
Brazil's Former Senator Marina Silva signs a banner that reads in Portuguese: "Dilma, prepare our future and save our forests", aimed to Brazil's President Dilma Rousseff during a protest in Brasilia, Brazil, Tuesday, Nov. 29, 2011. (AP Photo by Eraldo Peres)
In a country where political convictions can often appear confused by the sprawling coalitions that align Brazil's 30-plus political parties, Silva's beliefs seem like a breath of fresh air to Brazilians, especially younger voters. As environment minister in the government her political mentors, Luiz Inacio Lula da Silva, she was lauded by environmentalist organizations for introducing policies that restricted the deforestation of the Amazon. But she resigned her post in 2008 because she felt government policies had "stagnated" and that concessions were being made to the giant agricultural producers that dominate much of the mid-west and north of Brazil.
"I left because of the big tensions in the government over deforestation measures," she told The Guardian last year. "Our policies had started to produce good results and there was a strategic move to dismantle them."
With Brazil's economy slowing to a sluggish growth rate of around 1 percent this year, the country's economic development has stalled badly under Rousseff, Lula's successor and former Chief of Staff. The ruling Workers' Party has been tainted by a string of corruption scandals, most notably 2006's mensalão ("big monthly payment") vote buying scam, which recently went to trial. In a jaded political climate, Silva is gaining steam as an idealistic outsider whose reputation is untainted by corruption.
Meanwhile, Neves, a slick politician whose grandfather was elected president in 1985 but died before his inauguration, is apparently losing ground by dropping to third in the poll.
As Brazilian voters grow increasingly polarized, Silva seem to be appearing to a wide range of voters, even if her religious beliefs concern some people. (In 2010 she said that she opposed abortion and gay marriage, although she has since stated she is in favor of same-sex civil union.)
Says Fleury, "She appeals to better-educated Brazilians, as well as more militant groups, people who have become disillusioned with politics, and younger voters, who don't identify with the traditional political powers."
@fusion