When Nicholas Herring's landlord informed him that he was being evicted so that his apartment could be converted into a full-time Airbnb rental, he was distressed but unsurprised. This is the way of things in Reykjavik now. Herring's story is not uncommon.
If you want an apartment for the weekend in Iceland's capital, a small city of 122,460 people, Airbnb offers thousands of options. If you want an apartment to live in year-round, though, those options evaporate. In a recent search, the city's only apartment rental website, leigulistinn.is, listed just nine apartments for rent in downtown Reykjavik. There were 22 in the entire city.
In many cities, the popularity of short-term vacation rentals like Airbnb, VRBO, and HomeAway has put extra pressure on already stressed housing markets. In Iceland in particular, conditions have conspired to create the perfect Airbnb storm: An unprecedented uptick in tourism combined with a slowdown in the construction of new housing and hotels following the 2008 financial crisis. The surge in tourism helped get Iceland's economy back on track, with Airbnb making up for the hotel room shortage. But now, while vacation rentals are plentiful, finding a full-time apartment in Iceland's only major city is next to impossible.
Last year, Robyn Phaedra Mitchell was told she needed to move out of her apartment so that her landlord's sick relative could move in. But two days after she moved out, she found her old place listed on Airbnb.
G/O Media may get a commission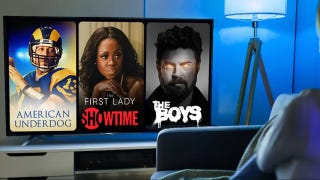 UNDER $1
99¢ Prime Video Channels
"Everybody is making so much money," she told me. "I'm not totally against Airbnb, but I think there should be a limit on properties that can be turned into Airbnbs. Right now, our housing situation is scary."
In the month since finding out they were being evicted, Herring and his girlfriend have found less than 15 apartments in their price range that would also welcome their dog.
"You're put in this position where you either need to buy a house in order to have somewhere to live or buy a car so that you can live further out," said Herring, a Texas native who moved to Iceland three years ago. "I don't want to own a car, but it may come to that, because that's the only [way] I can possibly find an apartment."
When compared to the size of the local population, Reykjavik has more than double the Airbnb units of San Francisco, Los Angeles, Barcelona and Rome. In November, when a team of Icelandic researchers looked at the impact of Airbnb on the local housing market, they found that 4 percent of the local housing stock was being rented out to tourists via Airbnb. When we looked just six months later, that percentage had already increased. In the entire city of Reykjavik there are roughly 50,000 apartments; 2,551 of them, or 5 percent, are Airbnb units.
At Fusion's request, technologist and Airbnb data guru Tom Slee crawled Reykjavik's Airbnb listings and found that 321 hosts owned almost half of them—suggesting that as many as 1,000 units in Reykjavik may be owned by professional hosts that have taken those units off the long-term rental market entirely. His analysis found several hosts with more than 10 listings, and one with more than 40. In the past, these hosts likely would have rented these units out yearly rather than on a short-term basis. But with Airbnb, they make more money.
A map of Reyjavik's many, many Airbnb listings:
One Airbnb host in Reykjavik told me that converting a rental unit he owned had provided him and his wife with income to save for retirement—something he could never afford to do renting the property out annually.
"We make maybe two to four times the money depending on the time of the year," said Heimer Fridriksdottir, who owns one Airbnb unit and is a janitor. "If it's our apartment, it should be up to us who we rent it to. The city should just build more apartments."
Reykjavik may be the city most impacted by Airbnb in the world. With the data-crunching help of Slee, I looked at the number of Airbnb units of several cities globally to find that only Miami, with its well-developed vacation rental infrastructure, has more units per capita than Iceland's teeny capital.
But Reykjavik is not alone. Other small, touristy cities are likely also feeling the Airbnb crunch. In Savannah, Georgia, with a population of just over 140,000, there are more than 400 Airbnb units, the vast majority run by people who own multiple units. In Lincoln County, Oregon, with a population of 46,000, Airbnb hosts 435 units. In Bordeaux, France, with a population just shy of 240,000, there are 6,236 Airbnbs.
"It's a question of the ratio," said Elvar Orri Hreinsson, a research analyst at Íslandsbanki who this year produced a report looking at tourism in Iceland, including the impact of Airbnb. "The tourists will be roughly five times the population this year. The problems that arise here with regards to Airbnb may affect us more than in [countries with larger populations]."

Hreinsson's report found that 1,397 new hotel rooms are needed this year to absorb increased tourist demand, but only 298 new rooms are planned to open. "The hotel industry isn't really keeping up [so] housing prices [will] continue to rise and Airbnb to grow, definitely," he said.
In Iceland, like many cities around the world, Airbnb is very much on the minds of public officials. Óli Örn Eiríksson, the head of economic development for Reykjavik, told me that the city is "cautiously concerned." The city, he said, is working on a plan to increase the amount of affordable housing and assembling a working group to look into best practices for managing Airbnb.
"It's not good for a city to turn its entire downtown into a hotel," Eiríksson told me. "Tourists are welcome to come as guests, but we will not build a city for tourists."
Last year, construction began on 969 apartments in Reykjavik, a significant increase over years prior. Likewise, the city skyline is now dominated by hotel construction cranes. Eiríksson hopes that this construction will take some of the pressure off of the short-term rental market. At the same time, Iceland's Parliament is floating a bill that will limit the number of days a short-term rental host can rent a property to 90, for two properties. Hosts who rent apartments for longer will be regulated as businesses. The goal is to make it less lucrative to turn Airbnb hosting into a profession.
Airbnb opposes the proposed legislation. In a letter to Parliament, Airbnb wrote.

"The members of our community defy easy categorisation, but they comprise a significant group of people across the world for whom sharing their home is now part of their lifestyle. They are not running "businesses". They are not property investors. They are not necessarily removing property from the housing market that could be used for other purposes. They are ordinary people who want - for a variety of reasons - to use their space to host visitors and generate a bit of extra income to support themselves and their families, over and above their existing employment or business activity."
When asked whether Airbnb has considered making changes to its policies to prevent situations like in Reykjavik, a spokesperson said that the company wants "to be good partners" to Icelandic policymakers. "We are having productive conversations with policymakers about clear and simple home sharing rules and look forward to working together on innovative measures to promote responsible home sharing," said the spokesperson.
Iceland's relationship with tourism—and Airbnb—is complicated. It is the nation's biggest revenue generator, and large part of what helped it recover from its financial crisis so quickly.

Áshildur Bragadóttir, the director of Visit Reykjavik, the city's tourism bureau, lamented the idea of yet another journalist writing a story about the negative impacts of tourism on the city.
"I know it's a challenge," she said. "It's something we have to be concerned about."
But at the same time, she argued, one in three jobs created between 2010 to 2015 is connected to the tourism industry in some way and in the first quarter of this year tourism increased by 35 percent, meaning more economic opportunity for everyone.
"The tourism industry has been good for the economy as a whole [and] might not have grown as rapidly had it not been for Airbnb since the hotel industry is not growing at the same pace," Elvar Hreinsson, the Íslandsbanki analyst, told me.
Iceland's Airbnb problem is mostly the story of the downside to an incredible upside—of what happens when infrastructure can't keep up with economic demand. But it is also the story of how our fast-changing world of Airbnbs, Ubers and Amazons are not just causing troubling change in big cities. Sometimes, the disruptions brought by technology are most noticeable in the places that get the least attention, the small corners of the world where the removal of a few hundred rental units from the market can actually cause a housing crisis.
While Iceland figures out how to best handle its Airbnb demand, this week Herring and his girlfriend finally got a lead on an apartment. A friend of a friend has something that might be opening up. They are keeping their fingers crossed.