Update: Airbnb released a statement in April describing the incident as "abhorrent and unacceptable." In an email to Fusion, an Airbnb representative reiterated the statement: "We have worked to provide the guest with our full support and in line with our non-discrimination policy."
Original post continues here:
An Airbnb host who canceled a reservation because the guest was Asian will pay $5,000 in damages and take a college-level course on Asian American studies.
Airbnb faced numerous complaints from users who said their reservations were canceled by racist hosts more than a year ago. Following the backlash, Airbnb agreed to allow California's department of fair employment and housing (DFEH) to regulate and test hosts for racial bias. DFEH brokered the settlement between the host and guest; it is the first time a host has been penalized for racial discrimination, according to The Guardian.

The host, Tami Barker, canceled guest Dyne Suh's reservation just moments before she arrived at Barker's Big Bear, CA, cabin back in February. Nothing seemed out of the ordinary until Suh asked Barker if two friends and a dog could join. Initially, Barker agreed but told Suh over Airbnb's messaging platform that they would have to pay an additional $50 per person; the reservation was $250 a night.

G/O Media may get a commission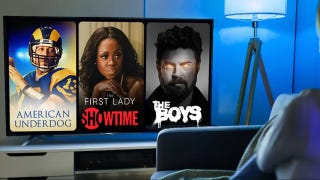 UNDER $1
99¢ Prime Video Channels
On the day of the reservation Suh, who was studying critical race studies at UCLA at the time, messaged Barker to confirm the additional costs. The group was minutes away from the cabin when Barker abruptly canceled the reservation and claimed she hadn't approved the extra guests. After Suh protested, explaining she had screenshots of their agreement, Barker lost it.

"I wouldn't rent it to u if u were the last person on earth," Barker's message to Suh read. "One word says it all. Asian."

Suh responded that she would report Barker to Airbnb for her blatant racism. Unperturbed, Barker told Suh, "Go ahead. It's why we have Trump. And I will not allow this country to be told what to do by foreigners."

Suh, 26, has lived in America for 23 years and is a U.S. citizen. In a video posted the night of the incident by a local news network and has since gone viral, Suh explained how painful the experience was.
"It stings that after living in the U.S. for over 23 years this is what happens," Suh said. "No matter if I follow the law. No matter how well I treat others, it doesn't matter. If you're Asian, you're less than human and people can treat you like trash."
Along with the payment and enrollment in an Asian American studies course, Barker must personally apologize to Suh, volunteer with a civil rights organization, and participate in a community education panel. Barker is also banned from Airbnb.

Kevin Kish, the director of DFEH told The Guardian department was "thinking creatively" with Barker's penalty. "The law tends to be backwards-looking, focusing on compensating people for harm," Kish said. "We're interested in remedies that repair harm and transform relationships."