Even if Roy Moore had never pursued teenage girls as young as 14 when he was well into his 30s, his proudly discussed prejudices against the LGBTQ community and people of color should have immediately disqualified him from the race to fill Jeff Sessions' vacated Senate seat. But his views didn't disqualify him and now we're here, a night before an uncomfortably close election.
On Monday night, Moore held a campaign rally in Midland City. Outside the event a peanut farmer whose daughter killed herself after enduring years anti-gay harassment delivered a gut-wrenching plea to Alabama voters: a vote for Moore is a vote for homophobia and bigotry.

Speaking to reporters outside the rally, Nathan Mathis said he felt compelled to remind voters that Moore had habitually described gay people as perverts—a label that validated "gay-bashing" and effectively encouraged harassment of gay people.

"My name is Nathan Mathis, my daughter was Patti Sue Mathis—that's her right there," he said. "Judge Roy Moore called her a pervert on one reason, because she was gay. If he called her a pervert, he called your child a pervert if she was gay or your son was gay. This is something people need to stop and think about: You're supposed to uphold a Constitution. The Constitution said all men are created equal, well how's my daughter a pervert just cause she was gay?"

G/O Media may get a commission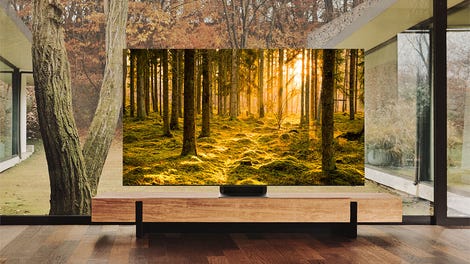 Up to 40% off
Samsung Smart TVs
You can watch the entire clip above, which I recommend doing, but there are a few quotes which are worth emphasizing:

I had mixed emotions about coming, but somebody needs to speak up. If it's all to no avail then so be it. It won't be the first time I've done something to no avail—but my sign there speaks for itself.

On Moore's anti-LGBTQ views and his daughter's death:
I was anti-gay myself. I said bad things to my daughter myself, which I regret. But I can't take back what happened to my daughter. But stuff like saying my daughter's a pervert—sure, I'm sure that bothered her. Judge Moore didn't just say my daughter—he didn't call my daughter by name—he called all gay people are perverts. Abominations. That's not true! We don't need a person like that representing us in Washington.
Mathis also penned an extremely impactful letter to the Dothan Eagle in 2012 entitled "Soul-baring thoughts on gay-bashing." The letter details how Mathis was affected by his daughter's death—and implores readers to reconsider the effects of their words. "Believe what you want to," he wrote. "I only know that if you ever have a child or grandchild who is gay, you'll think differently."