The long-simmering scandal surrounding multimillionaire and convicted sex offender Jeffrey Epstein's alleged pedophilia and child sex trafficking is back in the spotlight this week, thanks to a series of in-depth features by the Miami Herald. The pieces outline a massive conspiracy to get Epstein off easy for his alleged crimes, an effort that included prosecutors like Alexander Acosta, now President Trump's secretary of labor.

Epstein's horrific case is notable in part for the involvement of many high-level politicians. In 2016, Donald Trump said in a New York piece that Epstein was a "terrific guy." Bill Clinton is one of many powerful men listed in the records of Epstein's notorious private plane, which also carried some of his alleged victims. Epstein's former lawyer and Harvard professor Alan Dershowitz, who helped Epstein secure an incredibly light sentence for two felony prostitution charges, was on those flights as well. In the Herald piece, one of Epstein's alleged victims claims that Dershowitz also raped her half a dozen times when she was underage.
Dershowitz has strongly denied engaging in or being aware of any inappropriate behavior. But he told Axios today that he still sometimes advises his old friend Epstein.
"He has called me a couple of times about legal issues, because I'm still technically his lawyer," Dershowitz told Axios. "But I haven't had any social, or any other kind of contact... You never stop being a person's lawyer."
Dershowitz did admit that he once got a massage in Epstein's house, but said it was "with an old old Russian," according to Axios.
G/O Media may get a commission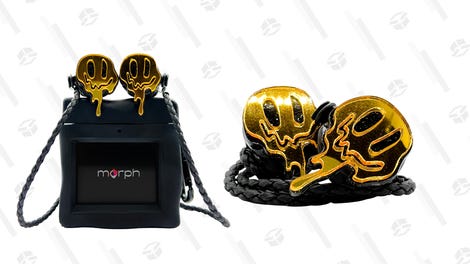 morph audio
Morph Earphones
"Believe me, if I had known that anything improper had ever taken place in that house, I never would have allowed my children, my grandchildren, my wife, my daughter-in-law, my son, to have spent time there," Dershowitz said. "I can tell you categorically there were no inappropriate pictures, no inappropriate anythings. It was like any other house."
In recent years, despite being a self-professed Democrat, Dershowitz has been a strong defender of President Trump and frequently appeared on cable news shows. He was critical of the allegations against Supreme Court Justice Brett Kavanaugh, and reportedly joined disgraced movie producer Harvey Weinstein's legal team earlier this year.
New civil cases against Epstein are going to court this week, which will provide some of Epstein's victims the first chance to speak publicly about their allegations.
Correction, 12/3/18, 8:03 a.m. ET: The headline of this piece initially misspelled the names of Alan Dershowitz and Jeffrey Epstein. It has been updated.