This Saturday marks the 141st running of the Kentucky Derby, arguably the single most famous horse race in the world. But these thoroughbreds aren't just elite in terms of their speed and agility — the Derby represents the very best of this world of wonderfully weird racehorse names in which we are so, so lucky to live.
Here are the names of all 140 Kentucky Derby-winning horses in history, ranked in approximate order of how much they delight us.
140. Hindoo (1881)
Today, "Hindoo" is considered a racial slur. So, that's a hard pass.
139. Agile (1905)
"Agile?" Show me, don't tell me, buddy.
138. Charismatic (1999)
[See above.]
137. Winning Colors (1988)
It's a bold move to name your horse Winning anything, but a bold move that pays off when she actually does.
G/O Media may get a commission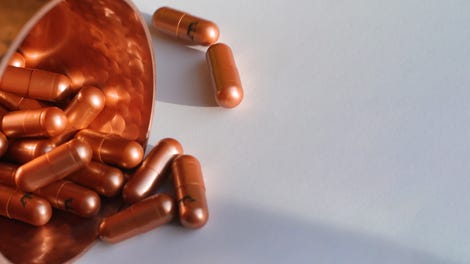 health
The Lyma Supplement
136. Ferdinand (1986)
Here is a cooler horse name, off the top of my head for free: Magellan. Come on, guys.
135. Clyde Van Dusen (1929)
This horse was named after his trainer. To make things even more confusing, his maternal grandfather's name was Uncle.
134. Funny Cide (2003)
We prefer Funny Cide's dad's name: Distorted Humor.
133. Real Quiet (1998)
Shhh.
132. Donerail (1913)
A forgettable name, but an unforgettable race. With the odds set at 91-1, Donerail's win remains the biggest long-shot upset in Derby history.
131. Donau (1910)
Donau's German owner gave his horse the deutsch name for the Danube River.
130. Meridian (1911)
A horse in his prime.
129. Count Fleet (1943)
Born to Reigh Count and Quickly, Count Fleet would go on to win the Triple Crown that year.
128. Azra (1892)
All right.
127. Johnstown (1939)
Eh.
126. Chateaugay (1963)
Chateaugay was named for a town in upstate New York.
125. Alysheba (1987)
Not bad.
124. Cannonade (1974)
Delicious, refreshing cannonade.
123. Worth (1912)
As you might imagine, this horse isn't terribly easy to Google.
122. Affirmed (1978)
Okay.
121. Apollo (1882)
You can't go wrong with Greek mythology.
120. Hill Gail (1952)
Why not?
119. Fonso (1880)
He was named for his sire, King Alfonso, but Mom had the best name in the whole damn family: Weatherwitch.
118. Sunday Silence (1989)
Also a good name for a Morrissey song.
117. Chant (1894)
Yup.
116. Riley (1890)
More than a century before Riley would become a trendy baby name, it was a trendy horse name.
115. Halma (1895)
Okay.
114. Ben Ali (1886)
Ben Ali was named after his owner, James Ben Ali Haggin.
113. Spend A Buck (1985)
Spend a buck, earn $2.6 million in a single race (an American record).
112. Cavalcade (1934)
Yes.
111. I'll Have Another (2012)
Here's an adorable origin story: I'll Have Another was named after his owner's response whenever his wife offers him more cookies.
110. Riva Ridge (1972)
This horse was named in honor of the owner's son-in-law, who climbed Italy's Riva Ridge while serving in WWII.
109. Animal Kingdom (2011)
The only Kentucky Derby winner to share his name with a Walt Disney World theme park.
108. Street Sense (2007)
Street Sense is a fun name, but his mother had an even better name: Bedazzle.
107. War Emblem (2002)
No, he's not related to either War Admiral or Man O'War, two of the approximately six racehorses you've ever heard of.
106. Giacomo (2005)
Sure. Pretty good horse name.
105. Pleasant Colony (1981)
This sounds like an Isaac Asimov short story that ends with humans becoming subservient to their smarthomes.
104. Kingman (1891)
Neither a king nor a man, but definitely a horse.
103. Reigh Count (1928)
We don't know who or what a "Reigh" is, but we like how it sounds. At least, we like the way we think it would sound?
102. Swale (1984)
What?
101. Super Saver (2010)
Come on down to Super Saver, where everything's  99 cents!
100. Barbaro (2006)
This late, beloved horse was named after a portrait of a foxhound named Barbaro in his owners' home.
99. Smarty Jones (2004)
The owner's mother's nickname was Smarty Jones, which may actually be an even better person name than it is a horse name. (Still: it is a very solid horse name.)
98. Shut Out (1942)
We'll take it.
97. California Chrome (2014)
Sure, alliteration is easy, but it works.
96. Bubbling Over (1926)
Much like the celebratory champagne that no doubt followed his win.
95. Morvich (1922)
This horse had a fine name, but he pales in comparison to his grandfathers: Dr. Leggo and Voter.
94. Carry Back (1961)
Carry Back is a fine name, but it's downright disappointing when you consider that his parents were named Saggy and Joppy.
93. Venetian Way (1960)
Europe? Europe!
92. Old Rosebud (1914)
This horse was named after his owner's family farm.
91. Montrose (1887)
Not to be confused with the Mount Rose American Teen Princess.
90. Silver Charm (1997)
That sounds nice.
89. Canonero II (1971)
"Cañonero" is Spanish for "gunboat." "II" is Spanish for "II."
88. Fusaichi Pegasus (2000)
It feels little misleading to name a non-winged horse Pegasus, but we appreciate what they were going for.
87. Grindstone (1996)
Okay!
86. Go for Gin (1994)
Conveniently, there is no faster way to go for gin than on the back of a speeding horse.
85. Sea Hero (1993)
Horses: the heroes of the sea.
84. Unbridled (1990)
Technically false, but still a cool name.
83. Sunny's Halo (1983)
Sunny's Halo sounds like a very sad children's book where everything seems like it's going great when suddenly the main character's best friend drowns in a creek.
82. Spectacular Bid (1979)
Good, but perhaps not spectacular.
81. Bold Venture (1936)
This is a good name.
80. Bold Forbes (1976)
But this is a marginally better name.
79. Secretariat (1973)
The first five names under which this famous horse, born to the delightfully named Somethingroyal, was registered weren't approved.
78. George Smith (1916)
This horse was named after noted racing enthusiast and rich person George E. Smith.
77. Strike the Gold (1991)
Also a good name for a bowling team.
76. Big Brown (2008)
Points for accurate self-description.
75. Forward Pass (1968)
Forward Pass's name makes us think that somebody behind the scenes had aspirations of producing an equine version of Air Bud.
74. Seattle Slew (1977)
This horse's name was originally Seattle Slough, until the owners (correctly) realized that no one would ever be able to spell that.
73. Iron Liege (1957)
Now we're getting somewhere.
72. Lil E. Tee (1992)
That's E. Tee as in Steven Spielberg's E.T., because this horse was ugly and shy yet altogether totally lovable as a foal.
71. Swaps (1955)
Absolutely.
70. Middleground (1950)
When you're pretty sure your horse isn't coming in last, but you don't think he's going to win, either.
69. Buchanan (1884)
Our most presidential Kentucky Derby winner.
68. Ponder (1949) [Tie]
Pensive (1944) [Tie]
Plaudit (1898) [Tie]
It's a three-way tie for the SAT vocab horse names that start with P.
65. Ben Brush (1896)
This horse is named after the superintendent who'd granted his owners difficult-to-come-by stall space at the Gravesend race track in Brooklyn.
64. Alan-a-Dale (1902)
According to legend, Alan-a-Dale was a minstrel and a member of Robin Hood's Merry Men.
63. Paul Jones (1920)
This horse has at least one thing in common with at least one member of Led Zeppelin—he was named for naval hero John Paul Jones.
62. Northern Dancer (1964)
Hold me closer, Northern Dancer.
61. Proud Clairon (1967)
This is a good, appropriately fancy name.
60. Assault (1946)
A little aggro, but sure.
59. Exterminator (1918)
[See above.]
58. Hoop Jr. (1945)
We like this name even more now that we've learned that, technically, there was no Hoop Senior. Hoop Jr.'s sire was named Sir Gallahad III; his owner was Fred W. Hooper.
57. Monarchos (2001)
Like a beautiful, 1,000-pound butterfly.
56. Whirlaway (1941)
Remember Sky Dancers? There is a 90% chance that some marketing wonk lobbied to call them Whirlaways instead.
55. Thunder Gulch (1995)
This sounds like a long-lost AC/DC album, which is to say: badass.
54. Lawrin (1938)
It is genuinely astonishing that there isn't a USA Network series called Lawrin about a lawyer named Lauren.
53. War Admiral (1937)
Awesome name, awesome horse.
52. Omaha (1935) [Tie]
Spokane (1889) [Tie]
Asking us to choose between Omaha and Spokane is like asking us to choose between our children, or our two favorite mid-size American cities.
50. Kauai King (1966)
Despite what you might guess from his name, this horse wasn't bred in Hawaii, but in Maryland, the Hawaii of the Mid-Atlantic.
49. Brokers Tip (1933)
We love a pointlessly meta name. I'm sorry, but which horse did the broker tip?
48. Twenty Grand (1931)
Despite his name, he'd earn more than $260,000 in his career.
47. Flying Ebony (1925)
All right!
46. Genuine Risk (1980)
Sounds like an '80s action thriller starring Bruce Willis and/or Mel Gibson.
45. Leonatus (1883)
Not only is a Leonatus a cool name, but this guy proved himself to be a true horse's horse when he ate the roses that are traditionally draped on the Kentucky Derby winner.
44. Black Gold (1924)
Otherwise known as Texas tea.
43. Zev (1923)
The first horse with a three-letter name to win the Derby, but not the last.
42. Behave Yourself (1921)
Good advice.
41. Needles (1956)
This is, objectively, a garbage name for a horse, which is exactly why we love it. Needles' mother was named Noodle Soup.
40. Gallahadion (1940)
King Arthur's Round Table… but in the future.
39. Sir Barton (1919) [Tie]
Sir Huon (1906) [Tie]
Fun fact: If a horse should be knighted, he is considered a human being and liable for taxes in the eyes of the British legal system.
37. Gato Del Sol (1982)
I like your style, Sun Cat.
36. Lieutenant Gibson (1900)
We imagine this was Mr. Ed's highfalutin cousin.
35. Mine That Bird (2009)
Mine That Bird sounds like a super-fun iPhone game that I would be terrible at.
34. Joe Cotton (1885)
Joe Cotton's grandfather was named Macaroni. That's not a joke of any kind; that's just a wonderful fact.
33. Aristides (1875)
The first-ever Kentucky Derby winner was named after a statesman in ancient Athens.
32. Jet Pilot (1947)
Actor Jason Lee has a son named Pilot Inspektor, so there is at least one horse with a less strange name than at least one human.
31. Wintergreen (1909)
Refreshing!
30. Omar Khayyam (1917)
Because why not name your horse after a Persian mathematician born a millennium ago?
29. Elwood (1904)
Elwood is an important name in the world of animal achievements. A canine Elwood won the World's Ugliest Dog Contest in 2007.
28. Baden-Baden (1877)
The horse so nice they named him twice, but not quite nice enough to justify naming him a third time.
27. Manuel (1899)
To date, the only Kentucky Derby-winning horse to share his name with a character from Fawlty Towers.
26. Stone Street (1908)
Good job.
25. Judge Himes (1903)
Just saying: a daytime court show presided over by a horse judge would kill.
24. Lookout (1893)
Yes.
23. Typhoon II (1897)
It is hard to imagine a more awesome name than Typhoon II, with the possible exception of the yet-to-exist Typhoon III.
22. Majestic Prince (1969)
Surely the best kind of prince.
21. Regret (1915)
This filly with a delightfully bizarre name was the first of just three female horses in history to win the Kentucky Derby.
20. Lucky Debonair (1965)
If Cary Grant were a Kentucky Derby-winning racehorse, he would be Lucky Debonair.
19. Gallant Fox (1930)
If Cary Grant were a Kentucky Derby-winning racehorse and had also risen from the dead to make an appearance in Wes Anderson's Fantastic Mr. Fox, he would be Gallant Fox.
18. Tim Tam (1958)
Great job.
17. Determine (1954)
Inexplicable, standalone verbs are highly underrated as horse names.
16. Decidedly (1962)
The same goes for inexplicable, standalone adverbs.
15. Foolish Pleasure (1975)
This is a Lifetime movie we would definitely watch.
14. Dark Star (1953)
Not to be confused with the John Carpenter movie of the same name, released in 1974.
13. Pink Star (1907)
Not to be confused with the 60-carat diamond of the same name, which sold at auction for more than $83 million in 2013.
12. Day Star (1878)
Fighter of the Night Star.
11. Whiskery (1927)
A horse-cat hybrid with a face full of whiskers would either be adorable or terrifying. Be careful out there, geneticists.
10. Dust Commander (1970)
If the Swiffer company had been around in the 1970s, I'd like to think that nothing would have stopped them from sponsoring this horse.
9. Count Turf (1951)
Least scary vampire ever.
8. His Eminence (1901)
According to turn-of-the-century etiquette, this is how all racehorses are to be addressed.
7. Lord Murphy (1879)
This horse was originally named Patmus. Lord Murphy is definitely an upgrade.
6. Citation (1948)
The favorite horse of anal retentive graduate students everywhere.
5. Burgoo King (1932)
This is a fabulous name. "Burgoo" is named for the traditional Kentucky stew, but we'd love to believe that Burgoo King : Burger King :: McDowell's : McDonald's.
4. Tomy Lee (1959)
No relation.
3. Vagrant (1876)
Vagrant comes from an amazing pedigree of crazy names. His grandfather was named Vandal and his mother was named Lazy.
2. Macbeth II (1888)
If you enjoyed the Scottish play, just wait till you see the sequel.
1. Orb (2013)
To paraphrase the podcast My Brother My Brother and Me, Orb is horse. Horse is orb.
Molly Fitzpatrick is senior editor of Fusion's Pop & Culture section. Her interests include movies about movies, TV shows about TV shows, and movies about TV shows, but not so much TV shows about movies.