Yesterday, the San Antonio Express-News reported a fascinating and bizarre story about Texas agriculture commissioner Sid Miller, who is being investigated over a trip he took to Oklahoma in February of last year. The trip, which cost at least $1,120, and which Miller originally wrote off as a business expense, was described as a work visit, during which Miller met with local lawmakers and industry leaders.
But as the paper reported, the real purpose of Miller's Oklahoma trip may have been to visit a clinic where he could get injected with the "Jesus Shot," a controversial pain-relieving drug that is administered by a convicted felon and traveling physician known as "Dr. Mike."
We live in a golden age for medical quackery—between the Blue Waffle hoax and rampant anti-vaxx sentiments—but the Jesus Shot might take the cake for the year's weirdest medical drama. Let's answer some questions about it.

What is the Jesus Shot?
It first came to national attention several years ago, when Oklahoma news outlets began reporting that people across the state were being injected by a doctor with "a mysterious formula" known as the Jesus Shot. The Jesus Shot, these reports claimed, was a single injection that could erase all pain forever. And only one doctor in America was administering it: a physician named Dr. John Michael Lonergan of Edmond, Oklahoma, who goes by "Dr. Mike."

G/O Media may get a commission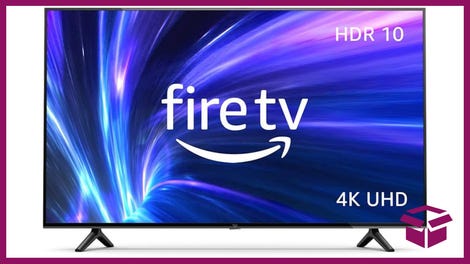 42% Off
Amazon Fire TV 50" 4K Smart TV
What's in the Jesus Shot?
Nobody knows for sure, and Dr. Mike isn't telling. (Reached by phone on Friday, Dr. Lonegan said, "I don't talk to reporters," and hung up.)
Dr. Mary Schrick, who owns the clinic in Edmond where Lonegan used to work, has told reporters that the injection is a mixture of two anti-inflammatory drugs (Dexamethasone and Kenalog) and Vitamin B12, an essential vitamin that is found in fish, meat, eggs, and dairy. The shot reportedly costs about $300.

Does it work?
Dr. Lonergan's patients seem to think so. Sid Miller, the Texas agricultural commissioner who allegedly took a trip to Dr. Lonegan's practice last year, told the Express-News, "It's worked out good." (Miller, who suffers from chronic pain and has talked about receiving the Jesus Shot before, neither confirmed nor denied receiving the Jesus Shot during the controversial February 2015 trip.)
"It is a 'Jesus Shot' for me," patient Stacy Evans told Oklahoma's News 9. "I feel so good. I don't care what's in the shot."
"Whatever it is in it, it's better than anything my doctor has given me," James Colvard, another one of Lonergan's patients, told the Woodward News.
The Oklahoma Medical Board isn't so sure. It began an investigation into Dr. Lonergan's practice in 2014, but according to Lonergan's profile on the OMB's website, the board never took disciplinary action against him.
Dr. Vania Apkarian, a medical professor at Northwestern University, told Fox News that Dr. Lonergan's claims about the Jesus Shot were "outrageous," and that while the injection might provide temporary pain relief, it wasn't a miracle drug at all.
"This is quackery," Apkarian said. "There is nothing in here that is anything different from the standard lines of managing pain."

Who is this "Dr. Mike" guy?
According to his records, Lonergan is an Oklahoma native who practiced medicine in Ohio, but was sentenced to two years in prison for eight felony charges in 2004 (including tax evasion, mail fraud, and healthcare fraud) and subsequently had his medical license permanently revoked by Ohio's medical board. He moved to Oklahoma, and successfully petitioned the state's medical board to allow him to practice medicine again.
What else do we know about Dr. Mike?
Documents related to his Ohio Medical Board hearings show that Dr. Lonegan served more than a year in federal prison, from late 2004 to early 2006, for a series of felonies that included defrauding Medicare and Medicaid, concealing income, and neglecting to pay federal income tax. (Dr. Lonegan, who claimed in his medical board testimony to have bipolar disorder, blamed his psychological condition for what he called "sloppy" and "foolish" bookkeeping.)
An early release petition filed by Dr. Lonegan in 2008 provides more details. In the petition, Dr. Lonegan, who appears to have served in the U.S. Special Forces, says that he was certified as a "Personal Defense Instructor" by the National Rifle Association and as a firearms dealer, but denied that he possessed an "arsenal" of weapons. (A letter from a clinical psychologist attached to the early release petition claimed that Dr. Lonegan had "no evidence of mental illness," but that he had once owned a "collection of guns.")

Why is it called the Jesus Shot?
In a statement made to News 9, Lonergan said the name came from a long-ago incident involving his friend:

"33 years ago I had a friend with severe allergies and asthma. He could no longer work outside and was losing income. I prayed as I drove to his house, asking for help. I believe Jesus answered that prayer with this formula I use with FDA approved ingredients."
He also said that the Jesus Shot went by another, less exciting name: "Inflammation Protocol."

This all sounds a little weird!
It does. The Facebook page of Full Circle Integrated Health, the clinic where Lonergan used to practice, is filled with all kinds of odd conspiracy theories about water fluoridation and made-up vaccine statistics. The Express-News reports that Dr. Lonegan now works out of a beauty spa in Kingfisher, Oklahoma. (A call to the spa went unanswered.)

I have chronic pain. Should I get the Jesus Shot?
Well, I'm not a medical professional. But a mystery concoction peddled by an ex-felon who receives medical formulas from Jesus sure seems like something you'd want to investigate further before putting in your veins.
Additional reporting by Patrick Hogan.