A list of some of Donald Trump's closest friends, longtime confidants, and trusted political associates.
Rob Porter, White House Staff Secretary
He only punched me once, in the eye. He threw me down on the bed and punched me in the face. I think he was shocked that he had lost control to that extent. ... Up until then, he had always done it in a way that didn't leave marks. I don't know if that was conscious or not.

He would get angry and throw me down on a soft surface—to his credit, it was always a soft surface like a couch or a bed—and he would lay on top of me shaking me, or rubbing an elbow or a knee into me. He graduated to choking me, not ever hard enough to make me pass out, or frankly to leave marks, but it was frightening and dehumanizing.

— Colbie Holderness, who was married to Porter, as reported by The Intercept about an incident she says took place in 2005
The first time he called me a "fucking bitch" was on our honeymoon. (I found out years later he had kicked his first wife on theirs.) A month later he physically prevented me from leaving the house. Less than two months after that, I filed a protective order with the police because he punched in the glass on our front door while I was locked inside. We bought a house to make up for it. Just after our one year anniversary, he pulled me, naked and dripping, from the shower to yell at me. ... When I tried to get help, I was counseled to consider carefully how what I said might affect his career. And so I kept my mouth shut and stayed.

— Jennifer Willoughby, who was married to Porter, in a 2017 blog post about her marriage that did not name Porter. She told The Daily Mail that Porter called her and demanded she take the blog down.

Corey Lewandowski, campaign manager
Trump acknowledged the question, but before he could answer I was jolted backwards. Someone had grabbed me tightly by the arm and yanked me down. I almost fell to the ground, but was able to maintain my balance. Nonetheless, I was shaken. The Washington Post's Ben Terris immediately remarked that it was Trump's campaign manager, Corey Lewandowski, who aggressively tried to pull me to the ground. I quickly turned around and saw Lewandowski and Trump exiting the building together. No apology. No explanation for why he did this.

— Michelle Fields, a conservative reporter, recounting a 2016 incident in a piece for Breitbart
I'm wearing this silver suit and stretchy pants, and after the photo, he smacks my ass really hard. It was completely demeaning and shocking. ... I said, "Watch it." Half-joking, I said, "I can report you for sexual harassment." ... "He said, "Go ahead, I work in the private sector." Then he smacks my ass again.

— Joy Villa, a singer and longtime Trump supporter, as told to Politico about an incident she says took place in November of 2017
G/O Media may get a commission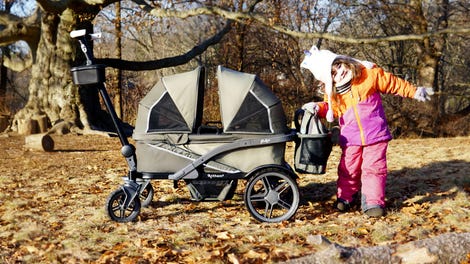 30% off
The Anthem All-Terrain Stroller Wagon Adventure Bundle
Go everywhere with your kids
This must-have bundle nets you either of Gladly's award-winning Anthem2 or Anthem4 All-Terrain Stroller Wagons as well as must-have accessories like a parent cupholder, a removable storage basket, extra-large canopies, a nap system, quilted comfort seats, a cooler bag with a padded shoulder strap, and a travel bag.
Roy Moore, Republican Senate candidate
He parked his car in-between the dumpster and the back of restaurant where there was no light. The area was dark and it was deserted. I was alarmed, and I immediately asked him what he was doing. ... Instead of answering my question, Mr. Moore reached over and began groping me, putting his hands on my breasts.

I tried to open my car door to leave, but he reached over and locked it so I could not get out. I tried fighting him off, while yelling at him to stop, but instead of stopping he began squeezing my neck attempting to force my head onto his crotch. I continued to struggle. I was determined that I was not going to allow him to force me to have sex with him. I was terrified. He was also trying to pull my shirt off. I thought that he was going to rape me. I was twisting and struggling and begging him to stop. I had tears running down my face. At some point he gave up. He then looked at me and said, "You are a child. I am the District Attorney of Etowah County. If you tell anyone about this, no one will believe you."

— Beverly Young Nelson—who says Moore assaulted her in 1977, when she was 16 years old—at a press conference in 2017
Roger Ailes, former Fox News CEO and longtime Trump friend
A bunch of us girls at the agency were called over to audition for him for some sort of skit on The Mike Douglas Show. He had a room, and one by one he would take us behind closed doors. When my turn came I went in, and he didn't waste any time. He grabbed me and had his hands on me and he forced me to kiss him. When I recoiled he said, "Well, you know no girls get a job here unless they're cooperative."

— A woman identified as Diane, as told to New York magazine about an incident she says took place in 1965 0r 1966 when she was 18 or 19 years old
"I think you and I should have had a sexual relationship a long time ago and then you'd be good and better and I'd be good and better."

— Ailes, according to a lawsuit filed by Gretchen Carlson in 2016 
Bill O'Reilly, former Fox News host and longtime Trump friend

M. reported—having seeing an incident where I believe she said her dad was choking her mom or had his hands around her neck and dragged her down some stairs.

— A court-appointed forensic examiner, as quoted in a transcript of Bill O'Reilly's 2014 custody child that was obtained by Gawker in 2015 
Well, if I took you down there then I'd want to take a shower with you right away, that would be the first thing I'd do... yeah, we'd check into the room, and we would order up some room service and uh and you'd definitely get two wines into you as quickly as I could get into you I would get 'em into you... maybe intravenously, get those glasses of wine into you... You would basically be in the shower and then I would come in and I'd join you and you would have your back to me and I would take that little loofa thing and kinda soap up your back... rub it all over you...

— Bill O'Reilly, according to a transcript of a phone call he made to Andrea Mackris that was included in a sexual harassment lawsuit she filed in 2004
Steve Bannon, former Chief Strategist
Her husband and father of the twins is Stephen Bannon. Mrs. Bannon said she has been seeing Mr. Bannon for approximately 6 1/2 years. In the beginning of their relationship, she said they [had] 3 or 4 arguments that became physical, and they have been going to counseling. There has not been any physical abuse in their arguments for about the past 4 years. Mrs. Bannon said they have been arguing a lot, but not violence.

[Piccard] said she spit at him, and [he] reached up to her from the driver's seat of his car and grabbed her left wrist. He pulled her down, as if he was trying to pull into the car, over the door. [Piccard] said Mr. Bannon grabbed at neck, also pulling her into the car. She said that she started to fight back, striking at his face, so he would let go of her. After a short period of time she was able to get away from him.

— A police report written up in 1996 after police were called to the home of Bannon and his then-wife, Mary Louise Piccard; the case was later dismissed after the "victim/witness" was "unable to be located"
Steve Wynn, former Finance Chair of the RNC
One former massage therapist at the Wynn Las Vegas spa said that several years ago, when Mr. Wynn was booking multiple appointments a week with her in the private massage room in his office suite, he would continually adjust a towel to expose himself. Then at one session, she said, he threw it off and said, "Just get this thing off of me."

She said he wouldn't let her use a towel to cover his genitals after that, contrary to state licensing regulations, and he also began rubbing her leg while she massaged him.

After a few weeks, the former employee said, Mr. Wynn instructed her to massage his penis to climax. The woman said that because he was her boss, she felt she had no choice but to agree to some of Mr. Wynn's requests, including that one.

— A former employee of Wynn's, as reported by the Wall Street Journal
Dennis Gomes, who was an executive at the Golden Nugget in Las Vegas when Mr. Wynn was running that casino decades ago, said in a deposition in an early-1990s lawsuit that Mr. Gomes "routinely received complaints from various department heads regarding Wynn's chronic sexual harassment of female employees," according to a court filing that summarized his testimony.

In the suit over Mr. Gomes's departure to work for a Trump casino, Mr. Gomes described what he called a "disgraceful pattern of personal and professional conduct" that he said included Mr. Wynn's directing him to get the home phone numbers of casino cocktail waitresses.

— More from the same WSJ report
Andy Puzder, nominee for Labor Secretary
"I will see you in the gutter. This will never be over. You will pay for this."

— Lisa Fierstein, ex-wife of the Labor Secretary nominee, quoting Puzder's alleged comments during a 1990 segment on The Oprah Winfrey Show; Feinstein would later retract her allegations of domestic violence
Donald Trump
You know, I'm automatically attracted to beautiful—I just start kissing them. It's like a magnet. Just kiss. I don't even wait. And when you're a star, they let you do it. You can do anything. ... Grab 'em by the pussy. You can do anything.

— Donald Trump, from a hot mic recording in 2005
Ivana is terrified. This is not lovemaking. This is not romantic sex. It is a violent assault. She later describes what The Donald is doing to her in no uncertain terms. According to the versions she repeats to some of her closest confidantes, "He raped me."

— From the 1993 book Lost Tycoon: The Many Lives of Donald J. Trump; Ivana Trump would later release a statement saying that she had not meant rape "in a literal or criminal sense"
We walked into that room alone, and Trump shut the door behind us. I turned around, and within seconds, he was pushing me against the wall, and forcing his tongue down my throat. ... I was stunned. And I was grateful when Trump's longtime butler burst into the room a minute later, as I tried to unpin myself.

— Natasha Stoynoff, as told to People magazine, about an incident she says took place in 2005