Even if he weren't accused of ignoring multiple credible reports of criminal sexual assault during his time as assistant wrestling coach at Ohio State University, GOP Rep. Jim Jordan would still be a conspiracy theorizing, immigrant child hating, anti-LGBTQ shithead—in other words, a conservative's dream candidate to help lead the Republican party in the era of Donald Trump. And that, according to a new report, is exactly what a murderers row of hard-right advocacy groups are working to make happen.
Citing "a half-dozen sources with direct knowledge of the effort," Politico reported on Wednesday that a coalition of far-right organizations—among them: Club for Growth, FreedomWorks, Conservative Leadership Fund, Tea Party Patriots, and For America—are coordinating a massive effort to help install Jordan as the next House GOP leader after the midterm elections. If Republicans keep the House, that means Jordan would be the Speaker.
"Everyone knows that if Jim Jordan ran the House of Representatives, his agenda would be the agenda Republicans campaigned and won on," FreedomWorks President Adam Brandon told Politico. "Jordan would connect the grassroots back to the House majority."
To that end, the affiliation of conservative groups have helped organize a September 26 rally for activists to help install Jordan as Speaker of the House, after which attendees have been asked to (emphasis theirs): "Flood the halls of Congress with the sound of your voice and make it perfectly clear to YOUR Members of Congress that YOU want conservative champion Jim Jordan as the next Speaker of the House."
As Politico notes, those hoping to make Jordan the House leader are hoping not so much to immediately gain the requisite number of votes to make him speaker, but simply to wound frontrunner and current GOP Majority Leader Kevin McCarthy to the point where—should the Democrats retake the House—there would be an overwhelming call among conservatives for new leadership.
G/O Media may get a commission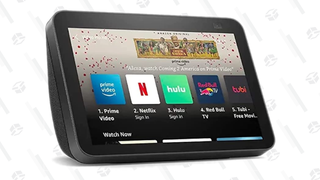 Jordan, who helped co-found the House's ultra-conservative Freedom Caucus, has himself expressed interest in the speaker's gavel. "Our clear mandate will be to continue working with President Trump to keep the promises we made," he wrote in a letter announcing his intent to run for speaker.
Given the growing number of polls showing Democrats in a strong position to take control of at least the House come November, as well as a slew of polls indicating that President Trump's approval rating is beginning to bottom out, Jordan's promise may be good for rallying his hardline base in the short term, but doesn't sound like a great strategy for winning the election.