Black Friday is upon us, and with it, news reports of deal-seekers lining up earlier and earlier in order to purchase the year's hot toy or a marked-down TV. There will probably reports of injuries, sales comparisons to Black Fridays of years past, and anything else that can be extrapolated from the news that people are trying to save some money at the expense of sleeping or spending a day with family members.
How did we get here? Why is Black Friday a such a thing? Let's explore.

What is Black Friday?
Black Friday is the most cherished annual consumerist tradition of the holiday season. It used to refer to specifically the shopping day after Thanksgiving, but it has a much more broad definition now, as more and more stores have adopted the policy of opening in the evening on Thanksgiving Day instead of at midnight the next day.
When did this Black Friday thing start?
The tradition of shopping after Thanksgiving started in Canada, actually, with the first "Santa Claus parade" thrown by a department store called Eaton's. When Santa closed out the parade, that meant it was time to buy gifts—and why not do so at Eaton's? U.S. department stores took the idea and ran with it and now the Macy's Thanksgiving Day Parade is an annual tradition. For decades, it was an unwritten rule for department stores to hold off on huge advertising pushes until throwing their Thanksgiving parades.
G/O Media may get a commission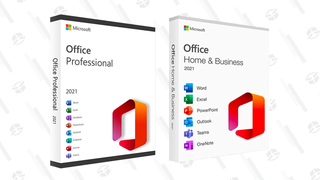 89% off
Microsoft Office Professional 2021 Lifetime License
Also, in the 1930s, the nascent retail lobby convinced President Roosevelt to change the date of Thanksgiving (which had been the last Thursday in November) to the second-to-last Thursday in the month in order to make the Christmas shopping season last as long as possible. This caused a stir—in fact, from 1939 to 1941, Thanksgiving was celebrated on different days across the country because no one agreed on when "Franksgiving" should be. Congress eventually decided Thanksgiving was the fourth Thursday of the month.
In the 1950s, it became more and more common for workers to receive the day after Thanksgiving off. So many people called in sick that it became easier for companies to just give everyone the day off to do their holiday shopping.

OK, but why is it called "Black Friday"?
"Black [day of the week]" used to refer to specific one-time incidents, typically economic or financial. The earliest usage of "Black Friday" was in 1869, when two financiers infamously attempted to corner the gold market. In 1929, the stock market crashed on a Tuesday, so that day got the "Black Tuesday" moniker.
But the reason we use "Black Friday" to describe the shopping day after Thanksgiving today is because of the Philadelphia police department.
In 1966, Philadelphia police coined the term "Black Friday" to describe the day after Thanksgiving, when their streets and shops were full of traffic congestion, shoplifting, and other nuisances. (Officers were prohibited from taking the day off.) Philadelphia was also the home of the traditional Army-Navy football game, which was held on the Saturday after Thanksgiving and was referred to as "Black Saturday." Hence, the Friday after Thanksgiving became "Black Friday."

When did Black Friday become a positive thing?
I mean, the name still refers to massive crowds and chaos, but I know what you mean. According to Michael Lisicky, who has written about the history of department stores, it wasn't until the mid-1990s that retailers accepted the phrase and began co-opting it for promotions. As he told Penn Live in 2014:

"I've never seen Black Friday sales until the early 2000s. It was still an 'after Thanksgiving sale,'" Lisicky said. "It took until the 2000s before there was some kind of more positive connotation behind [the term]."
However, in the 1980s, retailers pushed back against the use of the unpleasantness of the term by floating the myth that a lot of stores operated at a loss for most of the year before turning a profit (entering the black) during the holiday shopping season. While it is true that consumer spending rises during the holidays, there's no evidence to support the claim that it's when retailers begin to turn an annual profit.

Is Black Friday actually the biggest shopping day of the year?
Sometimes, but not always. The biggest shopping day of the year is usually the Saturday before Christmas, in fact. There are a lot of procrastinators out there.

When did Black Friday creep into Thanksgiving Day?
Only recently. In 2011, four short years ago, saw the first instance of "Gray Thursday," as Walmart opened its doors on Thanksgiving night. The next year, Target, Kmart, Toys R Us, and Sears joined the fray and announced that they'd be opening their doors Thanksgiving evening, too. At the time, workers were not happy with the decision. "Walmart has become a company so obsessed by the bottom line and greed that it no longer values the importance of the people and families that work for it," a long-time employee told The Guardian.
However, the strategy sort of didn't work. Sales were down last year and a lot of stores aren't going to be open Thanksgiving night (see below). Even Walmart is (gradually) moving away from the ploy by offering the same deals online as in stores.

Which stores aren't commemorating Black Friday this year?
A good number of them. This year, the outdoors retailer REI announced it would not be open on Black Friday to instead encourage its customers to go outside and spend time with family. REI got a lot of press out of the announcement, so they're probably expecting to make up sales based on goodwill.
Elsewhere, stores like Staples, CostCo, DSW, Lowe's, GameStop, Burlington Coat Factory, and more (Pier 1! PetSmart!) announced they were not going to be open on Thanksgiving, flying in the face of Christmas Creep. GameStop's press release is very righteous, too.

How many people are going to be taking advantage of Black Friday, you figure?
A lot! The National Retail Federation says around 136 million people will be shopping Thanksgiving weekend, with a sizable number participating in Black Friday sales.

Are the deals even that good that day?
It depends what you mean by "good." According to ShopAdvisor, the discounts on Black Friday are around 5% across the board. Simply, it's best to wait for things like toys and HDTVs to drop in price as Christmas gets closer.

Has Black Friday peaked?
It may have, at least as an offline phenomenon. There has been a downturn in Black Friday sales since 2012, when total sales surpassed $59 billion. In 2013 and 2014 both the number of people who went shopping and the average amount of spending decreased. As these numbers have gone down, the number of people shopping online has risen. According to IBM, last year saw one third of all online sales were completed on a mobile device.

Does anyone celebrate "Black Friday" outside the U.S.?
Yes. Canadians do it. Mexico has El Buen Fin, "the good weekend." Amazon has brought Cyber Monday to the World and China has its own version of Black Friday: Singles Day, held Nov. 11, which routinely sets the record for most online sales in one day.
At the other end of the spectrum, the U.K. has Buy Nothing Day scheduled for the Saturday after Thanksgiving, as a bit of counter-programming.

Are the people doing Black Friday shopping drunk or something?
Yes! A full 12% of shoppers admit to being a little tipsy during their Black Friday shopping trips, according to TIME.

How many people have been injured or killed during Black Friday?
According to the website BlackFridayDeathCount, seven people have been killed by doorbuster stampedes and confrontations that have started at retail locations. Another 98 have been injured.

Should I participate in Black Friday or not?
That is entirely up to you. The odds of you getting that doorbuster item are sort of low, and you could get trampled by a fellow deal-seeker. Then again, by the evening of Thanksgiving, you might be at the point where risking death for a discounted Playstation 4 is a far better prospect than listening to your relatives argue about politics.
David Matthews operates the Wayback Machine on Fusion.net—hop on. Got a tip? Email him: david.matthews@fusion.net