Here's a story Los Angeles Angels radio and television announcer José Mota tells about pitcher Bartolo Colón and mangos.
After joining the team in 2004, Colón was off to a bad start. Reporters were starting to ask questions about the 260-pound hurler's weight.
"Where I come from the big mango trees — the ones with the really ripe mangoes — are the ones we throw rocks at," the Dominican-born pitcher told befuddled reporters in Spanish.
Mota, who was also born in the Dominican Republic, knew what Colón was trying to say, and explained it to the journalists. "It wasn't just about his physical fitness," Mota told Fusion. "It was like, Hey, they're going to throw stuff at me because they know I'm good."
G/O Media may get a commission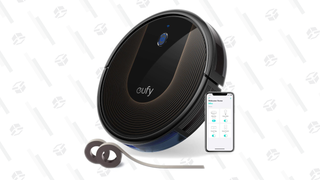 48% Off
Eufy BoostIQ RoboVac
Without Mota, who anchors the Spanish-language broadcast for the Angels and does occasional television announcing, the press may have missed a great quote, and a turning point in the Angels season. Colón slimmed down and helped lead the team to a first-place finish in their division.
But television announcers like Mota — Hispanic, bilingual, bicultural — are an anomaly in Major League Baseball. Nearly 90 percent of local TV announcers are white men, according to a team-by-team analysis by Fusion.
There's no doubt the league would benefit from more diversity among announcers. "It makes a difference in the connection you make with the fans," Mota said. "It makes a difference in the connection you make with the players and bringing out stories from players that perhaps speak your language and know a lot about your community, or your side of the country, or your region of the world."
The monoracial makeup of the broadcast booths isn't just out of step with the demographics of the United States, it's not representative of the diversity on the field.
There was a time when 90 percent of baseball players were white — but that was 1955. Now, more than one in three players are Hispanic, African American or Asian, according to data from the Society for American Baseball Research.
More diversity could be a better business strategy, too. While baseball is still quite profitable, teams need a more diverse legion of fans — in race, age and gender (more on that shortly) — to keep the sport going.
Despite the sharp growth in players from Latin America, only 10 percent of baseball's viewership last year was Hispanic, according to statistics provided to Fusion by Nielsen. And other sports are outperforming baseball when it comes to attracting minority fans: both professional basketball and professional football brought in a higher percentage of African American viewers than the nation's pastime in 2014.
Baseball keeps pace among women, who made up 29 percent of the sport's audience last year and also represented roughly a third of the viewership for the NFL and NBA.
The most worrisome demographic statistic for baseball is age: Over half of the MLB's television audience was above the age of 55 in 2014.
If MLB teams want to court a younger audience, they will also need to court a more diverse audience: 43 percent of millennials (people ages 18 to 33) are non-white, according to a report by the Pew Research Center, and the Hispanic and Asian share of the population is expected to increase in years to come.
A more diverse roster of announcers calling the games wouldn't steer baseball away from its demographic cliff, but it could help make connections with new subsets of fans.
"The markets have changed from what they were 20, 25 years ago," Mota told Fusion. "There's way many more people to serve."
---
Fusion contacted media companies that put local broadcasters in the booths to ask about diversifying their announcing crews.
A representative for FOX Sports, which runs broadcasts for 15 of the 30 MLB teams, declined to comment for this article.
A spokesperson for NBC Sports Regional Networks, which is owned by Comcast and manages broadcasts for five teams responded to Fusion with an emailed statement. "We are committed to recruiting, retaining and developing diverse and talented employees in all areas of our business," it read.
Root Sports, which oversees broadcasts of four teams, did not respond to a request for comment. A spokesperson for Major League Baseball declined to comment.
Jennifer Neziol, the director of communications for Sportsnet, which broadcasts Toronto Blue Jays games, emailed a statement. "Our commentators and writers covering the Blue Jays are the most qualified in their respective roles," she said. "Across our five Sportsnet platforms, we have strong multicultural representation that includes both genders."
Diversity is a priority in many facets of MLB operations. The sports league earned an excellent rating last year for its racial hiring practices, according to an analysis by Tides, a watchdog organization at the University of Central Florida.
And the league is working to get young African Americans playing baseball. The number of black MLB players has dropped precipitously in recent decades, partly because of dwindling exposure to the game in urban areas. In 2006, the league launched its Urban Youth Academy, an initiative meant to give more young black athletes a chance to play the game. More than 8,000 children regularly take to the diamond through the program, according to the MLB.
National broadcasts typically feature announcers from a wider range of ethnic and racial backgrounds. ESPN's thrice weekly broadcasts, for example, have a diverse mix of analysts who can swing in and out of the booth, although their primary announcers are mostly white males (ESPN is owned by Disney, which also owns ABC News, one of Fusion's parent companies).
Since the 1950s, some teams have invested in Spanish-language radio broadcasts. Half of MLB teams have such broadcasts, a trend that has slowly flowered in markets with sizable Hispanic immigrant populations.
The move into Spanish-language radio, however, speaks to some larger problems with how the league approaches non-white fans, according to Stuart Shea, author of a forthcoming book on baseball announcing, titled Calling the Game.
Shea found that through the past half century — and continuing today — teams have downplayed the Spanish-language announcers, leaving them out of promotional materials and, in the case of some teams today, neglecting to mention them on websites.
"It's like they're second-class citizens," Shea told Fusion. "Teams for many years didn't even take it seriously as something they needed to even disclose that they were doing, which is kind of ridiculous to me, because you see these big, fancy biographies of all the white broadcasters in all these teams' media guides and publications."
Shea believes the marketing decisions by baseball executives speak to a broader view of diversity in the broadcast booth.
"If they don't take Spanish-language broadcasts seriously, who's going to go ahead and hire a Latino to do English, even if they're really good?"
Diversity in those English-language broadcasts will be important. More Hispanics prefer to watch television in English than Spanish, according to Pew. Even more telling: while only 25 percent of first-generation Hispanics watch most of their TV in English, those numbers increase sharply among second-generation Hispanics, to 69 percent. Among third-generation Hispanics, it rises to 83 percent.
The lesson: young Hispanics born in the U.S. will typically want to watch baseball in English, so baseball can't depend on its Spanish-language broadcasts to reach that audience.
---
And what about women? They accounted for nearly a third of MLB's television viewership in 2014, according to Nielsen. Why aren't they in the booth?
As a female radio reporter in the 1980s, Cheryl Raye Stout broke barriers covering Chicago sports. She followed the Bears during their Super Bowl run and the Bulls during the start of the high-flying Michael Jordan era. One achievement, however, stands out among the rest.
On June 29, 1987, she served as a radio announcer during a baseball game between the Chicago White Sox and the Oakland Athletics.
She wasn't the first woman to call a baseball game on the radio in Chicago — a sportswriter named Mary Shane had done so for 20 games in 1977 — but the appearance put her alongside a few small group of women who had served as radio announcers.
She spent days preparing and the experiment appeared to be a success. "After a couple of innings, once I realized what my style was, it went great," she told a local sports columnist at the time. "I got good feedback from others. I'd love to do it again."
She was never invited back, however. That was it — a one-day experiment.
Raye Stout told Fusion that while she enjoyed the experience, she never intended to become a baseball announcer, partly because there was no precedent for something like that. "I didn't think there were going to be opportunities," she said.
She was right. More than 30 years later, only a handful of women have ever served as a radio announcer during a Major League Baseball game. On television, there's only been one female play-by-play announcer: Gayle Gardner, a sportscaster who called a single game for the Colorado Rockies in 1993.
Still, Raye Stout doesn't think there's outright discrimination against female announcers in the sport. "I just don't think it's even being considered," she said. "I think baseball is still trapped in the past when it comes to marketing and broadcasting."
Other sports don't fair well when it comes to gender equity in announcing, either. But basketball appears to be evolving faster than baseball. The NBA has had several women serve as in-booth television analysts over the years and college basketball broadcasts on ESPN have featured a duo of female announcers, despite some opposition from fans.
She sees MLB ownership as promoting a "stagnant" culture that refuses to change with the times. As an example, she cited several failed attempts by businessman Mark Cuban — a renegade in the sports world — to purchase a baseball team.
"I just think that baseball is extremely conservative in their mindset," she said. "Look at the ownership. Mark Cuban wanted to be an owner — they keep him out. There's no young, energetic ownership in baseball."
Women have found their way into the margins of MLB broadcasting. Suzyn Waldman is a full-time radio analyst for the Yankees, a unique success story among women in the sport. Increasingly, more women are serving as pre- and post-game analysts and as sideline reporters.
Raye Stout believes owners hide behind the false logic that fans would prefer to have the game narrated by a man instead of a woman.
"That's always been the issue with women doing sports," she said. "They can always tell you that their audience prefers it this way. And that's how they get away with it."
---
There are only about 125 jobs for in-booth, MLB television announcers and not much turnover. So it's a tough gig to get to begin with — something that may be keeping women and minorities from pursuing the career in the first place.
John Nicholson is the director of the Sports Media Center at Syracuse University's Newhouse School, one of the country's top journalism programs.
He's seen some first-rate sports broadcasters come through the program, including Robert Ford, the play-by-play radio announcer for the Houston Astros. Ford is one of a few African Americans to work as an MLB play-by-play announcer, in either radio or television.
In the school's informal sports track, however, Ford was the exception, not the norm.
"I would say the great majority of people coming through who are interested in sports are white males," Nicholson said. "We have every year a few females and a few black and Hispanic males, but it's a very small percentage at this point."
White men certainly aren't the only ones who watch sports. The NBA, for instance, actually attracted more black television viewers (46 percent) than white viewers (40 percent) in 2014, according to Nielsen. And women made up roughly a third of professional baseball, basketball and football viewers.
Syracuse, however, doesn't seem to be attracting those types of sports journalists, despite proactive efforts to draw students from a wide range of backgrounds. The lack of diversity in the industry is so striking that the school is considering an outreach program to encourage high schoolers to move toward that sort of career.
But even the non-white and female students who study sports broadcasting at Newhouse are unlikely to end up on air, according to Nicholson.
There's the scarcity of jobs and low turnover. And the reality that becoming an announcer can mean years of working for minor league teams for relatively low pay.
"It's not a matter of guys don't make it because they are any particular race and ethnicity, guys don't make it because of how hard it is," he said.
But there are greater impediments that keep people of color and women out of the broadcast booth. The status quo has long favored white and male announcers and will likely continue to do the same for years to come without proactive steps to be inclusive.
Christina Kahrl, an MLB journalist for ESPN and co-founder of Baseball Prospectus, believes there are no excuses for baseball teams who refuse to diversify their in-booth announcing crews.
Teams could take a creative approach, expanding their two-man booths to accommodate three announcers, she said. Another option: Major League Baseball could introduce a wider range of broadcast options for viewers watching games online, even crowdsource the broadcasts.
"There are plenty of people of color, there are plenty of women who love the game and love talking about the game," she told Fusion. "If they have the chops, you have to give them the opportunity."
Kevin Joyce contributed additional reporting.
Update, 9:45 a.m.: This post was updated to include John Nicholson's title at the Newhouse School, as well as further mention of the school's proactive efforts to recruit a diverse student body.
Ted Hesson was formerly the immigration editor at Fusion, covering the issue from Washington, D.C. He also writes about drug laws and (occasionally) baseball. On the side: guitars, urban biking, and fiction.